While Cambodians are financially affected during the pandemic due to job loss or suspension, Buddhist monks have also been impacted due to less religious ceremonies taking place.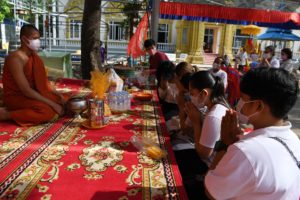 Neou Nen, a monk at Wat Domnak in Siem Reap, told Focus on April 28th that during the previous Khmer New Year, many Buddhists turned up and provided food and financial support; however, this year only few came to the pagoda. He continued that on holy days after the New Year, not many practitioners had come to the pagoda for prayer compared to the time before the pandemic.
He also added, "I survive because of the followers, and since some have lost their jobs and others have been severely affected, many religious ceremonies which are traditionally celebrated at pagoda have been canceled during the Covid-19."
In spite of this, Neou Nen said monks in his pagoda do not face starvation yet, as there are still a few followers continuing to provide some rice.
He also stated, "In the previous time, I survived on supply and financial support provided by the followers because I helped them organize chanting ceremonies at home, but currently I have to bring rice from family to cook breakfast, and for lunch I join with other monks in the pagoda."
Cambodian monks mostly survive on supplies provided by donors and followers who show up on holy days, Khmer New Year, Pchum Ben, and Kathen. They also earn some money from the invitation of the practitioners to give blessings and sermons at home for some religious ceremonies.
Mr. Yeoung Dara, who is living among monks at Wat Botum Vatey, Phnom Penh, told us that since the spread of Covid-19, he barely sees the monks heading out for any religious ceremonies. This has in one way or another affected the life of the monks here.
Another monk named Pork Sokheuy from Wat Domrey Sor, Battambang, also told Focus about the decreasing number of the Buddhists coming to the pagoda. He observed that the pagoda before the pandemic hosted approximately 40 followers on every holy day, but these days only about 10 people turn up, resulting in the lack of supply.
Monk Pork Sokheuy, whose hometown is in Banteay Meanchey and is currently studying at Preah Sihanouk Raja Buddhist University in Battambang, said about his current situation, "I made some money from chanting during this year's Khmer New Year for groceries, and I asked for rice from my hometown." He also commented on the hardship of the Buddhists, saying, "I survive on Cambodian believers' support, and when they financially struggle, so do I."
On March 17th, the Ministry of Health advised to temporarily suspend all gatherings or religious practices by Buddhists, Muslims, Christians, and others until the improved situation of the pandemic. As of print, the orders have not yet been lifted by the Ministry.
A spokesperson from the Ministry of Cult and Religion, Mr. Seng Somony, stated on the issue that there is no prohibition on any ceremonies at pagodas and on holy days, as long as it is in large open-spaced locations with few monks, and everyone has to practice social distancing, wear masks, and wash their hands with alcohol or hand sanitizer, but the gathering of many people in a closed space is prohibited.
He also added that the ministry does not ban the Ben Bathe, the monks' gathering of alms, consisting of a daily morning walk to ask for food from home to home of Buddhists. However, any Ben Bathe parades which involve many monks and practitioners are not permitted.
Based on Mr. Somony's observation, monks' situation on lack of supply is not yet critical because they are not starving. He stated the life of monks during the pandemic remains normal although there are food supply problems, and any struggle and difficulty will be informed and co-resolved with the stakeholders including each pagoda's leaders, committee, and their Cambodian practitioners with the collaboration of relevant authorities.
Cambodia has about 5,000 Buddhist temples with over 70,000 monks. As of now, noticeably there have been no reports of Covid-19 cases among the monk community from the Health Ministry.
Kim Sorn, a chief monk of Phnom Penh, agreed on the decreasing number of practitioners coming to the temple due to Covid-19. Nevertheless, he said that there is no case of hunger among the monk community. He also added, "I have contacted provincial chief monks to report directly to me in the case of lack of food supply, and Cambodia's Monk Committee already helped with full capacity because the Monk Committee has little funds reserved for monks in the case of emergency."
In case the monks are struggling extremely with food supply, and the Monk Committee is not capable of providing help, Monk Kim Sorn said that "We can write a letter to the Ministry of Cult and Religion to make a request to the government."
This post is also available in:

KH