Experts advise people who intend to run either a small-sized or macro-sized business to consult or learn about their business from experienced entrepreneurs beforehand.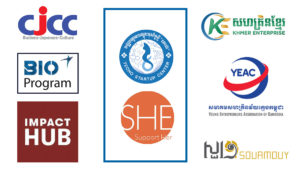 Focus has collated some sources you could consult before you start a business:   
Cambodia-Japan Cooperation Center (CJCC): provides entrepreneurial training programs to people who want to be involved in businesses. The programs focus on three important questions: why, what and how. 
Why do you want to be an entrepreneur? 

What should entrepreneurs do? 

How do entrepreneurs draw up a business plan?
Bio Program (Bio Program): home to 400 members in the industrial sector and others nationwide, BIO Program, founded by Cambodia Investor Club (CiC) in 2018, is a business accelerator program aiming to launch local SMEs to the next level. Through capacity development programs, mentorship and consultation, entrepreneurs will have opportunities to receive investment funds. The program provides a platform to connect experienced entrepreneurs with new entrepreneurs, who can also learn from them. 
Impact Hub Phnom Penh (Impacthub): established to empower youth and young entrepreneurs in Cambodia to tackle social and environmental issues through entrepreneurial and leadership programs. 
Techo Startup Center: provides training programs on entrepreneurial skills, business development, investment and market strategies.
Khmer Entreprise: aims to create an eco-entrepreneurial system and provides financial and non-financial support for people who want to go down this route. 
Sour Mouy: an online platform for high school and university students to expand their youth networks in politics, business, art, culture, environment and technology. 
Young Entrepreneurs Association of Cambodia (YEAC): established to empower young entrepreneurs in order to enhance youth entrepreneurship and success of youth-owned businesses, YEAC is also a platform. It provides a space for sharing, networking, learning and synergizing business opportunities, contributing to productive employment and economic development for the country.  
SHE (Support Her Entreprise) Investments: a social enterprise established aiming to help women in entrepreneurship through accelerator and incubator training programs to expand their businesses from micro-enterprises or small family businesses to SMEs. The programs focus on understanding the challenges women entrepreneurs encounter and how best to respond to them.
Here is a link to article: "Should Young People Start Their Own Business?"
This post is also available in:

KH