Covid-19 has crippled Cambodia's economy, causing less fortunate people who had already encountered financial issues to face more difficulties and hardships.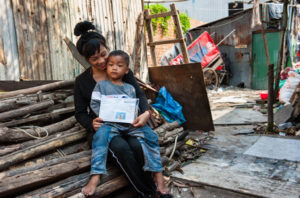 The Prime Minister of Cambodia, Hun Sen, stated on June 21st via his Facebook page, that Covid-19 has crippled Cambodia's economy, leading to work suspensions. He mentioned, in particular, less fortunate Cambodians who live in the countryside were experiencing food shortages.
The Cambodian government, in collaboration with the Australian and German governments, has created the IDPoor program in order to tackle the crisis of Cambodians experiencing economic hardships.
Hun Sen announced that on June 24th the government will officially launch "the IDPoor program to assist poor and vulnerable households during the pandemic."
Focus interviewed Ole Doetinchem, the IDPoor program manager for Australian and German support, to learn more about the program. With over six years experience managing the IDPoor program, Doetinchem is one of the foremost authorities on the scope and scale of the project and what it means for the people of Cambodia.
Can you describe the IDPoor procedure?
IDPoor is the Royal Government of Cambodia's mechanism to identify and target poor households. Through the IDPoor equity card, poor households have access to pro-poor services, such as subsidised schooling, free health care, or social cash transfers.
The Deutsche Gesellschaft für Internationale Zusammenarbeit (GIZ) has provided technical assistance to IDPoor through the generous support of the Governments of Australia and Germany for over ten years. We have, for example, modernised the database and introduced android tablets for data collection. Under https://mop.idpoor.gov.kh anyone can register and look up the data. There you can also see the interview questions that assess, for example, the size of shelter or whether the household members have illnesses. Every year, one third of the country is assessed using a household interview that assesses the living conditions and personal situation of the household members. All provinces of Cambodia participate in IDPoor and households of some 2.3 million Cambodians currently have an equity card.

Who has the authority to select poor households? Do NGOs and other partners take part in the selection?
The authority to determine who gets an equity card rests with the village as a whole. Villagers elect a village representative group (VRG) from amongst themselves. The VRG members then conduct the household interviews and post the results publicly. Then all villagers are invited to meet and review the results; and they can propose to include others in the list. The focus is on having a transparent, local process.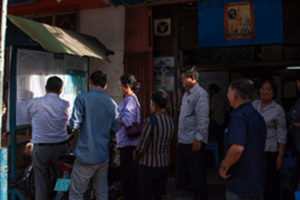 Neither GIZ nor any other outside organisations are involved in the household selection. However, the process of nominating and participating in VRGs is open to all and we would really like to see local NGOs and community organisations encourage their members to participate.
In late May 2020, households all over Cambodia were added to IDPoor. What was the purpose?
To help the poor and vulnerable population overcome the economic hardship brought on by COVID-19, every household with an active IDPoor equity card will receive a cash transfer. This is part of the government's response to the crisis and will continue as long as the acute crisis persists. 
To ensure that no one is left behind, all communes nationwide reviewed the list of poor households in May. With great effort, over 50,000 additional households were added to the register. They will receive the cash relief in addition to all those already in IDPoor. This is made possible by using the IDPoor identification system of the Ministry of Planning (MOP) and the cash transfer operations of the Ministry of Social Affairs, Veterans and Youth Rehabilitation (MOSVY). 
At GIZ, we are happy to be able to quickly mobilise the needed support from Australia and Germany to adapt the existing system for this emergency relief effort. In fact, Germany has committed an additional one million Euro in support of the design and roll-out of the IDPoor cash transfer. We partnered with UNICEF who was already working with MOSVY, with support of Sida (Swedish International Development Cooperation Agency) and the EU, to develop the cash transfer delivery system. This helped to quickly deliver a system that works nationwide for all Cambodians. In addition, a lot of other international partners are assisting with this relief effort. The United Nations Development Programme (UNDP), for example, is delivering extra tablets for identifying poor households for all communes.

Was adding these households a one-time only action?
No, this will continue. In fact, it was the beginning of a new chapter of IDPoor, called "On-Demand IDPoor". From now on, households that do not have the IDPoor card, but have fallen on hard times, can request inclusion in the register every month, via their commune councils. So, households no longer have to wait for up to 3 years to be registered, but can do so year-round. They can go to their village chief, their commune councillor, or ask local NGOs to request an interview on their behalf. The plan had been to implement On-Demand IDPoor over three years. However, the coronavirus crisis required an immediate nationwide roll out. Thereby households who suffer from the economic fallout of this pandemic are not left out. I'd like to acknowledge and thank all the implementers from the Ministry of Planning (MOP) and sub-national level for their efforts to get this done!

What are the challenges in the selection of recipients?
The biggest challenge for keeping the IDPoor register current is migration in general. People move for work, whether permanently or seasonally. So, they may be missed when the IDPoor interview happens. That is why On-Demand IDPoor is such an important addition to the system. People should be aware, though, that the IDPoor equity card is valid nationwide. So, if you are sick, you can get healthcare with it anywhere in the country.
Another challenge is for villages to find enough volunteers to do the identification, and to ensure that they can fully understand and administer the interview questionnaire. That is why IDPoor provides training for the local implementers every year, and MOP is planning to improve the questions to make them easier to understand for all.
How much money is the government paying out through the program?
The COVID cash transfer amount will vary according to household size, number of children, elderly or persons with disabilities. Each household will be able to access these payments via Wing agents after registering in their commune/sangkat. We expect the government to announce the exact amounts soon – I would encourage everyone to keep an eye on https://www.facebook.com/socialprotectioncambodia for details.
Anything else you would like to add?
The emergency cash transfer for IDPoor households is just one of many measures put in place to mitigate the COVID-19 crisis. But it shows that when the relevant stakeholders work together hand in hand, we can achieve fast results that reach far and wide – in this case 2.3 million people. What is important is that such systems need to be built and be ready before a crisis hits. The government's earnest investment into a comprehensive social protection system is very encouraging. It is not without pride that we see IDPoor having become a central part of that effort. GIZ is pleased to have been able to do our part to assist the poor and vulnerable in this beautiful country, on behalf of Australia and Germany.
This post is also available in:

KH