"Credit is a double-edged sword. You can either benefit from credit and improve your life, or end up burdened if you use it for the wrong purposes."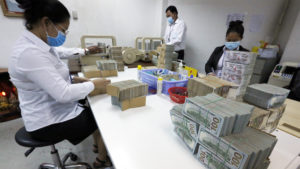 Cambodia's financial institutions that are authorized by the National Bank of Cambodia (NBC) to provide loans, include a number of different bodies. Commercial banks, specialized banks, micro-finance institutions, financial leasing companies and rural credit institutions have all been given the ability by the NBC to provide loans.
Looking at NBC's reports on the first quarter of 2020, published on July 7, Cambodia's banking sector seems to have a plethora of different institutions, with varying functions. The country has 52 commercial banks, 14 specialized banks, 6 micro-finance institutions, all of which have deposit services. A further 76 micro-finance intuitions without deposit services, as well as 246 rural credit institutions and 15 financial leasing companies. There are a total of 2,465 headquarters and branches of financial institutions nationwide. 
According to NBC, assets within the banking system are worth just over $55 billion, including $34.4 billion of customer credit, $30.5 billion of customer deposits, and $6 billion of capital. Banks and financial institutions collectively have 8.2 million deposit accounts and 3.2 million credit accounts. 
Focus interviewed Oeur Sothearoath, chief executive officer at Credit Bureau Cambodia (CBC), to explore the loan system in the Kingdom. Sothearoath has 15-years experience in the financial sector and he has been involved with CBC since 2013, first as its head of business development and now as its CEO. 
Established in 2012, CBC is a private company that aims to collect credit information in Cambodia. CBC acts as an intermediary to gather credit information from banks and microfinance institutions and subsequently share the reports. Financial institutions will have customers' information available to them, in order then to make a decision whether to provide credit.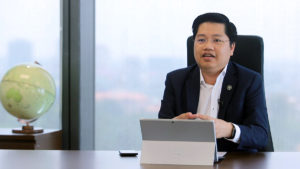 What should people know before applying for loans? 
They should understand the benefits of credit and figure out their purpose for applying for loans, whether as capital to run a business, that can provide benefits in the long run. It is very important to learn about the types of financial institutions and if they have authorization from NBC, as some financial institutions might be running illegally. Customers should also know about credit conditions, such as: credit application method, interest, periods of payment, late payment and other service charges, as sometimes a bank might provide low interest, but apply high service charges. People should always be certain that they are capable of repayment, while the lender will commonly run a background check on customers' credit.
How many types of loans are there?
Loans are classified into two big categories: consumer or individual loans and commercial loans. However, customers often apply for loans for various purposes, such as small businesses, housing, personal reasons, group and credit card loans. 
Apart from the banks and microfinance institutions, what are the other sources of applying for loans?
Money lenders, who sometimes refer to those most wealthy in Cambodian communities, can be a source for loans – but this is informal lending. In Cambodia, there is formal lending from financial institutions certified by NBC and informal lending, which is seen in the form of group or individual loans. 
Which one poses a greater risk – informal lending or formal lending? 
Financial institutions authorised by NBC must follow certain policies and work under specific conditions. They also have to submit a report to NBC, which in turn has the authority to audit. However, informal lending is difficult to define as it is not under the control of any institutes. We can't be certain how large scale it is and when an issue arises, there is no authority to control the situation. This might be a reason for formal lending preferences among Cambodians.
Do Cambodian customers prefer formal or informal types of lending? 
We have no data on informal lending. Presently, formal sectors have nearly 3 million credit customers. Of which, 65% apply for loans in microfinance institutions because of their wide availability, while 30% and 5% of total customers receive loans from banks and rural credit institutions, respectively. However, banks provide the largest amount of loans. In Cambodia, consumer loans are worth $28 billion, of which 75% are from the banks and the other 25% from microfinance institutions.  ​ 
Do banks mainly provide loans for big businesses, while small or medium-sized businesses tend to receive loans from microfinance institutions?
This is the tendency, as the majority of banks operate in Phnom Penh and other big provinces and focus on customers who run small and medium sized enterprises or commercial loans. While microfinance institutions are mainly located in rural areas, providing loans on a smaller scale. Normally, an average credit loan provided by a bank totals around $20,000, to a smaller pool of customers. While an average loan typically given out by a microfinance institution is around $3,000, but often to more customers. 
Which types of loans are the most straightforward to receive? 
It depends on the conditions of each institution. For personal finance loans given to customers who do not make much profit, loan providers are more careful and strict, and generally all institutions limit a certain amount of credit in this type of loan. For instance, if a financial institution has a $100 million credit portfolio, they will use 20% for personal finance loans and 80% for small business loans. Cambodia's credit portfolio has reached $28 billion, of which almost 70% accounts for small business loans, while 15% accounts for personal finance loans. 
Should people apply for loans for personal needs? 
Credit can be either beneficial or dangerous, depending on the purposes of it. Hence, if you apply for loans for your personal needs, it might be not wise, and the decision should be reconsidered. It is not recommended to request loans for non-profit purposes.
How do banks ensure customers repay their loans?
I have not seen any banks or microfinance institutions that offer consultancy services for customers' businesses. They only examine the profits and growth of the business. If customers' businesses are having challenges in making profits, loan providers might need to reassess the conditions and policies, or restructure the payment. This can be linked to the pandemic, as some customers are allowed to apply for loan restructuring to pay either the interest or principal payment. However, some might be able to receive payment deferment within three to six months.
During the pandemic crisis, Cambodians have dealt with a deteriorating economic situation, while having to pay debts to the banks or microfinance institutions. Do you encourage the public to apply for loans?
Despite the pandemic, credit services remain the same. In April, credit loans exponentially decreased, while the loans began to increase in May and June. It is important that customers are aware of their loan purposes. I think if customers apply for business loans, the banks or microfinance institutions will study the type and progress of the business. However, if they have a clear purpose for the loan, I believe that banks or microfinance institutions will continue to provide.
Here is a link to tips before applying for loans.
This post is also available in:

KH