Educational experts: "Students should enroll in one university and use spare time to do internships and volunteer work for long term goals."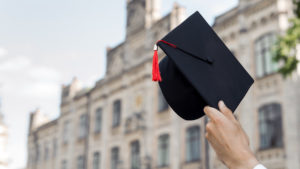 The increase in the number of institutions, a wide selection of majors, competition in the job market and individual prestige are some of the reasons for two-university enrollment in Cambodia. Some students might even enroll in three different universities at once.
According to the Ministry of Education Youth and Sport, Cambodia has 44 tertiary public institutions, 77 tertiary private institutions and 38 post tertiary institutions. Cambodia had over 20,000 university students by 2017-2018, of which, 60% were of whom enrolled in private institutions.
Studying in either one or two universities depends on a student's social situation and resources. However, educational experts do not encourage students to choose two majors at once, as it will consume tremendous amounts of time that students could use to refine their knowledge, skills and real life experience. 
Cham Bunthet, an expert on leadership development and former professor at Pannasastra University, said some students decide to enroll in two universities due to family factors. They can choose a major in which they are passionate and another major to satisfy their family. This happens to nearly half of the students he knows, and the students mainly come from middle-income families, added Bunthet. 
Students' uncertainty in their career path, life and job market is the main cause to enroll in two universities. Bunthet added that some students who study two majors in two different universities are less likely to study hard. This type of learning only provides a level of compliance and is less effective. 
"Many studies have found that less than 15% of students who graduated from two universities can perform well at work by utilizing their skills from school. In general, university graduates from this group who are capable of working effectively and efficiently are few in number. This proves that enrolling in two universities does not necessarily link to a greater work capability or better intelligence," continued Bunthet. 
He added that "students who enroll in two universities do not have time to apply their skills and knowledge while studying, as they normally spend eight hours a day at the two universities. After school, they are exhausted and have no chance to put their knowledge and skills into practice." 
Students who enroll in more than one university at once seem to not have adequate time for self study and research in their courses. Also, they will not be able to gain valuable work experience skills from internships, part time jobs, volunteer work and community activities, which can also expand their networks and strengthen their communication skills. 
Bunthet said students who study one major and gain some experience from volunteer work or internships, improving their skills through daily practice, have a higher chance of success in life than students who enroll in more than one university. 
He also mentioned that studying in two universities for two degrees consumes tremendous amounts of time and, when you apply for a job, no one would ask for two certificates. However, they would look for skills and experience. 
Dr. Mengly J. Quach, Founder, Chairman and CEO of Aii Language Center and a public speaker, was invited to talk to students about the educational field and life success. He said in a "My University and Self-Discovery" workshop that students should choose only one university. In developed countries, students do not enroll in two universities, added Mengly.
He also mentioned that "students should focus on one university and, with spare time, they should develop language skills…and do internships during their academic years. After graduation, they can apply for jobs. Normally, companies or NGOs require two- or three-year's working experience. Also, if they have time in the evening, they should learn English as a second language."
Dr. Mengly J. Quach stated that students should not use shortcuts in their studies and degree. They should simultaneously learn and gain experience as certificates are not the only requirement. A successful student will harness some time to scale up friendship, networks, knowledge and experience through books, surroundings and training programs.
"Students should not be too proud to pass the high school national exam because it is just a stepping stone in life to reach another dozen life chapters. They should try to get admission into a prestigious university and choose a major they are passionate about, which is a key to success for many people worldwide. Students should be determined and stick to their own passion in spite of peers' influences and family pressure. All successful people always learn and do."
This post is also available in:

KH