Instructions from the Ministry of Education to reopen schools received both positive and negative feedback from families, but when is the correct time to open up the classrooms once again?
On July 21, the Office of the Council of Ministers announced that the government agreed with the Ministry of Education to commence with the first stage of school reopenings, and open 20 schools, located in Phnom Penh, Siem Reap and Battambang, with preventive and social distancing measures in place.
Ros Soveacha, a spokesperson of the Ministry of Education, told Focus as recently as August 6 that the 20 private schools will be reopened in mid-August.
On August 10 the Ministry also announced that the government will reopen public schools for students at grade 9 and 12 in September, with a maximum of 15 students per class. 
The grade 12 national examinations for both private and public schools will also be pushed back to December.
Soveacha stated that while the Ministry awaits the first stage of schools to reopen,  depending on feedback from the first stage, the Ministry will make a request to the government to decide whether other schools can reopen during the second and third stages.
It is the first step of the plan to get students and teachers back at their desks. 
Some families are happy with the decision to reopen schools, as they have prepared their children to return and believe in schools' safety measures. 
However, other families remain concerned over the risk of Covid-19, while some are not happy that the Ministry is perceived to be providing educational opportunities only to high-income families, who can send their children to fee paying schools, the same ones earmarked to reopen.  
The Ministry announced that they will check schools' capability to be reopened in three stages. 
The first stage is scheduled in August, for international schools with the capability for high-safety standards. The second stage sees that schools with adequate-safety standards will be reopened while the final and third stage of reopening is those schools with apparent low-safety standards.
The 20 high-safety standard schools include:
Southbridge International School

Northbridge International School

CIA First International School

Footprint International School

Paragon International School

ICS International School

Learning Jungle International School

Westview Cambodia International School

Singapore Cambodia International Academy

British International School of Phnom Penh

International School of Phnom Penh

Australian International School of Phnom Penh

CIESF School

LOGOS International School

Japanese School of Phnom Penh

Canadian International School

Asian Hope International School

Hope International School

Ican British International School

Institut Francais du Cambodge
Klem Sophanary, a mother of two whose children are enrolled in one of the aforementioned schools, said that she was forced to bring her children to work since their school shut down, but that she is conflicted about reopening schools.
At first, she was happy with the Ministry's decision; however, since the Covid-19 situation has not improved, she is now concerned. 
Sophanary noted the increase of Covid-19 cases in neighbouring Vietnam and worries about a potential spread into the Kingdom. She now hopes that schools remain closed until the situation becomes clearer. 
"Covid-19 can spread fast, and we are not certain who might have it and if students are going back to school, we must be worried," said Sophanary. "Neighboring countries are still in lockdown, while we are reopening schools."
Sophanary said that while she understands schools are setting preventive measures, such as social distancing, it may be hard for young children to realise its importance and follow the rules. "I believe that my children who are in K3 do not understand social distancing and I reckon that asking them to do so will be challenging," she said.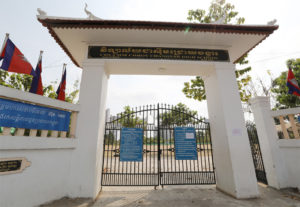 Ministry of Education spokesperson Soveacha clarified that there should be a bilateral agreement before allowing children to go back to school. Measures are also in place beforehand, with students being required to be tested for Covid-19 and also submit their travel history.
But, only those that arrived back in Cambodia after the start of June, however, must be tested for Covid-19. 
Father Simon Johnson, whose two children attend one of the schools reopening in August, told Focus that he is not hesitant to send his children back to school. Long distance learning is not as effective as classroom learning, said Johnson, while he is reassured about the preventive measures being put in place.
"I am confident that my kids' school has a robust system in place for protecting, monitoring and isolating people sufficiently," said Johnson. "We know that the school is very sensible in taking precautions and also that it is very keen to make sure that the Ministry of Education knows that they are doing the right thing. So, they really have a lot of emphasis in doing everything right."
On August 4, the Ministry of Education revealed the safety measures needed for schools to reopen: 
Set up a school medical clinic and place a teacher in charge for CPR

Conduct medical check-ups for students and employees

Ask students, parents and guardians, and employees to submit health and travel history reports

Check peoples' temperature before entering the school campus – if someone's temperature reaches over 37.5 degrees celsius, they should not be allowed to enter the campus and advised to stay at home and monitor the situation.
Other policies schools must implement include: 
Keep room temperature above 24 degree Celsius

Disinfect classrooms, libraries, laboratories, cafeterias, bathrooms and other spots on campus

Manage waste correctly and safely

Practise social distancing (20-25 students per class)

Open all gates to mitigate the crowd

Some students must stay in the classroom while others have their break

Implement social distancing for PE

Suspend library and exercise operations – students are not allowed to borrow books and to gather in large groups

No events with the outside community

Students and employees must bring food from home 

Social distancing must be at place at all times, including while eating. 

Ban all food vendors inside and nearby the campus

Provide clean water, alcohol-based products, soaps and hand sanitizer
Since the order from the Ministry of Education to temporarily shutter all schools in March, some private schools have managed to provide online classes. However, students from public schools, particularly in rural areas, lack the resources for such teaching, and fall behind their privately educated counterparts.
Johnson said that it is important that those at public schools have the chance to go back to school soon, too. 
"It is very damaging not to have people at school and the risk is that the longer Covid-19 goes on, the harder it is for children to go back to public school," Johnson said. "I think the Ministry should try and put the system in place as soon as possible, but of course in a safe way."
Son Chumchuon whose children are studying in public schools said that if the Ministry of Education gives permission for private schools to reopen, public schools should get the same opportunity to do so. 
"Students from middle-income families find online classes extremely challenging and could not attend these classes regularly, let alone those families who are not able to access neither the internet nor smartphone," added Chumchuon. 
But it seems that a phased approach of reopening is the route being taken, and some schools will have to wait a bit longer to start teaching.
This post is also available in:

KH