As everyone was struggling, and the pandemic caused Phnom Penh to lock down in April 2021, an older group grabbed Taing Huang Hao's attention. The cyclo drivers, most of whom are old age and often found as living-in-cyclo on the street, had almost no income and got little support. Hao founded Local4Local as a means to help out these elders in need.
To this day, Taing Huang hao still remembers riding cyclos to buy food and go around the city with his grandma. That is the best memory that Hao has with his late grandma who passed away 3 years ago.
The memory made Hao think of cyclo drivers during the pandemic, whose livelihoods and incomes have dropped drastically and are facing problems as a result. He knew he had to do something.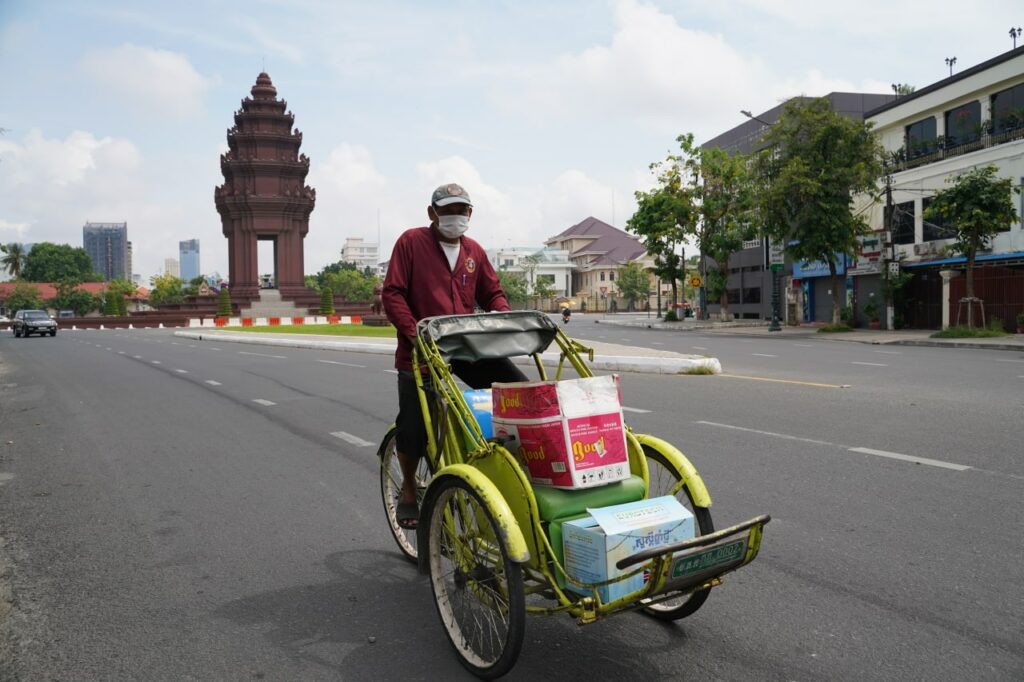 That was the start of Local4Local, which began in early April 2021 when Phnom Penh was locked down.
"If we have an idea that we want to help society, it is not that we need to help a hundred people. We can begin with helping one person. Helping a person is also helping the society. Helping two people is also helping society. Start from a small thing that we can do and then expand to bigger things." This is what Taing Hao told Focus in a zoom interview from the United States.
At the end of 2020 Hao was having a photography assignment of a group of people who have low income but still happy with what they have. Hao decided to choose the life of a cyclo driver as his subject. The project gave Hao the opportunity to get to know the cyclo drivers deeply.
"At that time, I was riding a cyclo around the central market and the river side. Then the cyclo driver told me about the place he sleeps and the place he showers. I think his life is way harder than mine and ours. So, I tried to come up with an idea to help him." This was what Hao said in an interview when he just started Local4Local.
Hao tried to come up with an idea which could help cyclo drivers during the hard time of covid-19 pandemic.
Hao created Local4Local and distributed food for free, which supports the lives of elderly cyclo drivers in Phnom Penh by promoting the project on social media. The project gives away covid-relief packages and warm meals to homeless people and those who are in need, already donating over 27,000 packages so far.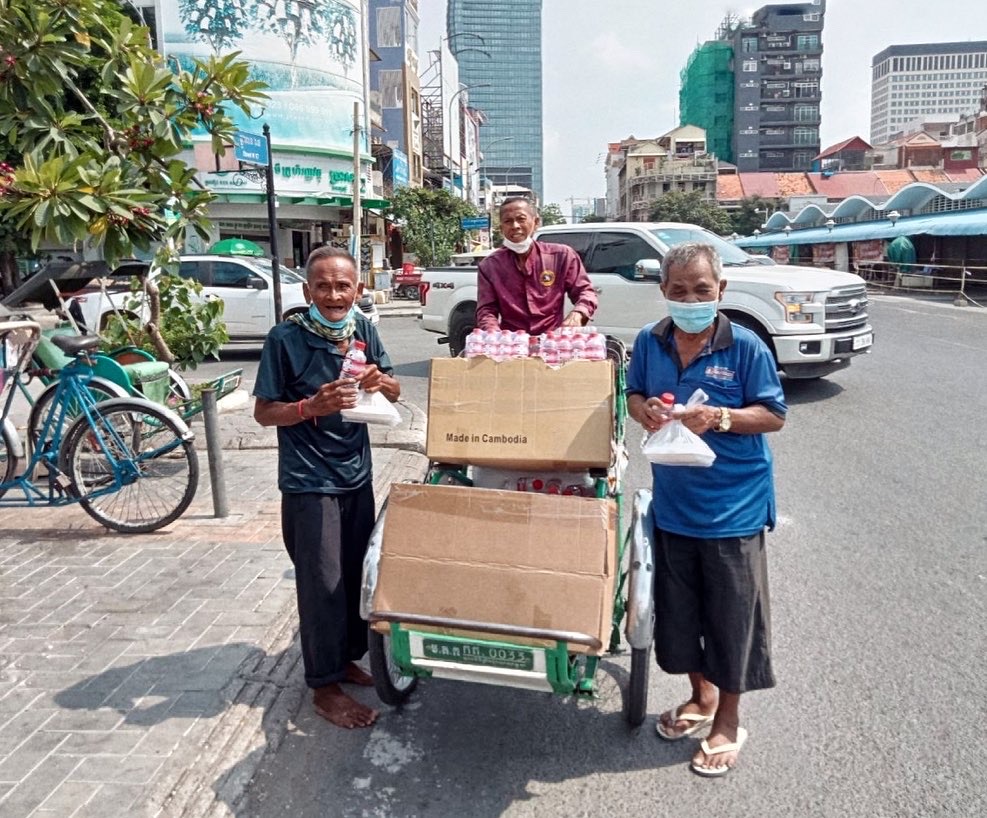 Since the launch of the charity project, Local4Local has received $65,000 USD from local and international grants. Currently, the Local4Local volunteer team is preparing a new 'Cyclo Tour' which will include a coffee day and cyclo tour and take travelers to main attractions and sights in Phnom Penh.
Success comes with costs
Hao was fortunate to have support from his family and the people surrounding him, however, his family was also concerned about his health and studies. Hao had to study online from home at night, to synchronize with lectures in the US and he also worked on the charity project as a full time job.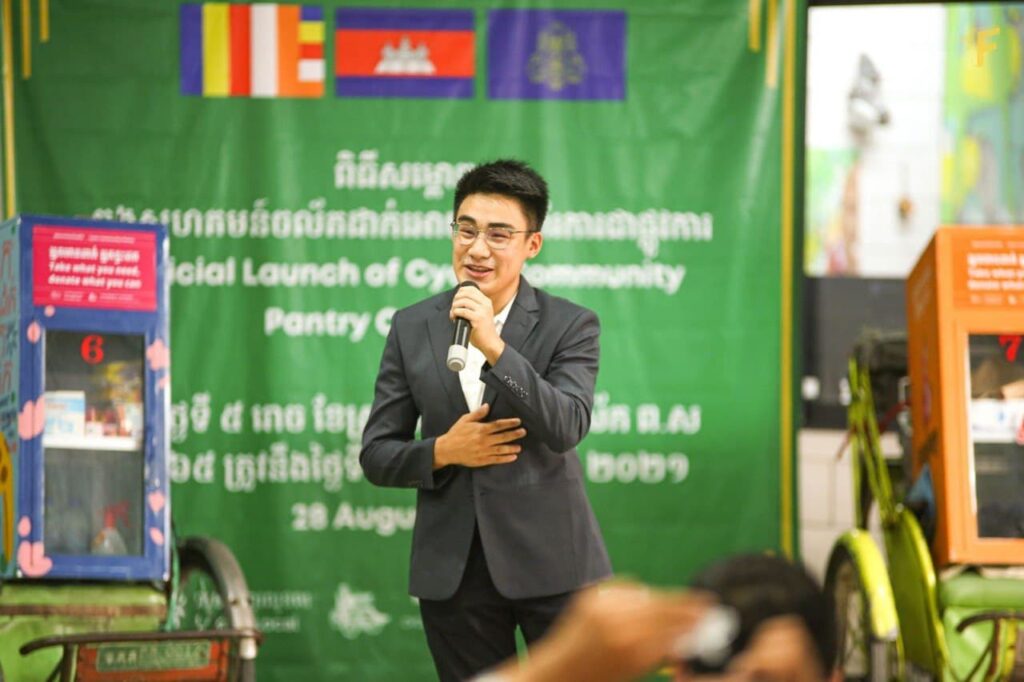 When the project first started, Hao was all on his own. He was the fundraiser, social media manager, focal contact person, designer and financial manager of Local4Local. At the same time, Hao also has a job as a junior marketing manager at another company.
All these things were new to him and as a student and not a well-known person, there was also a lot of distrust, questions and doubts surrounding his project, which ultimately led to some disappointments.
At first, Hao did not plan to turn Local4Local into a big project. He only thought that the money he raised would be given to the cyclo drivers during his short planned stay in Cambodia.
"I never thought that this project would be this big. With everyone's support and donations so far, there are many new projects such as different creative projects, art promotions through painting and more."
Sometimes, Hao also feels the pressure of considering the next steps for the charity, something which can affect his mental health. To manage these feelings, he gives himself time every evening to play sports, meditate and step away from social media, and spend time with his family.
"I believe in luck but the luck that I believe in only comes from hard work. Luck does not come easily unless there is sacrifice"

Taing Huang Hao – Founder of Local4Local
Hao believes that youth are increasingly more creative and involved in society, so whenever young people have ideas they should look for ways and opportunities to try them out and make them into reality.
Local4Local's latest project is "Cyclo pantry", a mobile community container under the slogan "take what you need, donate what you can." With "Cyclo pantry" anyone can donate anything to those who are in need on the street.
Although Hao is currently studying in the United States, he still manages the charity project and keeps in close touch with the cyclo drivers online, creating new projects to develop for Local4Local.
Those plans include "Local4Local station" and "tuk tuk pantry" projects aimed at helping people in the provinces. Another project is an Art competition that will showcase different ways cyclos could be transformed.

Hao is optimistic about the future and the power of people helping one another."With the slogan Take what you need, donate what you can, even though we can not alway help everyone, it is cultivating a sharing culture."
How can you join Hao to support cyclo drivers?
You can join the Local4Local charity project in 2 ways:
Method 1: Donate money through ABA Bank to support 4 programs of Local4Local: 1# a weekly grant for cyclo drivers who are responsible for carrying each mobile community container. 2# sponsors a food distribution program for cyclo drivers through a cyclo food coupon. 3# support the administration of the Cyclo Conservation and Careers Association (CCCA). 4# expand the Local4Local volunteer team and continue to support community containers, including food, and other supplies.
Method 2: beside donation money, you can also donate food, clothing, anything that can be used, except for damaged or spoiled food, to the 10 mobile community containers located on the riverfront, Orussey Market, Central Market, Night Market, Two deer Stop, Chroy Changvar Bridge, Wat Botum Park, Boeung Keng Kang, Toul Tom Poung and Depot Market everyday from 9:30am to 10:30am and 4pm to 5pm.
In addition, stay tune to the  Local4Local – លូខលហ្វរលូខល facebook page to provide support for other programs from this project.
Editor Note: this article is a part of a promotional partnership with KampumEra that reports on the story of Cambodian youth who created their own Success .
This post is also available in:

KH