In spite of the spread of Covid-19, working outside of the home remains the norm for financially-struggling Cambodians.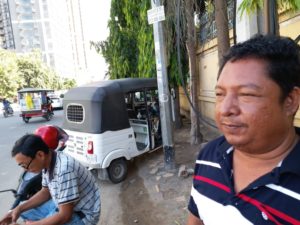 Traffic has become lighter and it has been quiet in the streets, markets, restaurants, and cafes since the outbreak of Covid-19 in Cambodia. As the situation has recently improved, it seems that commuting to work and gathering with friends for food and drinks is returning to normal. However, for those who are financially struggling, the privilege of staying at home has never been an option.  
Nhem Dara, a tuk tuk driver, told Focus on May 21st that he has not stopped working since the outbreak despite a lower income, as he would not be able to pay his bank loans if he was not working. 
"In spite of any deadly viruses, I must keep working to support my family, as staying at home will worsen​ my family's financial status," added Dara.
During the interview, Dara's friend, a fellow tuk tuk driver, shouted that they are presently not making sufficient income, sometimes earning only enough to pay for the gas. 
While waiting for customers from a taxi stand nearby Kbal Thnal bridge, the 2-year-experienced tuk tuk driver added that if he was not making an effort, he would not be able to pay his monthly tuk tuk installment fee. He has to pay $150 per month, while the tuk tuk company has agreed to an interest exemption he applied for during the crisis. 
Recently, the Covid-19 situation has improved, resulting in more people going out. However, Dara, a father of two, stated the tuk tuk service market remains tough and if gasoline companies could lower the price from 1,650 riels to 1,200 riels per liter, it would be of great assistance.  
He continues to implement Covid-19 protection measures despite an improved situation, says Dara.
He mentioned, "I have prepared alcohol-based products and masks. I regularly put masks on and wash my hands, and some customers also practice the measures while some do not, so I provide them with a few drops of hand sanitizer."
Du Havuth, a former private school bus driver in Phnom Penh and now a motor taxi driver, stated that he and his family traveled to Kampot, his hometown for a short period during the outbreak. However, they had to return to Phnom Penh in order to earn some wages. 
He said he is worried of contracting the virus as his daily job faces higher risks, but he needs to make a living and pay rent.
"If I am not working, I do not know what else to do. If I had adequate money, I would have stayed in my hometown," added Havuth. 
He still fears the virus and is taking serious precautions. He continued, "Other countries are having many active cases; the chance of becoming infected remains." 
Despite the low number of cases, the Health Ministry continues to advise Cambodians to practice hygienic measures and be aware of a possible second wave in communities. The Ministry says precautionary measures which include wearing a mask, washing hands with soap and water or hand sanitizer, and social distancing should strictly remain in place.
This post is also available in:

KH