Social media has been gaining in popularity among people across the globe. Does social media have negative impacts on its users?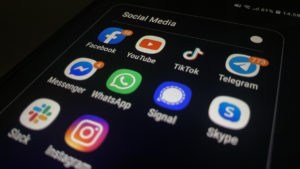 Social media is a means of communication that many people use to connect with one another to share and exchange information online.
The most widely used social media platforms currently include Facebook, Youtube, Whatsapp, Wechat, Instagram, Tik Tok, QQ, QZone, Weibo, Reddit, Kuaishou, Snapchat, Twitter, LinkedIn, Tumblr, Vimeo, Telegram, and Signal. 
People generally use social media to contact family members, friends, and co-workers for multiple purposes such as business, advertisement, education, networking, or political campaigns.
By April 2020, Facebook had become the most popular social media platform with approximately 2.5 billion users, followed by Youtube and Whatsapp with about 2 billion registered users each. Recently, Tik Tok has stolen the spotlight among social media platforms with around 800 million users, while Twitter, which is mostly used in the U.S. and Europe, has over 350 million registers. 
According to geeksincambodia.com, the number of Cambodian Facebook users in 2019 reached as many as 8.8 million, which skyrocketed from only 5 million registered users in 2017. In the Kingdom, Youtube is ranked second with around 2 million users, followed by Instagram, Tik Tok, Linkedin, and Twitter with 700 thousand, 500 thousand, 300 thousand and 200 thousand users, respectively. 
Cambodians with Facebook accounts are aged between 13 and 60, while the most regular users are between 22 and 26 years of age, making up 33% of the total number of users. 
IT experts reckon that Cambodian nationals generally use social media for day-to-day communication, information searching, entertainment, and businesses.  
While social media has likely helped ease some people's lives, it simultaneously can cause damage to some users if they are not well aware of the risks. 
Ngeth Moses, a digital security researcher, said that all sorts of social media can cause trouble for users if they lack proper education on the technological platforms. 
"If social media users are not well aware of the technological system, it is metaphoric to driving a car on a road with no experience; with any luck there are no issues. However, if careless, it can harm both yourself and other people," continued Moses. 
Many studies have shown that social media can cause issues for its users, such as depression, stress, cyber bullying, or threats, and addiction, causing lack of sleep. Users might also be constantly over-concerned over missing out on information. 
Hoeur Sethul, a psychiatrist at KCPS Counseling and Psycho-Education Services, mentioned that social media can provide strongly negative impacts on users' mental health, containing horrifying information or images including corpses, violence, or accidents. 
The effects on some users can come from a lack of education. They may post or share inappropriate or immoral information like insults, defamation, and slurs that might lead to imitation by children and young adults, causing uncivil behaviour.
Sethul has advised people to avoid the dark sides of social media saying that, "Users must be well aware of their decisions and whether it will negatively affect other people." 
There are currently no studies on the extent of social media impact on Cambodians' mental health. Sethul concluded that the effect is grave, as some users have unlimited freedom to share or post information with bad judgement, which might have affected some people's mental health and behaviours.  
He added that all social media users should only share fact-checked news and avoid spreading rumors, insults, hate speech, or inappropriate language that children or school students might unconsciously follow.
This post is also available in:

KH