"If schools continue to be shuttered, while they are making less profits from online classes, schools might not be able to survive by the end of 2020."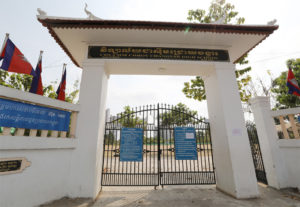 The Minister of Education, Youth and Sport (MoEYS), Hang Chuon Naron, said in May that the Ministry will consider reopening schools in early November, 2020 – only if the Covid-19 situation has improved. He added students at the examination years, grades 9th and 12th, will begin classes first. 
However, Ros Soveacha, a spokesperson of MoEYS, has recently mentioned that the Ministry will request the Prime Minister's permission to reopen top standard schools with high preventive measures in August for the first stage.   
Soveacha continued, schools will be reopened in three stages: the first stage for high safety standard schools, second stage for middle safety standard schools, and third for minimum safety standard schools. 
The Prime Minister, Hun Sen stated on July 14 that he agreed with MoEYS to reopen schools in August, but that he would like to see higher education institutions reopened first, as they are easy to manage in order to prevent the spread of Covid-19. 
After the Prime Minister's statement, Soveacha told Focus on the same day that the Ministry of Education does not have information about the school reopening update.
The Cambodian Higher Education Association (CHEA), managing 114 private education institutions, of which 45 are universities, and 69 are kindergartens and secondary schools, said on July 8 that they agree with MoEYS to reopen schools in three stages. 
Heng Vanda, chairman of CHEA, told Focus on July 15 that school closures due to the pandemic have crippled private schools' finances. Some schools were relocated, while some other schools were on sale or lease, added Vanda. However, the association has not yet collected a finite number of bankrupt schools. 
According to a 2018-2019 report from MoEYS, Cambodia has a total of 1,4905 public and private lower education institutions, with more than 3 million students, and 44 public universities and 77 private universities, with a total of over 230,000 students. The report also showed that there are approximately 47,000 students from 111 public and private technical and vocational education and training (TVET) schools.
MoEYS in March announced a temporary shutter to all education institutions to combat the spread of the pandemic, until further notice. 
Vanda stated that if schools remained closed, the income generated from online classes will continue to drop until they will no longer be able to survive by the end of 2020. It must be difficult for schools to deal with financial issues during Covid-19, unless shareholders have adequate personal resources for employees' paychecks or banks' debts.  
If the plan to reopen schools remains uncertain, private schools will go bankrupt soon, added Vanda. "None of the schools are willing to spend thousands of dollars on employees every month," he said. "It is definitely possible if there is no certainty on the reopening period."
The CHEA also issued an announcement, calling for banks to defer principal and interest payments for one year, to reduce the interest rates on extra loans without collateral, and to not downgrade their credit scores. 
Vanda also insisted that, "Financial burden is not easy as incomes from online classes will not be able to cover the expenses. The majority of schools want the banks to put their credit on hold. During the pandemic, everyone has been financially struggling including schools, parents, landlords or even the banks; hence, everybody should sacrifice a little bit. So, the CHEA requested banks to mitigate the interest rate, and when we asked for a determent, the banks will downgrade our credit score. If we have payment issues, the banks surely will demote the credit score."
This post is also available in:

KH