"Many young Cambodians always ask what business should they start? Any kind of business, as long as you have skills and knowledge."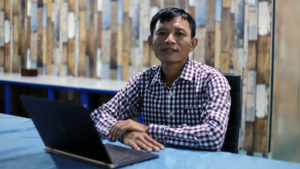 A group of people see that a business is successful; they decide to run a business, too. However, it goes bankrupt within a few months. Some people run a business already, but the business is going nowhere. 
People might see a long queue in front of a restaurant, while there are less customers in another restaurant nearby, in spite of similar types of food and service. However, some people believe in "Feng Shui", a Chinese term for luck, and decide to stay in the queue. 
The success of the business is associated with the owner's skills, knowledge and competency. In a competitive business world, luck is not even in the dictionary. However, skills, knowledge and experience are, and they are the main factors to success. 
What should a young entrepreneur know before running a business?
Ngeth Chou, an economic researcher, explained that there are many important factors a young entrepreneur needs to understand prior to starting a  business. 
Personal interest: you need to really want to run a business. Similar to choosing your majors at college, if you choose a field which you are passionate about, you are more likely to excel.
Knowledge and skills: you have a strong background in the type of business you want to start, as well as knowledge on marketing, communication and human resource management. Also, young entrepreneurs should understand finance, including loans and interest. This does not mean that they should specialize in economy or finance, yet it is important to have some idea of what they are.   
Strategies: you should understand the relevant business laws such as registration, taxation and public services. Also, it is a plus if you know how to write an investment proposal and understand service charges.
Work experience: if you want to open a restaurant, you should look for a job in hospitality to gain some experience and study about the food industry, including customer service and challenges, for example. 
Advice: you should look for advice, mentorship and navigation from someone who is successful in the field where you want to start the business.
Networks: you will be able to receive information, knowledge and learn about challenges in business. Networking is a major factor of a successful business. 
Information on the consumer base: you should choose a location whose residents can afford your products or services. It is also important to understand the residents' standard of living and their needs. 
An understanding of the whole business process: you must know what and where you can purchase the raw materials, where to find suitable employees and relevant utilities.
Study risk: you should know what your risks are and how to overcome them. 
An understanding of the government's policies: some fields are not considered to be a core of the country's development. Thus, you should do your research and apply for funding from a program run by the government and development partners.
Young entrepreneurs should know all about the current business and investment environment.  
Economic trends: they should understand  GDP, annual growth and GDP per capita.
Investment trends: they should study about the rise or drop in investment, the field of investment and international communities investing in Cambodia.
Trade trends: they must learn about trade balance and both the export and import of products
Foreign direct investment (FDI): they should understand the countries with which Cambodia has direct investment and in which field. 
General System of Preferential (GSP): GSP means an import tax exemption to a country. It is important to know the GSP of Cambodian products, its period and the countries Cambodia receives GSP from.   
Business operations: such as logistics, real estate, labor force, electricity and telecommunication services. 
What are the prioritized sectors for the investment in Cambodia?
The Council for the Development of Cambodia, according to its industrial development plans for 2015-2025, indicated that there are five prioritized fields for  investment in Cambodia, which include: 
Industries with the capability of breaking into new markets, with high value-added products, creative and highly competitive such as machinery assembly, electronic equipment assembly, transportation  assembly and natural resource processing. 

Small and medium-sized enterprises (SMEs) in all sectors, especially those involved in drugs and medical equipment production, construction materials, packaging equipment, furniture manufacturing and industrial equipment.

Agro-industrial production for export and domestic markets.    

Various types of supporting industries for the agriculture, tourism and textile sectors as well as for industries serving regional production chains, with either global markets or global value chains. 

Industries serving regional production lines and those of future strategic importance such as ICT, energy, heavy industries, traditional handicraft and green technology.
Here is a link to article: "How Do Young Entrepreneurs Seek for Consulting Service or Training Programs Prior to Running a Business?"
This post is also available in:

KH