Recently, there have been only a few active cases of Covid-19 in Cambodia and, presently, no patients are being hospitalized, indicating zero cases. This has resulted in celebrations or parties among a large population of society. However, the Ministry of Health continues to advise Cambodians to take strict precautions.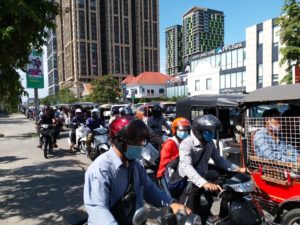 During the spread of Covid-19, large festivals such as wedding receptions were postponed or canceled as their hosts feared that they would not have many attendees, while others wanted to prevent the further spread of the virus. 
However, Cambodians currently seem to no longer worry about the virus anymore since the situation involving Covid-19 has improved. Traffic jams in the city have started to return, and people have begun to go out frequently for food or shopping. Also, some people have begun hanging out with friends at cafes, restaurants or bars, and some families have arranged wedding receptions for their children.  
Some Cambodians seem to have stopped taking precautions such as wearing masks, an effective means of reducing the spread of Covid-19. Hand sanitizers are widely available in stock as some people are now purchasing and consuming less, and some places have stopped providing alcohol-based products or hand sanitizers to their customers. As well, social distancing, which is strongly advised in order to combat Covid-19, is not being well-exercised throughout the country, and some people are gathering in large groups without a mask.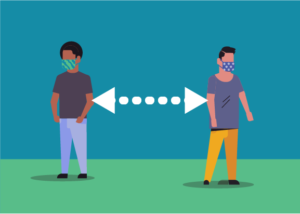 Having a few active Covid-19 cases is a good sign for Cambodia and its people. Yet, is the carelessness of some Cambodians presently considered a positive image for the country to fight against the pandemic ?
Ms. Or Vandine, the Health Ministry's spokesperson, stated that Cambodians must collaborate to combat a possible second wave of the virus. She added that the Ministry has called for the avoidance of crowded festivals.
She mentioned that, "If one infected person attends a festival, everyone there will become infected. Hence, we must take serious precautions at all times." 
"Although Cambodia has no more new cases and, so far, no deaths, it does not indicate the eradication of the virus from the country. Our well being remains at stake," added Ms. Vandine on 19th of May.
The Ministry of Health has not lifted the ban on large religious ceremonies, concerts, bars, clubs, or karaokes while the school shutter ban from the Ministry of Education has been temporarily continued due to the fear of a second wave.
She continued, "If Covid-19 hits communities, it will be difficult to manage and control the situation. As we know when the country had only 122 cases, the situation turned extremely serious and the impact was grave. Thus, we have to take proper precautions to avoid the spread within communities, and the reappearance of a rapid increase in infected cases, which is the so-called second wave."
This post is also available in:

KH