Every occupation available, both white collar and blue collar, contributes a great deal to economic development.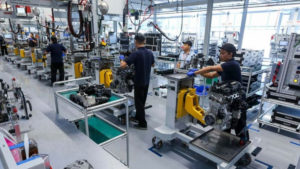 For a developing country, technical and vocational human capital is a major indicator of the strength of a country's economic development. However, technical and vocational education and training (TVET) has not seemed to gain popularity among youth in Cambodia. 
Ngeth Chou, an economic researcher, said that the majority of Cambodian youth and students seem to have less interest in TVET, as they believe that TVET is a blue collar career and not valued in the society, which has become a big issue in Cambodia, a developing country. 
Chou, who went to South Korea in 2004 to learn about the country's TVET field, stated that in the past Koreans were also not interested in TVET, and most of them prefered office works such as management, accounting and financing.  
Experts in human resources in South Korea found that the country requires 70% of all human capital in TVET in order to improve the economy, added Chou. 
Chou also mentioned that "For TVET, the poor are afraid to enroll, the rich are not interested, meaning that people who struggle financially do not have time to study because their parents want their children to earn money right away. For middle class families, the focus is on a university degree. This has resulted in a lack of skill in technical work. Developing countries are in need of skilled labor." 
Cambodia has set a social development plan to become a high middle-income country by 2030 and a developed country by 2050. In order to achieve the plan, skilled human capital is a core factor. 
According to a 2015-2025 industrial development plan, Cambodia needs to develop and focus on five sectors which are the backbone of Cambodia's economy, including agriculture, construction, manufacturing, technical and electric. 
The Cambodian government announced in July 2017, plans to officially implement National Technical Vocational Education and Training policy 2017-2025. 
The Cambodian government believes that TVET is a necessary factor for economic development, with the promotion of knowledge and skills of TVET to youth being a focus, as well as the quality and effectiveness of the TVET in order to meet the local and international market demands. The government marked the 15th of June as TVET day in Cambodia and said that, "A person should at least have one skill for a daily job."
Prime Minister Hun Sen announced on June 15th that the number of students and employees who have enrolled in TVET in the last five years has reached 20,000. They will be able to develop their skill sets and gain opportunities for well-paying work and self-owned business. 
According to the Ministry of Labor and Vocational Training, there are 39 TVET schools across the country under the Ministry's management, of which, 23 schools are ISO-recognized. Cambodia also has 43 private and 24 NGO TVET schools. 
TVET programs are divided into two tracks, including poverty reduction and building industrial development programs. The former is a short training program accounting for the first level certificate of Cambodia Qualification Framework (CQF), while the latter focuses on a long training program (at least one year) providing the second level up certificate of CQF.   
CQF was established in 2014 and is an instrument for development and classification qualification based on a set of criteria. Also, CQF is a policy and strategy to ensure the standard quality of education and training programs. 
CQF divides TVET into various different levels: 
Vocational Skills Certificate: focuses on real life practices over in-class lectures and presentations. Students require four to six months to finish the program. 
Technical and Vocational Certificate 1: focuses on real life practices and lasts for one year. 
Technical and Vocational Certificate 2: centralizes real life practices and requires students to finish one year of the program and work for one year after graduation.
Technical and Vocational Certificate 3: focuses on warehouse and laboratory work and requires students to work for one year after graduation. 
High School Diploma of Technology/Business Education: focuses on the training in presentation, warehouse and laboratory work, field trips and internships. The program lasts for two years. 
Bachelor's of Technology/Business Education: a four-year program with a series of courses focusing on content mastery, mindsets, perspectives and principles. The program also provides research and problem solving skills.
Master's of Technology/Business Education: concentrates on a deeper understanding of general theory and practice in order to gain the ability to conduct proper research. 
Doctorate of Technology/Business Education: requires a maximum of 54 credits for courses as well as a dissertation after three to six years of a full time research. Students also have to continue part-time research for 8 years. 
The Ministry of Labor and Vocational Training provides several majors such as civil construction, auto-technician, and business and information and communications technology (ICT). 
Civil construction includes masonry, steel fabrication and fixing, fishing carpentry, rough carpentry, plumbing, building electrical wiring and steel structural erection.  
For technician training, the course focuses on automotive servicing, automotive air condition servicing, automotive electrical servicing, automotive body repairing, automotive painting, automotive engine rebuilding and motorcycle servicing.  
Business and ICT fields include administration services, computer servicing, human resource development, customer services, sale services, marketing services and computer graphic designing.
Chou said that the government should provide extra funding to improve the quality of TVET, providing needed facilities and equipment. Also, it is necessary to update the TVET curriculum and study the link between TVET and market demands. 
The government has acknowledged some of the challenges of TVET in the Kingdom, including the low quality of TVET, low response to the labor market, less interest in TVET, less funding and lack of support in equipment and scholarship.   
Chou believes that the government must have strategies to change Cambodian youth and families' mindset, encouraging them to enroll in TVET.  
"If the government invests in TVET with a concrete plan, providing standard facilities and quality programs, and people are not interested due to a stereotype of low status in the society, the country will continue to face challenges. The government should run a campaign on behavior change programs to promote career paths in TVET and inform the possibility of becoming a boss or running their own business", said Chou.
This post is also available in:

KH