Since the spread of Covid-19 in Cambodia, a wave of help across communities has continuously been enlisted. Government officials have offered up their salaries to the Inter-Ministerial Committee to Combat Covid-19, while Cambodian people have come to the aid of others with money for the expenses of equipment to combat the virus. Also, communities have supported one another with food supplies, masks, hand sanitizers and soaps, in particular to those who could not afford them, and some landlords have been reported given discounts to their tenants.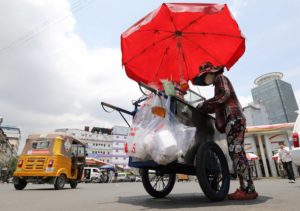 Mr. Samrith Keo, a tuk tuk driver in Phnom Penh, said that some of his friends have collectively raised charity funds for rice, tins of fish, instant noodles, and soy sauce, as well as some money for his family, as his income has been drastically decreased during the times of Covid-19. He added that, prior to the outbreak, he could make approximately $15 per day, but currently only makes about $5 per day, and some days he earns just enough for gas. 
He also said that some Cambodians have assisted one another, while some could not since they have to provide for their family during these capricious times of instability, unpredictability, and falling daily incomes. 
Mr. Thous Chantrear, who lives in the city and contributed some supplies to Mr. Somrith's family, told FOCUS that providing capable support during the crisis is a human and empathetic act.  
He stated that scarce people are those who have a higher risk of becoming infected due to the responsibility to support their family. "Everyone is facing difficulties; however, if you are not severely hit, you should help gravely-affected individuals. Some countries' governments have provided financial aid to those experiencing  job loss or suspension, but we could only support people in need with rice, masks, and hand sanitizers.", said Mr. Chantrear.
Mr. Somrith Keo, a father of three, said that on top of his low income, he has installment loans to pay back, which were used to build his house. As he has applied for a delay on his payment, the bank is currently assessing his situation and will inform him of their decision.  
However, he told FOCUS of his sister's experience with debt payment in which her bank chose to defer the payment because her business was completely shuttered due to Covid-19.
Mr. Keo said, "My sister has not made a payment for two months due to the shutdown of her business, so the bank examined her situation. Some financial institutions have deferred payments for four months while some have deferred for three months." 
The National Bank of Cambodia has made requests to private banks and microfinance institutions to ease the burden of customers who have been financially impacted by Covid-19. The Cambodian Microfinance Association (CMA) issued a statement on 13th May stating that around 140,000 customers of microfinance institutions have called for a rearrangement of pre-existing credit policies. Almost 90% of these customers have received a new arrangement on their credit policies, totalling approximately 500 million dollars.
Mr. Somrith Keo insisted that the government clarify with banks and microfinance institutions to ensure that all institutions defer customers' payments for those who are facing financial misfortunes. 
"The government should make an official announcement that all banks must defer several-month payments or that customers can pay less with longer period suspension. The government should take actions as we know that even without Covid-19, times have been difficult, let alone during the crisis," added Mr. Somrith.
Some opportunists have been immorally and illegally trying to take advantage of the situation without consideration of people's health and hardship since the outbreak. Some people have provided poor quality or fake products at inflated prices while others have produced hand sanitizers without meeting the standards from the Ministry of Health; some dealers have received punitive measures from the authorities and courts due to their inhumane and illegal acts.
Certain attitudes of inhumanity have also occurred throughout Cambodia's society as people have generally ignored people who have fainted or died in public out of fear of becoming infected with Covid-19. 
Mr. Vorn Pov, President of Independent Democracy of Informal Economy Association, mentioned that since the spread of the virus in Cambodia, some companies have offered masks, hand sanitizers and alcohol-based products to citizens; yet, it has not been regular nor sufficient enough for a long-period of use. He added that Cambodians need to purchase the supplies for themselves.   
Referring to solidarity and assistance to one another during the crisis, Mr. Vorn Pov said that only a minority of the rich have aided the poor; the poor must buy supplies for themselves. If people are a few days late with their electricity bill, the company has cut their power line, added Mr. Pov.
He stated that "Cambodians of all economic levels should collaborate together and not take the opportunity for their own businesses without a warm heart for the poor who are lacking in supplies and resources. We ought to donate needed supplies to combate Covid-19 and also food-supplies for the poor and most highly affected people."
This post is also available in:

KH