Dengue is well-known to many people across the globe, but few know how it is transmitted.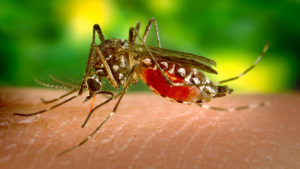 How is Dengue Transmitted?
The source of transmission is the female Aedes aegypti mosquito, whose length is between two to eight millimeters with black non-striped wings with a white striped back and two big antennas. This type of mosquito can be characterized by its six white-and-black-striped legs and two hindlegs raised skyward. 
The female Aedes aegypti most frequently bites during the daytime, between 9am to 3pm. The mosquitoes do not seek refuge in warm, open places, but in dark recesses indoors in water-filled habitats such as water-storage containers, flower pots, wells, discarded containers, plant saucers, or animal drinking pans. Due to its domestic nature, the rainy season is known as dengue season, in which the infectious Aedes aegypti becomes the main vector that transmits the virus if people are careless. 
What is the main origin of the female Aedes aegypti?
According to the European Center for Disease Prevention and Control, Aedes Aegypti has been reported to originate in the Mediterranean region throughout Europe, the Middle East, and North Africa, as well as in the Caucasus region which includes southern Russia, Georgia, and Azerbaijan. The report also mentioned continental Portugal and both Atlantic archipelagos, the Canaries and Azores islands. 
The mosquito has become adapted to tropical regions, including those found in Africa, a number of subtropical regions in the U.S., the Middle East, Southeast Asia, and Northern Australia, as well as islands located in the Pacific and Indian Oceans.
What kinds of viruses can female Aedes aegypti incubate and transmit? 
The female Aedes aegypti is a known transmitter of various viruses that can cause Dengue, Yellow Fever, Chikungunya, and Zika.
Dengue, also known as "breakbone fever", can cause severe pain, muscle pain, and the feeling of breaking bones. Mild dengue symptoms include fever, rash, and muscle and joint pain. Critical cases of dengue can lead to serious external bleeding, a sudden drop of blood pressure, or worse, death.  
Yellow Fever, according to the hellokrupet.com, a website designed to spread health information in Cambodia, is caused by the infectious female Aedes aegypti, mainly in Southern Africa and America. After the infection, the virus will attack the lungs and other organs that may lead to death. 
Zika is named after its virus, which can spread through infected female Aedes aegypti, primarily in tropical areas and countries nearby, according to the hellokrupet.com. 
According to the same website, Chikungunya can also be transmitted via infected female Aedes aegypti with symptoms of joint pain, swollen joints, muscle pain, and fatigue. Fortunately, the illness is not fatal, unlike dengue. 
How does a female Aedes aegypti transmit viruses? 
Step 1: A female Aedes aegypti can incubate the viruses from biting Dengue, Yellow Fever, Zika or Chikungunya infected patients. 
Step 2: The infected female Aedes aegypti can then pass the viruses through a bite to a healthy person. 
Step 3: The healthy person is now infected and can transmit the viruses to a non-diseased mosquito through its bite. 
Step 4: Now, the mosquito is infected from the patient and can spread within communities. 
Prevention of female Aedes aegypti bites
Wear long pants, long-sleeve shirts, gloves or trainers, or use other clothing that can cover your arms, legs, neck, or head

Cover windows, doors, or big holes with nets and avoid leaving them ajar, especially during the rainy season 

Use a standing or ceiling fan to blow away mosquitoes

Use mosquito nets whenever you sleep 
How to destroy female Aedes aegypti habitats 
Use mosquito repellents or mosquito sprays

Prevent mosquitoes from mating:

Avoid having water-filled holes or containers 

Destroy water-filled car or motorbike tires, which can be efficient shelters for mosquitoes 

Be aware of possible leaks in water pipes from a well water system around the house

Install a safe water system or drain holes to allow water to properly flow
This post is also available in:

KH