During the Covid-19 pandemic, the term "new normal" has been used in many countries by medical experts to try to normalize a new way of living in order to protect people from the coronavirus.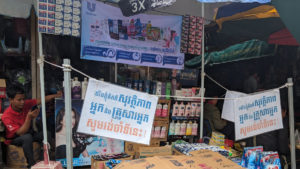 "New normal" as a term did not emerge from the Covid-19 pandemic. The term was previously used by financial and economic experts after the global financial crisis of 2008, referring to the financial aftermath. 
So, what is the "new normal" during Covid-19?
Or Vandine, the Health Ministry's spokesperson, explained that Covid-19's new normal refers to past life norms under a new trajectory, meaning Cambodians' way of living remains relatively unchanged with the need to add certain attitudes towards the situation to protect themselves from the virus. 
She added that the attitude focused on should be Cambodians' hygienic measures, in particular hand washing and wearing masks. Also, people need to use tissue or Kroma (Khmer scarf) when they cough or sneeze, and should practice social distancing whenever possible. 
She acknowledged that the new normal might be difficult to adjust to as people are not familiar with all of these attitudes. However, they must understand the world is still at war with Covid-19, so we have to develop new protective measures. 
"It is absolutely necessary that we must change our routines in order to fight against Covid-19. For instance, we previously entered a restaurant and had a nice meal; however, now we must wash our hands first, seats must be placed at a safe distance, and waiters/waitresses need to regularly have masks on before taking an order," added Vandine.  
Li Ailan, representative of the World Health Organization in Cambodia, wrote an article in mid-May titled "Respond to Covid-19 with new normal – for a safer, healthier Cambodia."
According to her article, the majority of Cambodians currently believe that Covid-19 threats are gradually vanishing, and life can proceed as normal. However, life in the Kingdom cannot return to the previous normal before the outbreak, as the fight against the virus will take time and Cambodian people must collaborate to eliminate the spread. 
The new normal, as written in the article, includes washing your hands, covering your mouth when you cough or sneeze, practicing social distancing, avoiding crowded public areas, staying at home, and keeping distance from others if you are ill. Cambodians must protect themselves, family members, and communities with new ways of life in their houses, schools, and workplaces. 
The article also mentions that companies and businesses must set up new working policies and strategies, such as working from home, in order to prevent the spread. Schools must adapt new administrative structures and protection measures to ensure the safety of employees and students.  
"The new normal will mean constantly assessing the risks and our actions as the epidemic evolves. Together, we must act with solidarity, vigilance, and plenty of patience," wrote Ailan.
This post is also available in:

KH