Foreign visitors planning their trip to Cambodia during the pandemic should understand the government's travel guidelines.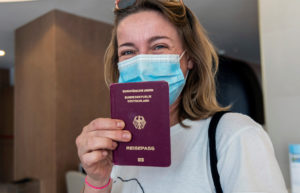 In mid-March 2020, the number of confirmed cases of Covid-19 infections increased in Cambodia, forcing the Health Ministry to announce a suspension of travel policy for nationals from Iran, Italy, Germany, Spain, the U.S., and France. 
The country decided to lift the suspension policy on May 20, after the Covid-19 situation had improved, with a set of conditions set in place for entry. Both Khmer and foreign nationals must submit a medical certificate showing they are Covid-free, dated no more than 72 hours prior to their entry date. In addition to this, international visitors are required to show proof of health insurance with at least $50,000 coverage for medical expenses during their stay in Cambodia. 
All nationals who wish to enter the Kingdom, including Cambodian passport holders, will be transferred to a waiting room for Covid-19 testing. Should the test results come back positive, quarantine policies set forth by the Ministry of Health must be followed.    
On May 27, the Health Ministry announced an exemption to the regulation requiring a Covid-19 health certificate for Cambodian passport holders, but the quarantine policy remains unchanged.
Not only must all foreign travellers entering the Kingdom submit a Covid-19 health certificate and proof of health insurance of $50,000 or more worth of coverage, according to the announcement by authorities on June 8, they are also required to pay a deposit of $3,000 from their arrival date until the issuing date of their Covid-19 health certificate from the Ministry of Health, to cover various services such as mandatory testing, quarantine, and possible Covid treatment.
On June 17, the Ministry changed the entry requirements for Cambodian citizens holding a foreign passport with a K visa. They are no longer required to show proof of health insurance or deposit $3,000 upon arrival, although they must still obtain a valid health certificate showing a negative Covid-19 test result no more than 72 hours before their entry date.  
Steps to entry into Cambodia during the pandemic include: 
All foreign travellers must pay upon arrival $5 for transportation to a waiting center, $100 for the mandatory Covid-19 testing, $30 a day for accommodation until they receive their test results, and $30 for three meals per day.

If one of the travellers on the same flight tests positive, all travellers must be quarantined in a hotel and are required to pay $84 per day of accommodation for 14 days and $100 for Covid-19 testing (at least once) before the fourteenth day.  

Providing that a foreign traveller tests positive, they will have to pay $225 per day for treatment and quarantine services within 14 days, and $100 per Covid-19 test during the treatment process (at least four times). 

If a Covid-19 patient dies from Covid-19, the cremation fee is $1,500. 

In the case of a foriegn national wanting to get tested for Covid-19, they must pay $100 and an extra $30 for the issued certificate. 
Since May 21, new covid-19 cases in Cambodia have been mainly imported by Cambodians who have arrived from abroad and from foreign nationals. 
The Health Ministry's spokesperson, Or Vandine, told Focus on May 18th that due to imported cases, the country must enact policies for foreigner travellers in order to prevent new infection cases. 
She said that if we compare the payment requirements in Cambodia to those in other countries, the amount is not irrational. 
She stated that, "quarantine in some countries is considerably higher in expense, and Cambodia is affordable. I believe that it is pivotal for us all to cooperate."
Due to Covid-19, the number of local and international tourists has sharply decreased and   consequently has resulted in the drop of national income from tourism. 
The strict payment policies on services for foreign travellers who wish to enter Cambodia has brought up some concerns over further drops in tourism. 
Vandine mentioned that she is not certain when the policies will be lifted, claiming that the number of infected cases remains high in the region and the world. 
Currently, more than 200 travellers who have entered Cambodia are being quarantined, said Vandine. 
Asked whether all foreign travellers entering Cambodia are well-informed on the new policies, Vandine responded, "I believe Cambodian embassies overseas have been diligently working to provide the information to each country's citizens, and the Health Ministry has posted the announcement on its Facebook page to ensure that it further reaches prospective travellers."
This post is also available in:

KH