Covid-19 has quickly spread throughout communities around the world regardless of race, religion, or gender.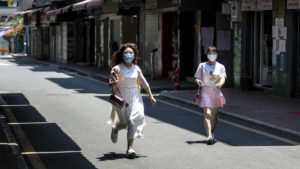 Since Covid-19 was first announced as a global pandemic, cases of discrimination and hatred have emerged within communities around the world.
According to a report issued on May 12th, Human Rights Watch (HRW) said that non-verbal discrimination and hateful rhetoric by some world leaders and politicians has been seen in many Western countries including the United States, the United Kingdom, Italy, Spain, Greece, France, and Germany, which has triggered an increase in attacks on certain races. 
Since February, Asian people across the globe have become targets of attacks, discrimination, insults, threats, and ethinicity-based abuse due to Covid-19. Video clips showing people using swear words, spitting, and punching one another on the street and on buses have been shared on social media. 
HRW said cases of attacks and discrimation have occurred in Italy, France, Australia, Russia, Brazil, and the UK. Discrimination against Asian people has also happened in African countries such as Kenya, Ethiopia, and South Africa. 
According to the same report, discrimination has also happened in the Middle East after infection cases occurred amongst mainly Asian workers. In the case of Asian countries, discrimination towards Chinese people has been seen in Japan, South Korea, and Indonesia. In India and Sri Lanka, leaders seem to pay little attention to hate speech against Muslims, who have become the main target. Some Burmese extremist leaders have also used Covid-19 as justification to threaten and use hate speech against Muslims. 
The report also mentioned that in China, the epicenter of the outbreak, Chinese people have discriminated against other races. In early April, in the city of Guangdong in southern Guangzhou, where many African people live, the Chinese authorities began a campaign to test Africans for Covid-19 and isolated or quarantined them in a hotel organized by the Chinese authorities. During that period, some landlords evicted African tenants, leaving them in the streets. African customers were also denied entry to hotels, grocery stores, and restaurants. 
Discrimination has also been reported in Cambodia towards Khmer Muslims and some foreigners, after Khmer Muslims contracted the virus while attending a religious ceremony in Malaysia between February and March. 
Instances of discrimation towards Khmer Muslims included cyberbullying and attributing blame on social media for having attended the religious ceremony in Malaysia and importing the virus to the country. There have also been many reports of discrimation in markets and grocery shops, as some Cambodians showed fear of communication and refused to sell goods to them.
Why does Covid-19 fuel discrimination?
A joint study from the World Health Organization (WHO), UNICEF, and the International Federation of Red Cross and Red Crescent (IFRC) indicated that discrimination occurs because of three main factors: Covid-19 is an unprecedented new illness, people are generally afraid of the unknown, and it is convenient to link fears of the virus to other people.
Focusing on the effects of the discrimination issue, the study illustrated that discrimination causes a disconnect within society and pushes a certain group of people away, which in turn increases the risk of Covid-19's spread. Therefore, it could cause severe health issues and create difficulties to manage the spread of the virus.
The study also showed that discrimination caused by Covid-19 can lead people to hide information about their health condition in order to avoid discrimination and it may encourage them to not seek urgent medical care in case of becoming sick and from not implementing hygienic measures. 
How to resolve this societal problem? 
To prevent discrimination from happening during the pandemic, the report advised people to have faith in the healthcare system. People should additionally express sympathy to those who are affected by the virus and try to thoroughly understand Covid-19 and effective hygienic measures to protect yourself and your loved ones.
Strategies the report suggested that people use in order to avoid discrimination include:
We should use the virus' official term, Covid-19, and avoid Wuhan Virus, Chinese Virus or Asian Virus.

We should distribute information on the risk of Covid-19 and health protection measures based on scientific data. We should avoid fake news and rumors, which can create panic in the public. 

We should focus on the positives, as the majority of people are able to recover with simple health measures. 

We should avoid slurs against particular races or groups, especially from powerful leaders in society.

We should share positive news about Covid-19, such as patients that have recovered from the virus.
Due to the dangers of discrimination, in April, experts on human rights from the United Nations issued an announcement that peoples across the world should not discriminate against one another because of Covid-19. They also called for world leaders to ensure racial equity and equality within their countries while combating the crisis.  
António Guterres, UN Secretary-General, stated in early May that, "the pandemic is stirring up hate towards other races, attributing blame to others, and delivering speech to trigger fear." He insisted that governments end "the hatred virus."
This post is also available in:

KH