"If employees are flexible and volunteer to do extra work, despite it being outside the scope of their job responsibility, they might be kept in the company."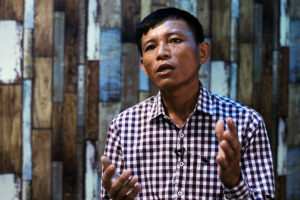 During the Covid-19 pandemic, some Cambodians have lost their jobs, while others have had their salary cut.
The World Bank predicts that Cambodia could see a decrease of 3% in its economic growth, an unprecedented decline not seen since the early 1990s. It has also forecasted an increase in the poverty rate by 8% this year. The disease doesn't just attack the body, but also the economy.
Future Forum, in partnership with Angkor Research Cambodia, have put together a Covid-19 Economic Impact Study and the results don't make for positive reading. The study shows that Cambodian families have lost as much as 40% of their income during the spread of Covid-19 and the resulting lockdown measures and economic downturn.
But how should employees prepare themselves to keep their jobs and what skills do they need to strengthen?
Focus interviewed Ngeth Chou, an economist with 10-years' experience in finance and investment, to learn about the effects of Covid-19 on the economy and how employees can adapt to it.
How does Covid-19 affect Cambodia's employment?
It has gravely affected the garment, tourism and hospitality sectors. Restaurants are facing bankruptcy, while travel agencies and airline companies have also been affected. Many enterprises have had to lay off employees and while minimizing their own operations, which of course had an impact on people. 
What field do you think is most affected by the pandemic?
Normally, a company has employees in sales, general operation and support. I think support staff is most likely to be laid off, while employees in sales, who tend to be the core of the company, will be able to keep their jobs.
How does an employer choose who to sadly let go from the company?
Employees were laid off mostly due to the fall of companies' revenues. Owners of a company consider which position to cut and which employee to keep that can help run the business.
Which skills should workers develop and strengthen to keep their jobs or to help them find a new one?
Employees who are flexible and volunteer to do extra work outside the scope of their responsibility are less likely to be cut off. If you think 'this is not a responsibility in my job description and I only work for the money,' you might face a higher risk of losing your job. In addition, employees who work in the office should strengthen their digital skills to eradicate the possibility of becoming laid off work.
What do you think about employees who are not interested in developing digital or IT skills?
It does not matter whether you work in a private company or non-government organization, technology will help you maximize work efficiency and boost creativity. So, technology is crucial in every field.
What are your thoughts on the job market during and after Covid-19?
Many people have said that people who have lost their jobs can look for a role in the agricultural sector; however we must understand that agriculture alone cannot provide enough job positions.
For instance, in Phnom Penh cleaning or nannying services are in high demand for approximately 40,000 families, which accounts for 10% of the capital city residents. But, we do not have a sufficient supply, so the government should establish training programs for people who want to look for a job in that field.
What skills can Cambodians learn in the short term and long term?
I think that cleaning skills are suited for short-term training, while skills in agriculture are also recommended.
In the long term, Cambodians should strengthen skills in food science and technology and agricultural machinery. They might be able to start a business with these skills. I do not want a machinery technician to focus on just listening to orders from others, but I want them to have an entrepreneurial mindset.
Who are the stakeholders to help Cambodians build up these skills?
The government can help support Cambodians by establishing institutions for training. Also, they should promote and raise awareness of the aforementioned skills, and it is very important to include career development programs, providing them a better chance moving forward.
We should encourage and give financial assistance to those who come from a low income family to attend training programs and it is essential to ensure a working position for them after they finish. For instance, if you enroll in mechanical training, you should be guaranteed a job in an automotive assembly plant. This is an effective method to attract young people.
This post is also available in:

KH