While the artworks which gave Svay Sareth his name were inspired by his country's violent past, he now hopes young Cambodians can reconnect with their cultural roots through his latest passion project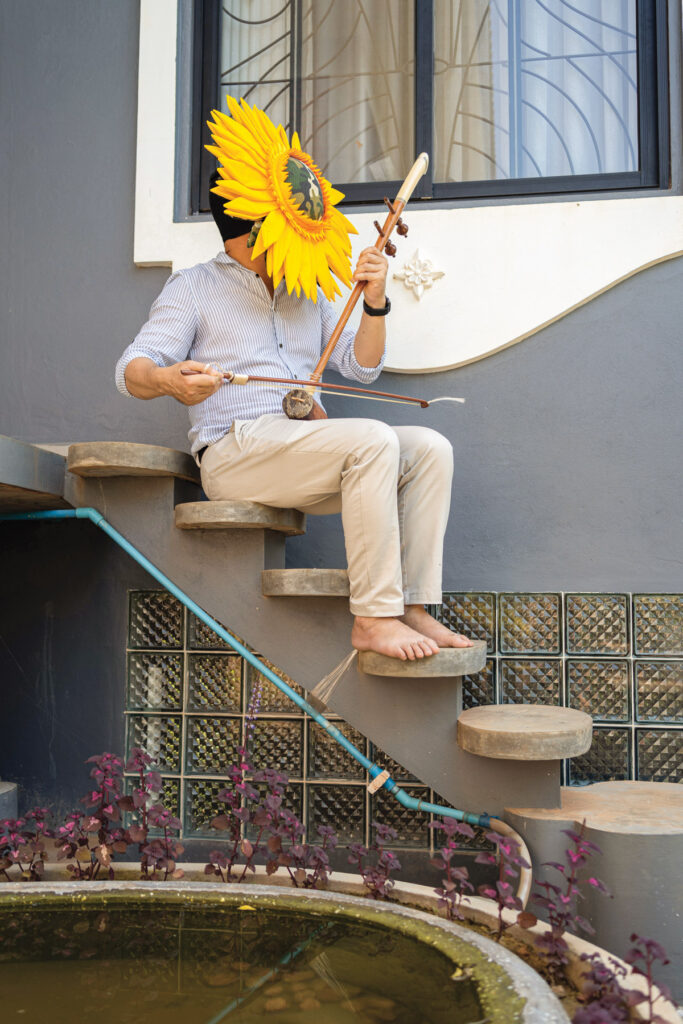 Words by Cristyn Lloyd, Photography by Thomas Cristofoletti
In 2017, Cambodian artist Svay Sareth returned for the first time to the refugee camp in which he spent 13 years of his childhood. It was not only a journey to settle memories heavy with violence, loss, and trauma, but a call to Cambodia's future generation, which must recapture the spirit of a country scarred by the fierce conflicts that wrenched it apart.
Born in 1972 in Battambang, Sareth was only six when he fled his homeland, which was just before the Khmer Rouge were driven into the jungle in 1979. Among the now-overgrown grounds of what was known as Site Two, the camp which sat on the Thai-Cambodian border and sheltered more than 300,000, he was searching for, what he calls, a Buddha tree.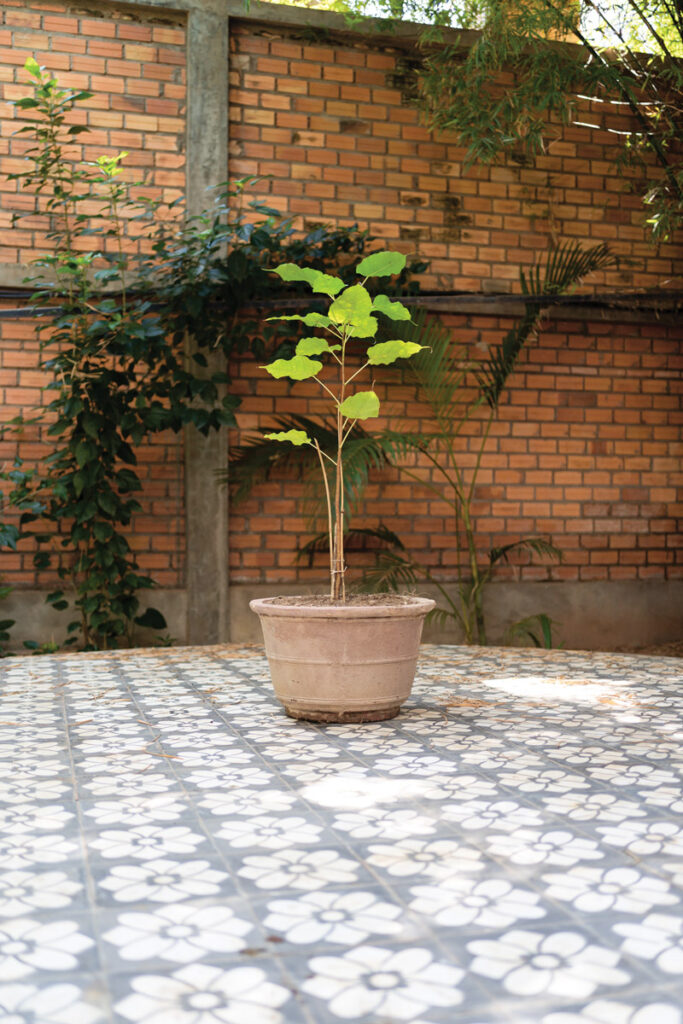 "The tree is symbolic of education, symbolic of meditation, symbolic of knowledge," he says of the sacred species of fig that can live for more than 1,000 years. When he could pinpoint the distinctive heart-shaped leaves under which it was said Buddha achieved enlightenment, he planned to transport it to his home on the outskirts of Siem Reap town.
Yet the delicacy of the plant which now grows from a dirtied clay pot in the lush gardens that surround his property belies the weight of meaning behind it.

"I hope to plant it when I can build a school," he says. This tree is the embodiment of his latest passion project, the Blue Arts Centre – an arts and design school in Siem Reap.
So much of Sareth's own artwork drips with the blood of toil and struggle from his years as a refugee – projects of grandeur that overload the senses and public displays of pain that dare onlookers to not turn away.
In the video installation "I, Svay Sareth, am eating rubber sandals", his teeth rip apart the kind of black rubber worn during the Khmer Rouge period and he forces himself to chew. In "Mon Boulet", he drags a mammoth 80-kilogram metal boulder from Siem Reap to Phnom Penh in the ultimate battle against those that made him a prisoner inside the camp.
His career has been shaped by these feats of endurance – a life apart from today, where he speaks from his bright home, office and studio.
"The goal is to create an art and design school belonging to the people of the new generation of Cambodia," he says. "And I want them to be able to handle this by themselves – to be connected to the world, using art as a window to freedom of expression. I know how hard it is living without freedom."
While currently in its very early stages, Sareth's grand ambitions rival those from 25 years ago, when he co-founded the now-thriving NGO and arts school Phare Ponleu Selpak in his hometown of Battambang.
Blue Arts started with a pilgrimage of sorts – a journey from Battamang to Siem Reap back in 2002, accompanied by Phare students.
"We had this idea to come and meet people along the way, to speak to them, do drawings,
make their portrait," he says. "A funny trip. It's true that when I arrived in Siem Reap, I thought that I must do something here, [whatever] is possible."
As the gateway to Angkor Wat, Siem Reap sits at the heart of Khmer identity – of its history, its architecture, its arts. For three months, the group stayed in a small village near Angkor's Ta Prohm temple.
"Every day they went to the temple and made paintings," he says. "The goal was not to do paintings for sale. We wanted to have time to connect with the tourists, with the people living around the temple and to understand more about the relationship between traditional culture and the tourists coming – and also that we could try to find ourselves."
After an eight-year stint studying and working in France and almost another decade building his reputation closer to home – both through personal projects and as artistic director of Artisans Angkor, a social business which promotes traditional Khmer handicrafts – only now is the initiative finally getting off the ground. Sareth says the past few months have been a frenzy of activity, yet there is a gentle aura of calm and quiet that exudes from the artists in the midst of creation.
Outside the Blue Arts' office entrance, a woman in a bright red apron paints a large pastoral scene complete with the gilded gold palaces of Khmer tradition. Inside, rows of designers keep their eyes peeled on screens as they fiddle with the intricate 3D renderings of stupa ornaments. Sareth's wife, the artist and former Phare student Yim Maline, bundles up paintbrushes to be packed away in preparation for an exhibition opening in Australia.
For Blue Arts, Sareth envisions art workshops and classes on anything from painting and drawing to stone sculpture and wood carving. He will open a residency for visiting artists and his personal studio will become a space for creation and exchange between masters of their crafts and his students. His three-storey house will be transformed into a gallery and he will build a smaller property for himself and his family to live.
The project is a great collaborative effort involving big names in Cambodia's art world, art institutes around the Asia-Pacific, and international artists who will donate their works, which will then be sold at auction.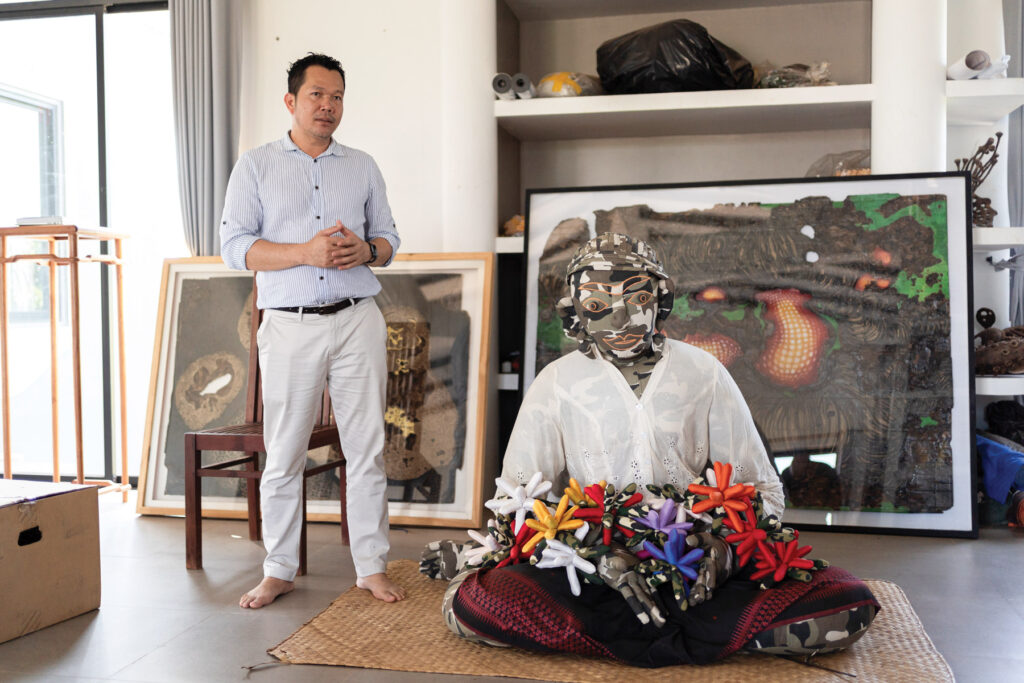 Their main sources of funding, though, are the special design commissions from private clients – immense projects that can take years to complete. Peeking in through the gated entrance which faces the street, the screech of electric tools and stark white blocks scattered on the ground looks, to the uninitiated, like a construction site. Yet on closer inspection the workers are in fact creators – the blocks become a canvas for a carved masterpiece that will stretch more than 100 metres.
The philosophy behind the school is rooted in the healing power of art and inspired by the stories of his childhood – as well as the anxiety of the political course his country is taking today, where he sees the Kingdom's leaders continuing to bind themselves to foreign powers at the expense of their people.
In a more recent video installation, Sareth sits in front of Angkor Wat, where outsized sunflower petals emerge from a camouflaged core to form a mask that smothers his face and cuts off his breathing. The screech which emits from the traditional tro which he plays at his feet is painful on the ears.
In another work, a distorted human sculpture which sits cross-legged on a woven mat presides over the studio he shares with his wife like a shrine – a tribute to his mother, who bore 13 children over a period of the country's toughest history. Her skin is also camouflage – Sareth's signature material – while underneath her body takes its shape from the cotton of the kapok tree, or koh in Khmer, which means "mute".
"You cannot speak up," he says. "So the camouflage covers and people become mute – [this is] the power of the army. It's the way that I would like to explain that she crossed the war during that time."
The water lilies which spill into his mother's lap are a call to freedom – and another journey, long ago. In 1985, when he was 13, his mother grew angry at his attempts to learn how to swim with the other children, so he ran away from the confines of the camp, arriving at a Thai village in the early hours. Quickly regretting his decision, he decided to present his mother with the gift of water lilies from a village pond, arriving back to his family the next night.
"I offered the water lilies to my mum," he says. "I said, 'Mum, I give you this and accept my apologies, but don't hit me. My freedom belongs to me.' My mum said, 'Take your freedom, but take care of [it].'"
This piece is special, he says – one of his most personal. "How can somebody fight for freedom? It's linked to why I need to create Blue Art," he says. "You cannot be alone in the world."​
This story was originally published on Discover magazine 2020/21 vol.