Learn about tools that are available for a better WFH experience and which are best for you.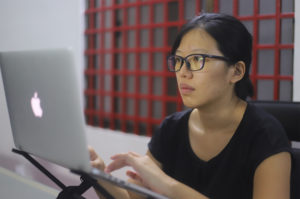 Technology and the internet are here to help each and every one of us, even if some aspects seem to do more harm than good. It is undeniable that life is easier with the presence of the internet and modern technology, especially during this time when working from home (WFH) still remains an option for many people around the world to slow down the spread of Covid-19. 
As more and more people are returning to work in their offices across Cambodia, it is important to understand the different kinds of applications out there and their pros and cons. Choosing the right tools for you and your team can be overwhelming, with so many tools available. 
For Team Communications 
Microsoft Teams is a communication and collaboration application that can be used for many purposes within your team. Launched in 2016, it is the latest chat-based workspace in the Office 365 family. The app is able to integrate with almost every other Microsoft Office service such as Word, Excel, PowerPoint, SharePoint, OneNote, Planner, Power BI, and Delve. Beyond that, it also provides users with file storage capabilities, instant messaging, and video conferencing. According to Business Insider, the app has over 75 million users worldwide, with daily users numbering over 44 million users. 
Strength 
One-stop application

No additional cost for Microsoft Office users  

Useful chat additions 
Weakness

High battery usage 

Long loading time/need a strong internet connection

Lack of notifications 
Slack is a communication channel designed for workplace use. Launched in 2013 by American software company Slack Technologies, the app is used by 750,000 organizations around the globe. With Slack, users are able to create different channels, direct messages, group messages, share files, and plan schedules. While Slack does not update its current total users, as of October 2019, the app has over 12 million daily users. 
Strength 
Has thread replies function

Integration with third-party applications (For instance, Google Drive and Calendar) 

Best for remote workers  
Weakness
History of security breaches 

Minimum file storage 

Messages deleted every 14 days 
Google Chat, similar to both apps above, is a team day-to-day communication application that gives users quick access to chat with both direct individual text and group messaging. Features such as gifs, emojis, and photo sharing are available on the app as well. Rebranded from Hangouts Chat, the app was developed by Google in 2017. 
Strength 
No additional cost for G Suite users 

Great integration for G Suite users  

Searchable history 
Weakness
Accessible by invite only 

No message tracking  

Many find the app too similar to

Slack

  
Others
Besides the three commonly used apps for team communication mentioned above, there are also other options such as Facebook Workplace, Telegram, LINE, Whats app, Viber, etc.  
For Online Meeting or Presentation 
Zoom is a free video-conferencing application founded in 2011. The app provides video calls and online chat services that are suitable for both workplace and school. Zoom has become very famous for its virtual background capabilities. The app is said to hold over 300 million daily meetings as of April this month. 
Strength 
Can host up to 100 people per meeting with free plan

Interactive additional features, such as virtual backgrounds and on-screen emojis

Good audio & video quality 
Weakness
Security problems  

Users can get dropped during the meeting often 

No third-party integration 
Google Meet is a video communication platform developed by Google as a rebranded version of the classic Google Hangouts. Before March 2020, the app was not available for free.   
Strength 
Full integration with other Google apps 

No download needed 

Able to share files through chat 
Weakness
Have a messy dashboard compared to Zoom 

Able to use only with Google Chrome 

Only one person can share the screen 
Skype is a telecommunication application that provides video chat and instant messaging between users both one-on-one and group calls. It was developed by Skype Communications S.a.r.l. in 2003.  
Strength 
Clear audio capacities 

Integrated with Facebook 

Has a user-friendly layout
Weakness
Prone to freezing up often 

Quality drops when doing multi-person conference calls

Security issues 
File sharing 
Google Drive file storage enables people to share stored files with their teammates. Developed by Google in 2012, users are able to work on and share Docs, Sheets, as well as Slides via the platform. It allows users to share files, video, and photos that can be accessed anytime from anywhere without having to meet the file owner in person. 
Strength 
Can share many different types of files (Video, photos, documents)

Free 15 GB of cloud storage for every user 

Allow real-time changes tracking and auto-save  
Weakness
Limited to only Gmail users 

Reliant on strong internet connection 

Data security concerns 
Wetransfer is an online file transfer tool, founded by We Transfer B.V in 2009. The app uses Amazon Simple Storage Service, known as Amazon S3, to store and share files. Unpaid users can send files up to 2GB in size, using email addresses to recognize users.   
Strength 
Able to share files with several people at once 

Allows users to transfer large files 

Able to set up your own background image  
Weakness
Security problems 

The download link will expire after a week 

Easier to use on computer than mobile phone 
Dropbox is a cloud storage tool that allows users to share and sync files. Released in 2007, the app was developed by Dropbox, Inc. The app has received many awards in recognition for its performance over the years. 
Strength 
Large free storage (2-16 GB)  

Instant file backup 

Amazing search function
Weakness
The paid version is expensive 

Need to constantly update on mobile version to access files

Security concerns
This post is also available in:

KH