Abandoned centuries ago, the spectacular ruins of Beng Mealea and Koh Ker lay buried in jungle, still mostly untouched by restoration and the prying eyes of tourists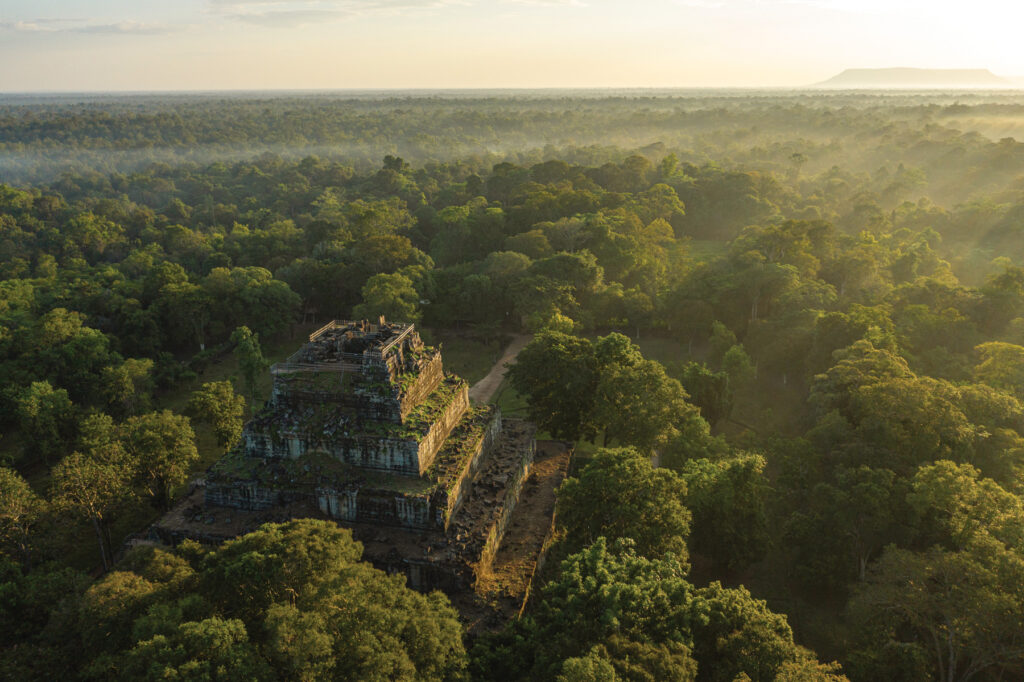 Words by Cristyn Lloyd, Photography by Thomas Cristofoletti
Even memory must return to the earth. When the last king has fallen, history is buried with the remains that sink beneath the soil, and legacies are forged by piles of brick and stone once raised up by absolute rulers determined to reign like gods. Some become myths that swell and settle on a nation, while others are drowned by the encroaching tide of time and eternal jungle.
Promised the wreckage of kings, we set off from Siem Reap well before dawn, the dusty roads already awake with tuk tuks carting tourists to catch the sunrise at Angkor Wat. We're on a different path – heading an hour and a half west by taxi, we doze in between the anticipation of a spectacular hidden gem that has sat untouched for centuries, surpassing even the majesty of Ta Prohm.
Beng Mealea is our first stop for the day. Around 40 kilometres from the main Angkor complex, it's strategically placed at the crossroads of ancient highways that once connected major sites of the Khmer Empire.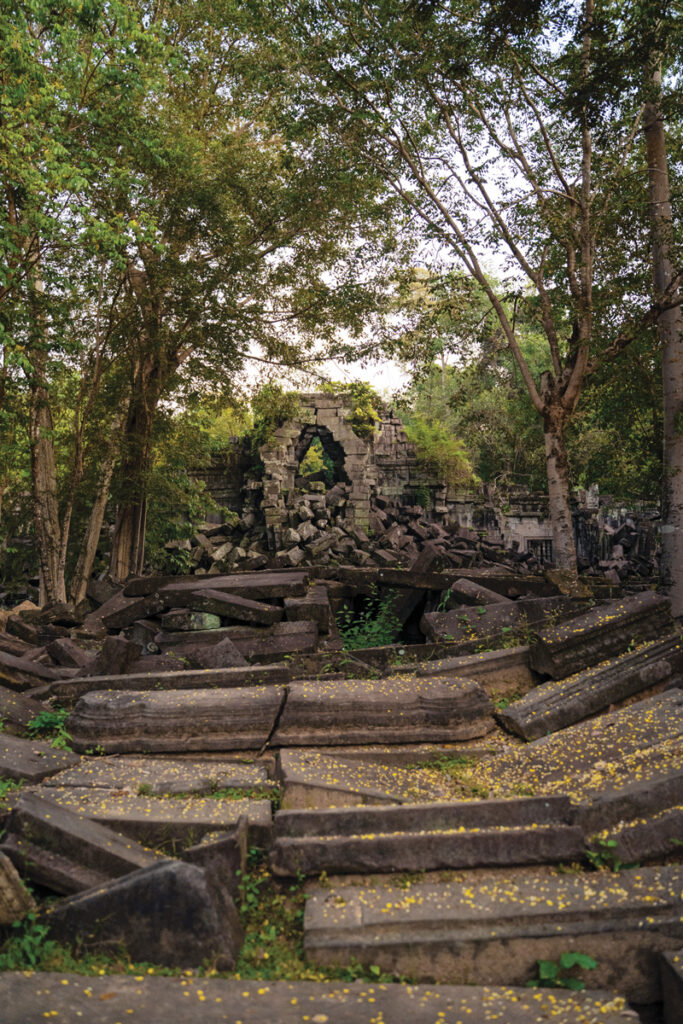 ---
For centuries Beng Mealea was left to crumble under the weight of the jungle that kept it hidden, only opened to tourists in 2003 after the gruelling process of clearing landmines left by occupying Khmer Rouge guerillas in the late 1970s. Today it still stands in all its unrestored glory, a highlight of the Kingdom's abandoned marvels.

The large temple grounds are marked by a barely surviving moat from which Beng Mealea takes its name, translated from Khmer as "lotus pond", and where four seven-headed naga serpents stand guard at its opening – though these are details we only notice on our way out.
For now, still bleary-eyed, we amble absentmindedly along a causeway through a sheet of early morning haze. Only when scattered sandstone blocks finally obstruct the path does the body of the temple fade into focus – murky, imposing and infinitely quiet – cloaked behind a forest of vegetation that stains everything the colour of sunless bark. Still visible from this vantage point is the ancient south gate, which we are blocked from entering by the mound of sandstone choking its barely standing archway, tumbling into a pile of ruin at our feet.
With a layout matching Angkor Wat, Beng Mealea is thought to have been constructed under the reign of its mastermind, King Suryavarman II, in the 12th century. It would've been dedicated to Vishnu – the divine preserver of the universe – with most of its lichen-flecked carvings depicting scenes from Hindu myth. Along with those found at Angkor, its sandstone blocks were probably lifted from the quarries of the nearby Kulen Mountain. Beng Mealea would've been a key juncture in their transportation along the area's waterways.
Beyond these scant facts, the temple's history is lost – no identifying inscriptions remain to tell it. Our solitary steps must bear this burden as we struggle to lift the veil to a profound meaning that isn't there. Whoever walks here, walks alone.
An elevated wooden walkway – originally built during the production of Jean-Jacques Annaud's 2004 film Two Brothers, the story of two Bengal tigers who claim Beng Mealea as their home – guides us around the temple's centre and over the mounds of sandstone enclosing towers rising from the rubble. A black cat bounds along the gangway ahead before escaping amidst the ruins when it spies our presence.
Trees take root in temple towers and walls, vines crawl over every empty edifice and a sea of moss covers many of the remaining scenes etched into fallen rock. As the sun gently rises, its beam streams through the jungle canopy, bathing the sandstone in flecks of honey.
A map in the northeastern corner reveals where we are and what would have been the temple's floor plan. Oriented to the east, the temple takes its rectangular shape from an ornate passageway, known as a gallery, that encloses two more galleries within it, with a central sanctuary at its core to house Vishnu's shrine.
The core's exact figuration is just guesswork, though, because in its place, a pile of ruins that builds far beyond the structures that remain intact. At its peak stands a tree whose roots drape and tangle over the surrounding blocks, a throne for a king that presides over a temple swallowed by jungle.
Even with a map it's hard to situate ourselves, but as we wend our way over collapsed gallery walls to the heart of the temple, anchored by the immeasurable stillness of a forgotten history, it doesn't seem to matter.
An hour or so later, we arrive back to where we started, admiring the south entrance in the newness of daylight. A gust of wind forms a flutter of yellow petals that sail through the air before floating slowly to the ground. In our periphery we spot the first tourist groups of the day approaching – it's time for us to go.
While Koh Ker is easily reachable from Beng Mealea, we decide to head back to town, saving it for another sunrise jaunt a few days later.
Bested in size only by Angkor itself, the Koh Ker archeological complex houses more than 180 monuments, of which around 20 of the best-surviving lay perched beside the path that cuts through its jungle grounds. Although a road connecting Koh Ker to Siem Reap, via Beng Mealea, means that its sights are now readily accessible, the park remains under the radar for most visitors to the Kingdom.
Now an underappreciated temple town scarred by the looting of many of its prized sculptures and artefacts, Koh Ker's brief tenth century glory days came under the reign of Jayavarman IV, who in 928 CE shifted the empire's capital to what was probably his home from its Angkorian rival in the south. While some accuse Jayavarman IV of being a usurper of the throne, more recent historians agree that his claim was legitimate because of his marriage to the half-sister of a former king.
What draws visitors today – us included – is the complex's state temple, Prasat Thom, and the towering seven-tiered step pyramid sitting within its boundaries, unrivalled both in size and grandeur across the Kingdom.
---
Arriving inside the park by car after a two-hour journey, we make a beeline for the tower – the Prang – pointed in what we assume is the right direction by a local vendor, the first to set up shop.
To reach it though we must negotiate through a procession of libraries, towers, sanctuaries and gates, structures of laterite, sandstone and brick, all standing in various degrees of disrepair. The pink brick of Prasat Krahom – translated as the "red temple" – stands out here, acting as a gate to a causeway running over the lush shrubbery of a moat surrounding Prasat Thom's core. Decorated columns lay fallen across the path, wedged in the hardened dirt.
The pyramid comes into view at last behind a curtain of greenery that marks the entrance to the grounds where it stands – commanding, stately and triumphant – acutely alone within a wall of black laterite. A Mayan-like anomaly among Khmer architecture defined by Angkorian wonders, at 36 metres it's the only structure standing higher than the trees that surround it. Stained by lichen and moss, it retains its shape well despite the sandstone blocks strewn across each step.
A steep wooden staircase on the Prang's far side allows access to the top. We are struck by a landscape of unbroken jungle on all sides, consuming all remaining temples under its canopy. Crowning the structure would've been a shrine holding a four-and-a-half metre long lingam, a phallic symbol of Shiva, a principal god of Hinduism. This would have made it the largest lingam of the Khmer Empire atop the Kingdom's highest pyramid – a king's ultimate power move.
Much like at Beng Mealea, our presence feels like an interruption, an unnecessary reminder of other life in an otherwise empty expanse of jungle where time only inches forward, framed by the rising and setting of the sun.
Our final stop in Koh Ker is the five towers of Prasat Pram near the entrance of the park, the heat slowing us and causing beads of sweat to stream down our skin.
By now we are used to the fig tree and its strangulating arms. Here, though, the naked roots which crawl over a tower's front face seem particularly insidious, with millions of threads splitting from their trunks around the tower's darkened chamber door.
It's a fitting end to our temple trail, a tribute to the magnificence of nature that will always triumph over the greed of political power plays and live on past the perishable monuments erected in the name of a king.
When Jayavarman IV's son ascended the throne in 941, it was only three years before political rivalries ended his life. His successor swiftly relocated the seat of power back to Angkor, where, with Koh Ker the only exception, it acted as the capital of the Khmer Empire for half a millennium.
Koh Ker seems like a mere blip in history – that it's still remembered is testament to the king's hurried masterpiece, an ambitious project in which some 40 monuments went up under his reign.
It seems strange, then, that the park remains relatively unknown. Perhaps we'd prefer to keep it that way.
This story was originally published on Discover magazine 2020/21 vol.