A majority of Cambodians have been practicing hand hygiene during the pandemic to prevent the spread of the virus. Some people said they will continue practicing hand washing although the country has no new infected cases.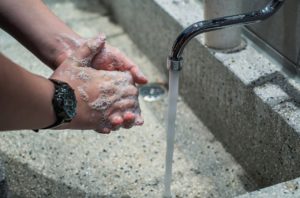 Since the World Health Organization (WHO) announced Covid-19 as a global pandemic in March, the Ministry of Health and many relevant organizations have strongly advised Cambodians to practice proper hand washing with soap and water, and to frequently use disinfectants. The suggestion has been broadcasted on Facebook, radio, television, brochures in communities, and by microphones on remorques or tuk tuks in small villages. 
The WHO and the Health Ministry stated that frequent hand washing is a method to prevent the risk of spreading Covid-19. 
Mr. Sot Tarun, a motor taxi driver in Phnom Penh, said he has washed his hands more regularly since the outbreak. He added that in the past he only cleaned his hands once he returned home from work. 
"The situation was not severe before, but currently, we have to be very cautious. Daily, I wash my hands plenty of times before leaving my house or taking customers from place to place, compared to the past," added Mr. Sot Tarun.
Ms. Srey Phan, who sells vegetables at Kilolek Boun (Kilo Number 4) market in Phnom Penh, said that in the past she would not wash her hands frequently; however, due to Covid-19 she has started to practice hand washing more regularly. 

She also said, "I wash my hands regularly with alcohol-based hand sanitizer which I carry in my bag everywhere."
On May 5th, coinciding with World Hand Hygiene Day, the Ministry of Health encouraged Khmer people to properly practice hand washing steps. The Ministry added that hand washing is an easy way for everyone to fight against Covid-19 and to reduce the spread of other communicable diseases in the country. They continued that we should not practice hand washing only during the pandemic, but every day in the future.   
The Health Ministry's suggestions to wash hands frequently during Covid-19 seems to be being followed, as Cambodians are afraid of getting infected with the virus if they do not practice the hand washing steps. Many people have stored soap and hand sanitizer, in particular disinfectants for daily use. During the initial outbreak, some providers ran out of supply. 
Mr. Sot Tarun and Ms. Srey Phan told Focus that they will keep practising hand washing measures in spite of the improved situation of Covid-19.
"I will keep taking precautions although there are no more reported cases as I cannot optically see the virus on my hands," said Mr. Sot Tarun.  
Ms. Srey Phan also mentioned, "I will continue to keep my hand hygiene because we are not certain when the vaccine is available for everyone."
According to data from UNICEF in Cambodia, which is a partner of the Ministry of Health to raise awareness on Covid-19 to Cambodians, proper and regular hand washing messages have as of now reached people in almost every area nationwide.
A campaign on promoting hand hygiene measures by the Ministry of Health and all relevant organizations was initiated even before the pandemic.
However, 2019 reports of UNICEF in Cambodia indicated that 40% of Cambodians living in rural areas cannot access soap and water, compared to 12% of urban residents. UNICEF reported that the practice and understanding of hand hygiene of Khmer people has currently been improved, but with limitations particularly in rural areas.
The Health Ministry's Hospital Department Director, Dr. Sok Srun, said hand washing is essential for everyone. "Aligned with the theme of this year's World Hand Hygiene Day, hand washing can save lives as our hands are full of micro-bacterias or viruses." 
Specialists around the world's healthcare systems have stated that utilizing alcohol-based gels or hand sanitizers is the greatest alternative if we do not have soap and water. However, we should not think that it can replace hand washing with soap since the gels or hand sanitizers can only kill some bacteria and viruses. 
"Soap and water can wash away viruses from your hands, yet with alcohol only some viruses are killed," said Dr. Sok Srun.
This post is also available in:

KH