Phnom Penh is a bar-hopper's paradise, with trendy new additions mixing into the scene on the regular. Skybars vie for attention, and those with the coolest views find favour with the hip party scene. Here are three spots with three very different views of the city below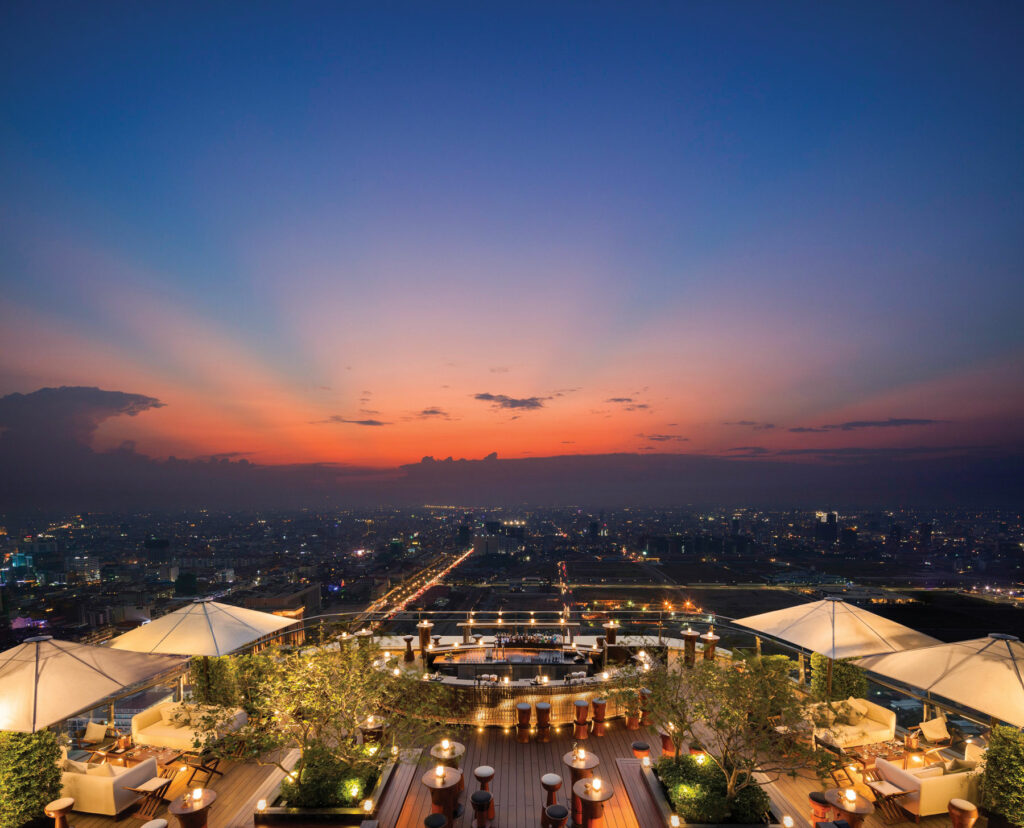 Words by Tom O'Connell, Photos: Courtesy Rosewood, Sundown Social Club, Juniper
Sora skybar at the Rosewood
The shining star of the capital's crowded skybar scene attracts the city's hip, well-heeled and beautiful to the top of the 39-storey Vattanac Capital Tower, home of the Rosewood Phnom Penh Hotel. Guests have several environments to choose from. The business crowd can be found chewing cigars and sipping aged Macallan in the Hemingway-inspired Whisky Library. Head outside to the cantilevered terrace and take a seat at Sora Skybar for the most dramatic views of the skyline. Expert servers craft an experience for each guest that includes perfectly balanced cocktails and knowledgeable wine and beer recommendations. The top floors are also home to Cuts, a steak and seafood restaurant, and Iza, a Japanese izakaya-style eatery featuring an "interactive kitchen" with counter seating and 42 varieties of sake and shochu. Various private and semi-private rooms round out the varied experiences available to guests at this jewel of the capital.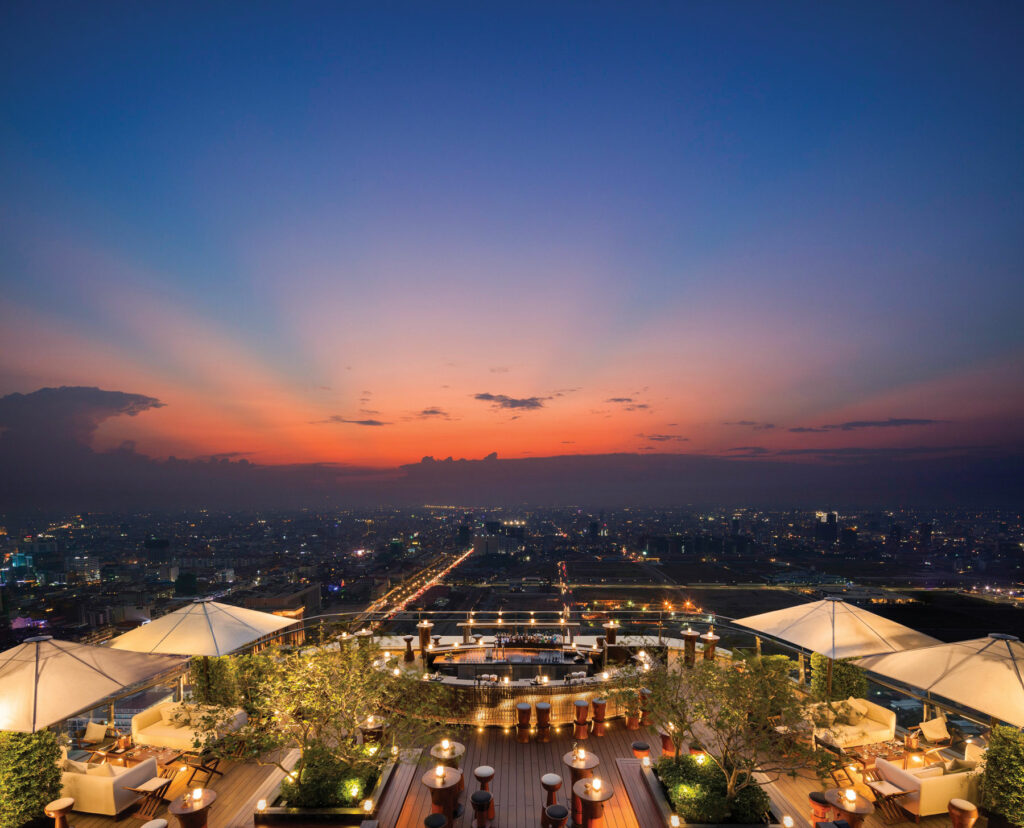 Sundown Social Club
When you're in the mood for a view – with a twist – head to Sundown Social Club in the trendy Russian Market neighbourhood. Pink and turquoise 1980s Miami decor intersects with a $5 menu of comfort foods plus the unusual view of the metal roofs of the shops that make up the famous Russian Market (Phsar Tuol Tompoung in Khmer) two stories below. The patchwork of roofs fit together for a fascinating top-down view well removed from the retail chaos that is found within the market everyday. The owners say they were going for a "rum-focused tiki-style cocktail list" that includes classics like the mai tai and the signature View From Acapulco.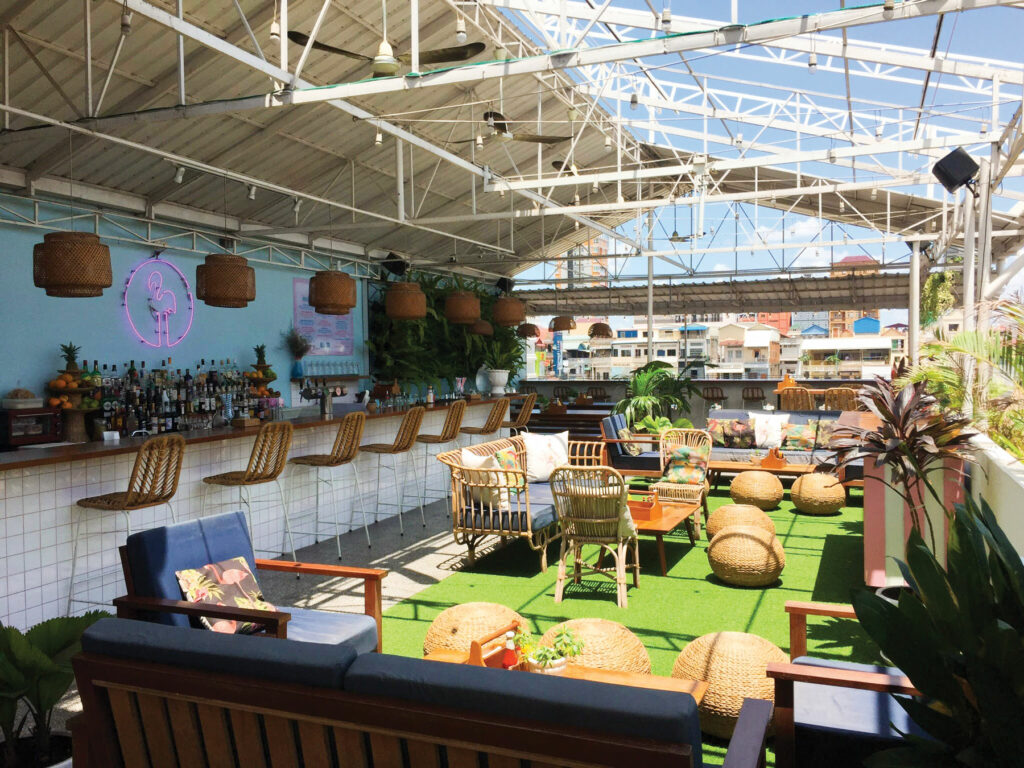 Juniper
Juniper is one of the newer aeries in Phnom Penh's riverside district where gin and cocktail enthusiasts can soak up sweeping views of the Tonle Sap to the east, the light show emanating from Diamond Island's quirky amusement park to the south and the Cambodia-Japan Friendship Bridge to the north. Professional mixologists in aprons build concoctions like the Juniper Fizz and the classic negroni in this bar atop the stylish Art Deco-inspired Point Boutique Hotel. Come just for drinks and small plates or enjoy a full dinner at the adjacent poolside restaurant. Co-owner Brendan John McCarthy, also a partner in local bars Sundown Social Club and Long After Dark, told Discover that Phnom Penh is primed for the gin moment that he says is currently sweeping the globe, citing the local Seeker's gin distillery as evidence of the spirit's growing popularity. "It actually suits the Phnom Penh climate really well," McCarthy said of the herbal liquor. "Who doesn't love an icy-cold G&T on a warm summer's eve?"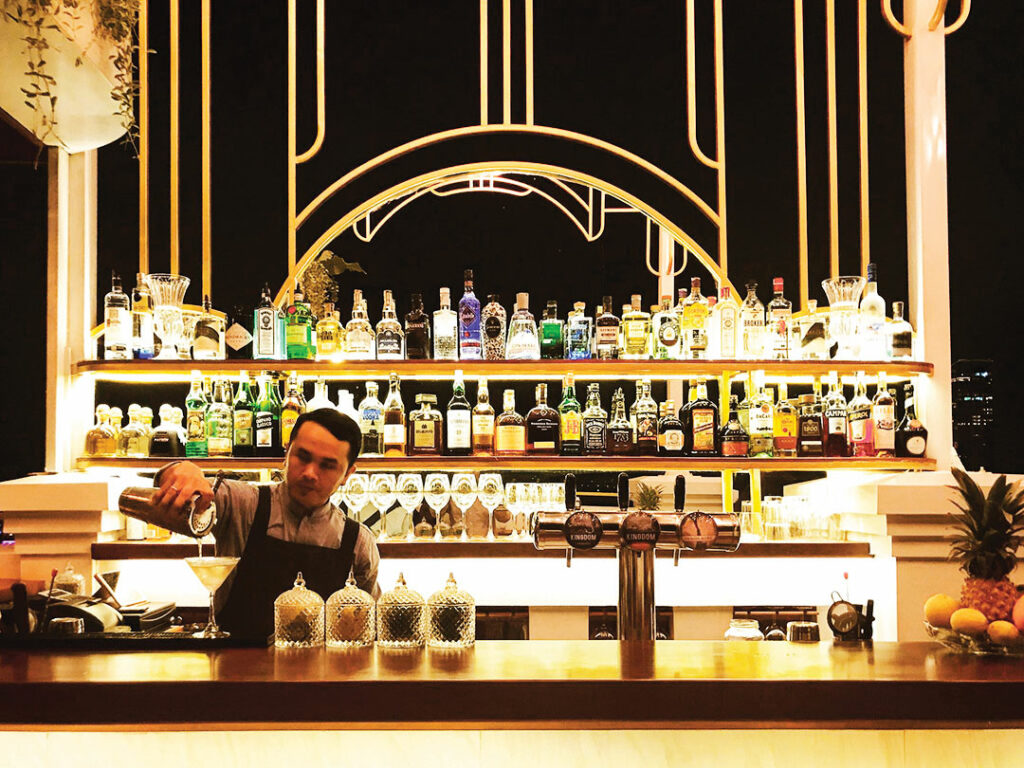 This story was originally published on Discover magazine 2019 vol.