What is the role of the ocean in our everyday lives? What can we do to protect it?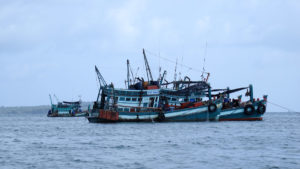 World Ocean Day is a day when the world celebrates the role of the ocean in our daily lives and promotes strong action to protect the ocean, as well as to figure out ways to sustainably use marine resources. The day is celebrated annually on June 8.
Initially, World Ocean Day was proposed by Canada's International Centre for Ocean Development (ICOD) and the Ocean Institute of Canada (OIC)  during the Earth Summit in Rio De Janeiro, Brazil in 1992. It was later recognized by the United Nations in 2008.
Up until now, it has addressed a variety of different topics, including, "Our Ocean, our responsibilities", "Our Ocean, Opportunities and Challenges", "Our Ocean, greening our future", "UNCLOS @ 30", "Oceans and People", "Ocean Sustainability: Together let's ensure ocean can sustain us into the future", "Healthy Ocean, Healthy Planet", "Our Ocean, Our Future", "Clean Our Ocean", "Gender and Oceans", and Innovation for a sustainable Ocean". This year's event is held under the theme of  "Innovation for Sustainable Ocean 2020".
Within this theme, the day hopes to highlight how technology advancement and science can contribute to sustaining and protecting our ocean for future generations. Moreover, this movement desires to call global leaders to protect 30% of the ocean by 2030.
The ocean covers over 70% of the earth's surface, giving life to different wildlife, a large number of different types of organisms, and many other amazing creatures we have and have yet to discover. Beyond this, the ocean provides us with a majority of the oxygen we breathe everyday thanks to oxygen-producing algae.
Although only 20% is visible to us, the ocean is a significant source of jobs, food, transportation, and entertainment. According to the World Wide Fund for Nature (WWF), 90% of trade between different countries is done through shipping via the world's waterways.
Scientists estimate that over 1 million species call the ocean their home. On top of that, it is reported that nearly 60 million people benefit from the ocean as they are working in fisheries and aquaculture. According to the Food and Agriculture Organization of the United State (FAO) in 2014, it was estimated that 10% of the world's population depends on fishing alone to make a living, and over 3 billion people have fish as part of their diet.
In recent years, the marine ecosystem has been under dire threat, ranging from plastic pollution, air pollution, climate changes, factory and agriculture waste, overfishing, oil pollution, species invasion, and deforestation. According to National Geographic, 80% of marine problems are caused by human activities.
Researchers found that almost 8 million tons of trash from coastal nations are being dumped into the ocean annually. It is believed that the trash was first thrown on land or in a river and later made its way into the ocean. The plastic pollution crisis has killed millions of animals, including those living in the ocean every year. Based on data from WWF published in 2018, around 100,000 sea animals died every year as a result of plastic pollution. 40% of them died because of eating plastic, as they thought it was their food.
Likewise, the Cambodian sea is also facing a similar hazard. Mrs. Leng Phalla, senior marine biologist at Wild Earth Allies (WEA), said "Among the global threats mentioned above, the biggest harms to the Cambodia marine ecosystem are mangrove deforestation and illegal fishing."
She continued, "Marine mammals are losing their habitat because illegal fishing happens right in their habitat. The act of cutting down mangrove trees and seagrass is the same as killing small fishes as they depend on those trees."
Due to Covid-19, WEA will not be holding any event in celebration of the World Ocean Day this year. However, the organization, in partnership with Kampot Provincial Fisheries Administration and Prek Tnort Fishing Community, planted 1000 mangroves on May 23, 2020 in replacement of the event. Moreover, on March 3, 2020, the Marine Exhibition was held in Kampot province to honor the sea for providing us food, shelter and a great living environment.
In past years, various activities such as mangrove planting, beach clean up, recycled boat racing, and student drawing competitions were done in Kampot province to celebrate the world ocean day.
"On top of this, we have also been diving into the sea to collect several types of trash as well. This action was done only among our team as we know how to dive with help of some breath equipment. We collect the debris and then divide them into different categories, which they belong to," added Phalla.
In response to the crisis the sea is facing, Phalla said the Cambodia government and WEA, as well as other related NGOs, are working to create marine and coastal protected areas of over 8,000 hectares of land in various communities in Kampot, such as Trapang Ropov, Prek Tnort, Changhaon and Koh Toch communes.
When asked whether or not the advancement of technology will be any help of the ocean crisis, Phalla said "Partly, yes. It indeed helps. However, strong law enforcement helps more."  
To reduce the global ocean crisis, National Geographic has suggested the following actions: 
Establish

marine parks

to protect biodiversity.

Reduce destructive fishing practices such as trawling.

Minimize the use of military sonar that

can harm or kill

whales and other marine mammals.

Help fishers to maintain their livelihoods by increasing conservation efforts.

Install measures to reduce the amount of fish caught accidentally.
This post is also available in:

KH