Hydroxychloroquine has been touted as a "game-changer" in combating Covid-19, but is it the miracle it's described as being?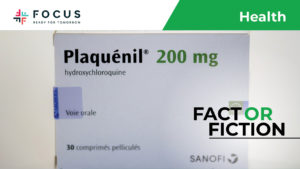 The Myth: 
Taking hydroxychloroquine, an anti-malarial drug, will help prevent infection of the Covid-19 coronavirus and will help lessen symptoms of those who already have it.
Fact or Fiction?
Fiction
What You Need to Know: 
On May 18, United States President Donald Trump publicly stated that he has been taking hydroxychloroquine, a drug that has been approved by the U.S. Food and Drug Administration (FDA) to treat or prevent malaria, as well as a number of other diseases, including lupus and rheumatic disorders.
There has been little to no evidence that hydroxychloroquine is a safe and effective way to help prevent or treat Covid-19 infections, despite repeated claims by proponents of the drug. The FDA has repeatedly warned that the drug could cause serious cardiac problems, including abnormal heart rhythms and a dangerously rapid heart rate called ventricular tachycardia.
A woman in Wisconsin told a local ABC affiliate that she had tested positive for the coronavirus, despite having taken the drug for over 19 years to treat lupus.
Kim, who did not want to give her full name, said, "I'm like, 'How can I be sick? How? I'm on the hydroxychloroquine.' They were like, 'Well, nobody's ever said that was the cure or that was going to keep you safe' and it definitely did not."
According to their website, the FDA has authorized an Emergency Use Authorization (EUA) for hydroxychloroquine, meaning healthcare providers are able to prescribe the drug to adults hospitalized with Covid-19. However, they stipulate that the drugs should only "be used when participation in a clinical trial is not possible and if the health care provider feels the potential benefit to the patient outweigh the potential risk."
The danger of ingesting the drug, or any variant, outside of a clinical setting is evident in the actions some people will take when they do not fully understand the risk.
An Arizona man died and his wife hospitalized when they ingested large amounts of chloroquine phosphate, a compound similar to hydroxychloroquine also used to treat malaria and an additive commonly used to clean fish tanks, after hearing President Trump tout the drug's supposed ability to fight the coronavirus.
In an interview with an NBC affiliate in Arizona, she said, "We saw Trump on TV — every channel — & all of his buddies and that this was safe. Trump kept saying it was basically pretty much a cure."
The WHO halted clinical trials of hydroxychloroquine in late May after a report published in the medical journal The Lancet found that patients treated with the drug were dying at a higher rate. The report concluded that hydroxychloroquine "was associated with decreased in-hospital survival and an increased frequency of ventricular arrhythmias when used for treatment of COVID-19."
There are currently no drugs to combat Covid-19 infections that are approved or recommended by the FDA or the World Health Organization. Social distancing measures in conjunction with the use of masks and regular hand washing is still the recommended course of action to help prevent the outbreak of infections.
This post is also available in:

KH