In late April, United States President Donald Trump suggested that introducing disinfectant into the body could help kill the coronavirus.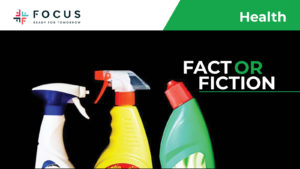 The Myth: 
Drinking or injecting disinfectants will help prevent you from getting infected by Covid-19.
Fact or Fiction?
Fiction
What You Need to Know: 
A wide variety of disinfectants have been in heavy use since the beginning of the Covid-19 outbreak. Their ability to kill a large range of viruses and bacteria, including the coronavirus responsible for Covid-19, makes them an effective tool in helping fight the spread of the disease.
One of the most widely used disinfectants is household bleach. While it can make our white clothes even brighter after a cycle in the wash, it can also kill a claimed 99.9% of microbes on surfaces. The same properties that allow it to kill dangerous microbes also makes it a potential danger to anyone who uses it incorrectly, however.
Bleach, like many other disinfecting agents, is an extremely caustic chemical that destroys cell membranes. This is how it is able to kill viruses, but it is also what makes it dangerous if not used in the correct manner. Inhaling, drinking, or even touching undiluted bleach can have seriously adverse effects on the human body.

Speaking with the Los Angeles Times, Dr. Rais Vohra, the medical director of the California Poison Control System's Fresno/Madera Division, said that ingesting bleach can result in burns to the mouth, esophagus and stomach. If accidentally inhaled while choking or coughing, it can do severe damage to the cells in your lungs.
"One of the most horrific things I've seen as an emergency physician and a toxicologist is seeing someone who has swallowed a corrosive chemical — and then within the course of 90 minutes to two hours, they're having a life-threatening or fatal reaction," Vohra said.
Reckitt Benckiser Group, the makers of popular cleaning products Lysol and Dettol, released a statement after the suggestion by President Trump to introduce disinfectants into the body to fight Covid-19:
"As a global leader in health and hygiene products, we must be clear that under no circumstance should our disinfectant products be administered into the human body (through injection, ingestion or any other route). As with all products, our disinfectant and hygiene products should only be used as intended and in line with usage guidelines."
These warnings have not stopped everyone from engaging in dangerous practices with disinfectants, however.
According to an online survey by the Centers for Disease Control (CDC) in May, 39% of the 502 respondents had used disinfectants in ways other than intended within the previous month. 25% of those surveyed reported "at least one adverse health effect during the previous month" believed to have been caused by cleaning products.
American Association of Poison Control Centers (AAPCC) reports show that cases of bleach exposure had increased 41% over the same period of time during the previous year, January 1st to June 7th. A report tracking disinfectant exposures during the same time showed a 59% increase in reported cases.
Warning labels on cleaning products should be read before their use in order to reduce the risk of their misuse, unintended or otherwise.
This post is also available in:

KH