The continued spread of Covid-19 worldwide, and reinfection of some areas that had seemingly gained control over the disease, has caused many to blame certain groups of being the source.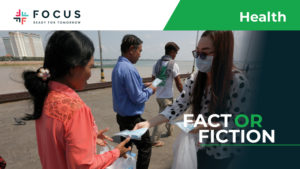 The Myth:
Covid-19 infects some groups of people more than others, based on race, gender, religion, etc.
Fact or Fiction?
Fiction
What You Need to Know:
The disease that has come to be known as Covid-19 was first reported to the World Health Organization on December 31, 2019 in Wuhan, China. It quickly spread throughout the country, infecting and killing thousands of people. Cases soon began to appear in countries around the world, fueling an anti-Chinese sentiment among many and leading to xenophobia-driven incidents and remarks.
United States' President Donald Trump has repeatedly referred to the disease as the "Chinese Virus" and the "Wuhan Virus". There have been thousands of reported incidents worldwide involving people of Asian descent being assaulted or harassed, accused of spreading the virus. Businesses owned by Asians around the world have seen a drastically reduced number of customers, owing to the unfounded fears of many people.
However, despite the perception that "all Asians have Covid" continues to drive xenophobia around the world, statistics show a different case altogether.
According to data collected by Our World in Data, an online research project based at the University of Oxford, China averages about 59 confirmed Covid cases for every 1 million people in the country. These numbers may be artificially low due to the Chinese government not including asymptomatic cases.
The World Health Organization (WHO) estimates that about 80% of all cases are asymptomatic or mild. Using this information, even if we estimate the cases in China to be five times their reported amount, about 300 per million people, that still leaves the country in the middle of the pack.
Chile leads the world in infections per million, at about 8,755 as of June 14th. They are followed by their neighbor, Peru, at 6,828 confirmed cases per million. The United States comes in a close third, at 6,267, while other major European countries like Spain, Ireland, and Sweden each clock in at over 5,000 cases per million.
These numbers fly in the face of the idea that Asian populations are running rampant with Covid infections in comparison to the rest of the world. Outside of the Middle East, no Asian country has an infection rate of more than 1,000 per million, with most averaging a few hundred. These numbers should be taken with a grain of salt, as testing levels may not be as high as other countries with higher rates.
Gender also does not play a role in infection rates; however, it does in severity of the infection, as men tend to have more undiagnosed underlying health conditions. An article published in the journal Frontiers in Public Health, showed that "while men and women have the same prevalence (of infection), men with COVID-19 are more at risk for worse outcomes and death, independent of age." Men may be worse off, but, on average, as many women are infected with Covid-19.
Given that countries with high infection rates are spread throughout the world, covering a variety of different races, ethnicities, religions, and genders, the only factor that seemingly determines if someone may be Covid positive is if they have been in close contact with someone who is infected.
This post is also available in:

KH