Vaccine development is generally a long, arduous process designed to ensure the efficacy of approved vaccines. With the immediate threat of Covid-19 changing how the world does many things, researchers are looking to drastically cut down the time before a vaccine to combat the coronavirus is available.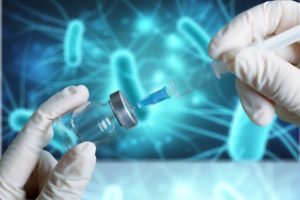 While governments and populations around the world continue to debate the effectiveness of stay-at-home orders and the shutting down of services and businesses not deemed essential, one of the few uniting issues in the face of the coronavirus pandemic is the need for a vaccine. While government and independent labs have been working on the research and development of a vaccine, the general public is left to wonder how long it will be until immunizations are made available.
A recent New York Times article reported on the drug company Pfizer beginning human trials of four variations of a vaccine on 360 healthy volunteers. Other companies have also begun clinical trials of their own, in a race to be the first to market, with the World Health Organization (WHO) listing a total of 8 vaccines currently in clinical trials. Dozens of others are also in development, not yet ready for trials of their own.
Pfizer and its partner, German pharmaceutical company BioNTech, have said that if the trials are successful, emergency vaccines could become available as soon as September. Other sources, including Dr. Anthony Fauci, the now-famous leading expert on infectious diseases, have said that an 18-month timeline for a vaccine is a best-case scenario, with some other experts saying even that period of time is overly optimistic.
With the science community seemingly unable to agree on a reasonable timetable for a vaccine, this gives us an opportunity to look into why there is such a variation in estimates, and what steps are needed to develop and release vaccines.
Dr. Lynda Stuart is the Deputy Director of the Bill and Melinda Gates Foundation and currently leads the Vaccine and Host Pathogen Biology domain of Discovery and Translational Sciences. She recently told Focus, "To make a vaccine available, you need to test (several phases to ensure its immune response) it and manufacture it" (sic).

According to the Centers for Disease Control and Prevention (CDC), the stages of vaccine development are generally the exploratory, pre-clinical, clinical development, regulatory review and approval, manufacturing, and quality control stages. Each stage will vary in length due to any number of factors, which could cause long delays. The total amount of time could take as much as 10 to 15 years for development and implementation.
Dr. Stuart said of vaccine development efforts, "There are two important questions: the timeframe in which the vaccine is needed and the scale it needs to be manufactured. But no matter these different approaches to develop a vaccine, it means first that we need to understand the virus."
The research needed to develop vaccines would not be possible without institutions such as the Institut Pasteur du Cambodge (IPC) in Phnom Penh. 
IPC was named by the WHO as an International Reference Laboratory for COVID-19, deemed crucial in addressing and meeting the public health risks emerging from the global COVID-19 pandemic. This means that IPC will be able to receive and test samples from around the world, as well as test and validate new assays and technologies while furthering the testing capacity of Cambodia and Southeast Asia.
According to Dr. Stuart, in addition to IPC, there are between 80 and 100 labs currently working to find out more about the coronavirus that causes Covid-19 in order to better understand how to fight and protect against it.
The funding that keeps the research at IPC and labs like it going comes from many sources, such as grants and funding agencies. Other sources of funds come from foreign governments, like the 1.6 million dollars the German government provided to IPC in late March. The French Development Agency (AFD) awarded an additional two million euros in funding for labs in Southeast Asia, as part of the ECOMORE II project, which intends to help the response to and prevention of epidemics in the region.
According to historyofvaccines.org, an educational website created by The College of Physicians of Philadelphia, the exploratory and pre-clinical stages of vaccine development generally last a combined 3-6 years. Since the first publicly reported cases of Covid-19, less than six months have elapsed, with the perceived and tangible threat of the virus causing expedited research efforts.
The combined global effort means more research news has been coming out consistently, such as scientists at IPC successfully able to culture samples of the coronavirus in a laboratory setting in late March and a South Korean lab mapping the RNA genome of the virus in April. The quick rate of information gleaned from global research in such a short time has paved the way for the current clinical trials that are taking place around the world, years ahead of the typical timeline.
Various stages of testing must take place during the clinical trials, with each round producing new sets of data that must be collected and interpreted to improve the efficacy of any additional trials needed. 
While the previously mentioned Pfizer trials have 360 subjects, should the data show promising results, subsequent rounds of testing would take place with significantly larger sets of participants. This would help to expose any adverse effects possibly not found in smaller sets of people, as well as allow for double blind and placebo testing to take place simultaneously. 
Once a series of trials has concluded and produced the desired results, the data is then reviewed by the corresponding regulating body. If the vaccine is approved, then a manufacturing license is issued and the company then can produce the vaccine in an inspected and approved factory, with continued monitoring taking place for quality control purposes.
These last steps are particularly important for ensuring that any vaccine would be made widely available. The ability to mass produce a high quality product lends itself to large pharmaceutical companies, such as Pfizer, being heavily involved in the process, according to Dr. Stuart.
"Making and manufacturing a vaccine at that scale is very complex. Big pharmas have to be part of the solution and it is very encouraging to see that almost all of the multinationals are working together to get this done."
This post is also available in:

KH