First garment industry awards honour excellence in social and environmental innovation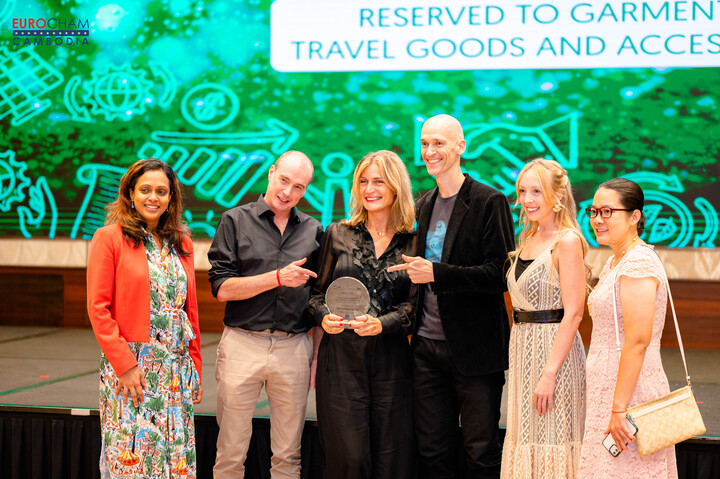 ---
Five Cambodian garment businesses have received awards for their excellence in innovation and in social and environmental sustainability.
IK Apparel, Pactics, PPSEC, Smateria and Mutita took top honours at the Corporate Social Responsibility (CSR) awards, hosted by Eurocham Cambodia and the Textile, Apparel, Footwear and Travel Goods Association in Cambodia (TAFTAC) on October 20.
The first of their kind in Cambodia, the awards spanned three categories – Social Excellence, Environmental Excellence, and Innovation – with different divisions for companies with more or fewer than 1,500 employees.
IK Apparel won both the social and environmental excellence categories. The firm was praised for the quality of services provided to workers and for substantial deployment of sustainable technologies in their factories. Among small and medium-size enterprises (SMEs), Pactics was honoured for its extensive social programs, PPSEC for its active role in in renewable energy, and Smateria for developing an innovative collection based on upcycled waste materials from other factories.
A fourth special jury prize, independent of the predetermined categories, was given to Mutita Textile Social Enterprise. Over half of the employees at Mutita are differently abled, with the entire factory organised to enable these individuals to work effectively.

"I would say they are pioneers in this sector, if not the only [company] that does this in Cambodia," noted Massimiliano Tropeano, a sustainability and garment expert at EuroCham Cambodia.
Such public recognition is especially important in the garment industry. "Recognition for applying sustainability measures in the manufacturing area and particularly in the garment sector is essential," Tropeano said.
The nominees were sourced via spontaneous application from companies in the apparel, footwear, travel goods and accessories industries. These companies were then screened based on predetermined criteria by external experts from companies operating in the field of compliance, auditing and certification, including Bureau Veritas, Control Union, Société Générale de Surveillance (SGS) and TUV. Candidates who passed this screening process were then subjected to physical visits to their factories to verify in detail the claims made in their applications. The results were then anonymized and presented to a jury of public and private sector experts for judging.
With the initial awards serving as a proof of concept, many brands came away happy with the recognition they received for their efforts in corporate social responsibility. The event can be expected to continue to grow in size going forward, said Tropeano.
"The brands were there, the brands witnessed what we have worked upon, and I am sure that next year their participation will be much bigger, even bigger than this year," he said.