The "silk island" of Koh Dach, the pastoral countryside of Arey Ksat, and the ancient ruins of Oudong and Phnom Chisor are all within easy reach of the capital city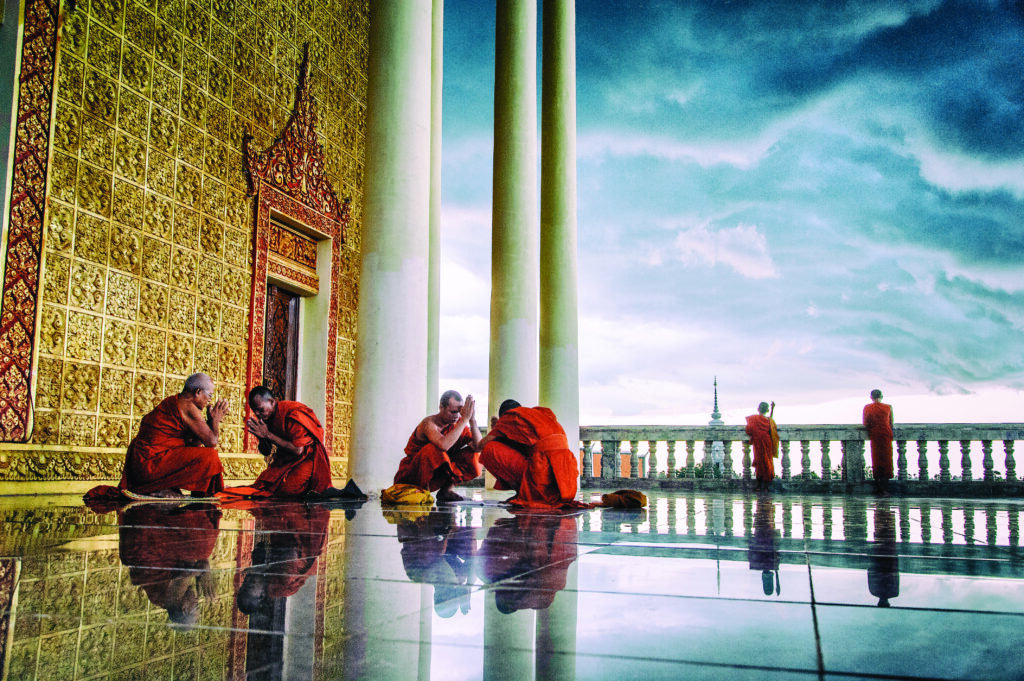 When the gates of the underworld open, many residents and visitors consider it a good time to get out of Phnom Penh.
Friday is the holiday known as Pchum Ben, the end of the Buddhist lent, or Vassa, and the start of four days of celebrations. It's a time when Buddhist monks chant sutras day and night to free the spirits of deceased ancestors, allowing relatives to fete generations of forebears with food offerings. This year, it coincides with the Commemoration Day of the King's Father (Sunday 15 October), honouring the late King Norodom Sihanouk, considered the father of Cambodian independence.
With this in mind, Focus Cambodia suggests a handful of day trips from the capital, for those who just want to get away:
Silk Island: Only 18 kilometers upstream from Phnom Penh in the midđle of the mighty Mekong River, the island known to locals as Koh Dach offers a slice of traditional Cambodian lifestyle within the greater urban area. To get there, take a tuk-tuk to a small ferry, cross the river channel, and head directly for the silk weavers.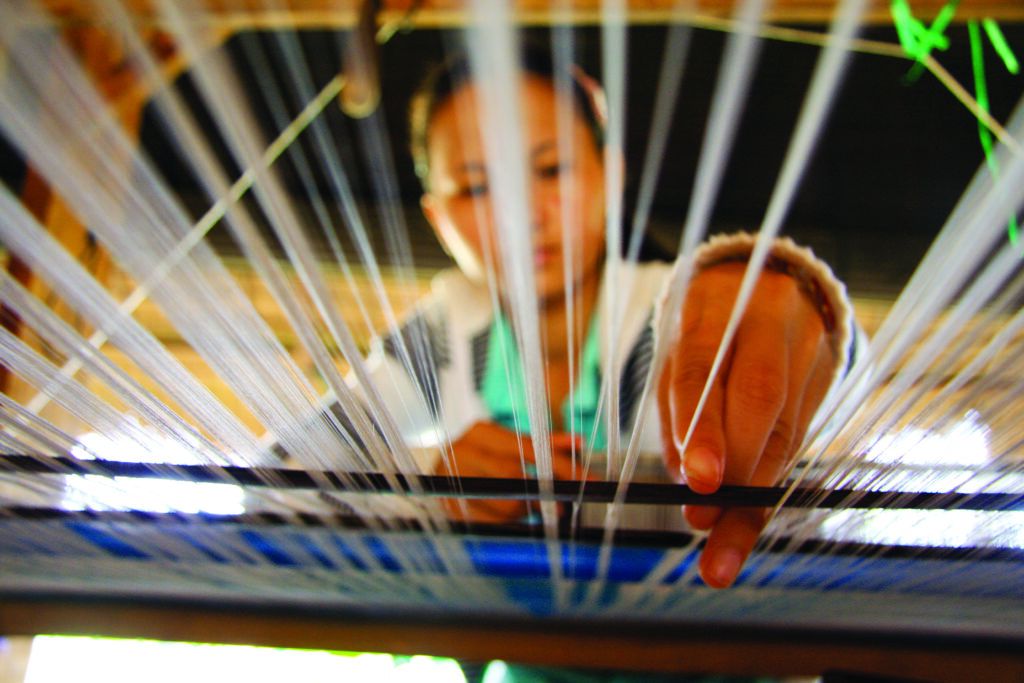 The island is dotted with wooden houses, raised on stilts, where you can visit artists that are faithful to techniques practised since medieval times: They plump up silkworms by feeding them mulberry leaves, harvest the cocoons produced by their larvae, spin their delicate yarn on handmade wooden looms, and dye the fabric in time-honoured patterns. Colourful Khmer scarves, known as krama, and hand-knit sarongs, or sampot, are popular purchases.

If you're feeling energetic, rent a bicycle to ride through the farms and villages of the surrounding countryside, and past a trio of pagodas. You'll pass banana plantations, mango orchards, fields of corn, sesame, ginger and lemongrass. Free-range cattle graze beside one-lane roads and ducks pad through rice fields to gorge on destructive pests.
Many of the riverside beaches on Koh Dach have thatched bamboo huts called kanhchouh where you can relax with fresh coconuts or other cold drinks, eat grilled fish or chicken, or perhaps rent kayaks to paddle on the current.
Arey Ksat: The fastest way out of the city and into the countryside is by boat. Hop on the ferry at the Koh Pich launch, for instance, and 15 minutes you'll set foot in Kandal province at Arey Ksat. We recommend exploring the area by bicycle. If you don't have your own set of wheels, you can rent some at Vicious Cycle Cafe & Bike Shop, only a few hundred metres from the ferry landing. There are even family-friendly options with seats and extensions for children.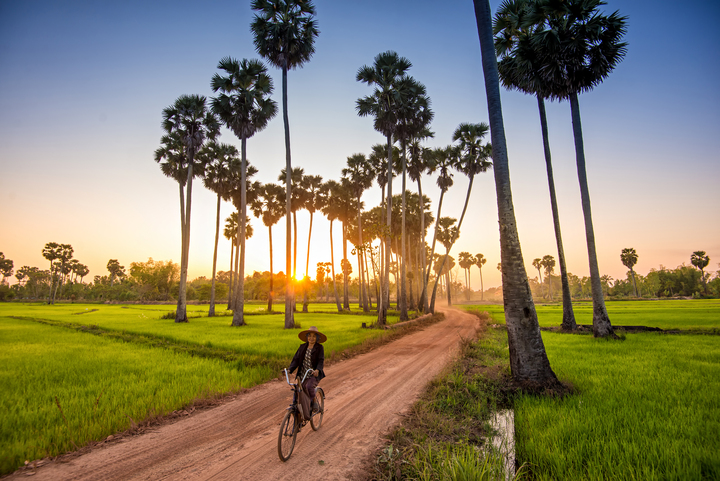 Head in any direction and get off the beaten track. Soon you'll find yourself in verdant rice paddies, shaded groves of mango and banana, and aromatic fields of lemongrass. Take a moment to look back towards Phnom Penh and marvel at the contrast between this rural setting and the ever-changing skyline of the city rising in the background. After you've worked up a sweat, take a break from the heat at one of three stops with a swimming pool: S'mango, IKat Coffee or Paradise Mekong Resort. Each offers overnight lodging, for those so inclined.
If you're up for more adventure, make your way to Wat Svay Andet. In the afternoon, with a bit of luck, you may catch the next generation of boys and young men training in Lakhon Kohl, the ancient Khmer masked dance inscribed in 2018 on UNESCO's List of Intangible Cultural Heritage in Need of Urgent Safeguarding.
After a full day, head back to the city for dinner. Be on the boat for "golden hour" to experience one of the best sunsets Phnom Penh has to offer. The ferry to and from Arey Ksat leaves regularly with departures as soon as the boat is full. The ride costs only 500 riels per person with additional fees for cars and motorcycles. (Note that regular ferry service ends at 10 p.m., so if you plan to stay late, expect to wait for your ride and pay more expensive fees.)
Oudong: Before King Norodom moved Cambodia's capital to Phnom Penh in 1866, the kingdom's center of power for nearly 250 years was Oudong, then a city of 12,000 people. Its namesake mountain, twin-summited Phnom Oudong, is about 40 kilometers northwest of modern Phnom Penh via National Road No 5, and can easily be visited by any form of transportation from taxi to public bus. (It's a long ride in a tuk-tuk.) Many sightseeing companies also run tours. It's wise to visit on a weekday, in the early morning or late afternoon, to avoid midday heat and weekend crowds.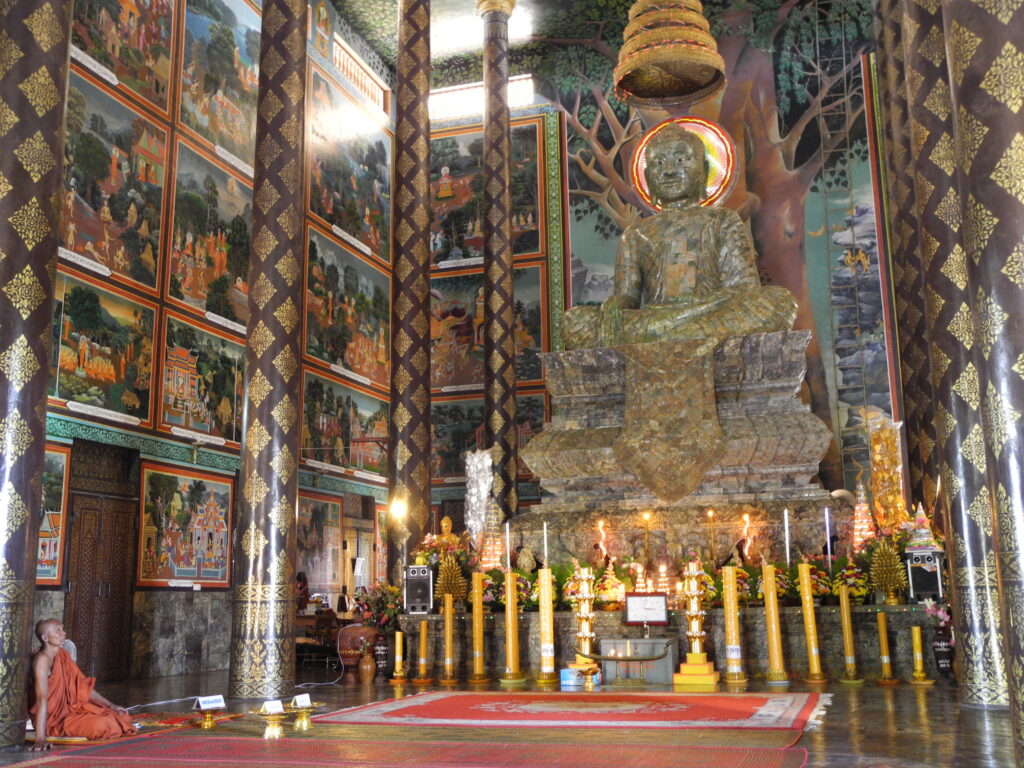 About 1,500 metres long, east to west, and 700 metres wide, Phnom Oudong rises above a region of wetland rice paddies. A climb of just over 500 steps leads to the impressive remains of Vihear Preah Edthareus, partially destroyed by the Khmer Rouge army in 1977. Eight giant columns rise around an 18-cubit (about 8-metre) Buddha, the central image of the shrine. One side of the Buddha and an arm survived the bombing, and an enclosure at the foot of the pedestal preserves the Buddha's face.
Nearby on the hilltop are the tombs of several ancient monarchs, including King Ang Duong (reigned 1841-50), who built many canals, terraces, bridges and pagodas during his rule. A large new stupa that holds relics of the Buddha was constructed by King Norodom Sihanouk in 2002. Atop a smaller hill are more shrines and the remains of Ta San mosque, built by a Cham Muslim on ground given to him by one of the ancient kings.
Phnom Chisor and Tonle Bati: This pair of attractions are not geographically far apart, but it's wise to start early to see both. Begin at Chisor Mountain, 42 kilometers south of Phnom Penh in Takeo province. An ancient Khmer temple, Prasat Phnom Chisor, stands at its 133-metre peak — a 461-step climb above the surrounding countryside.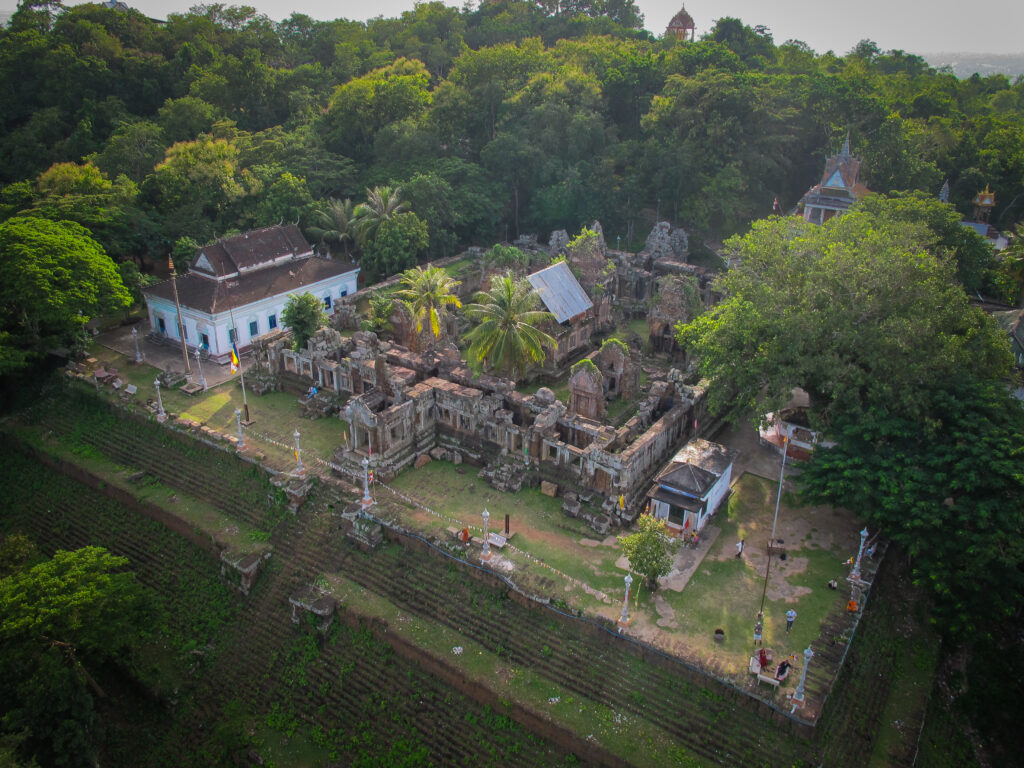 Famed Angkor King Suryavarman I (reigned 1006-1050) called it the "Mountain of the Sun" when he built the temple of laterite and bricks with carved sandstone lintels. He dedicated it to Shiva and Vishnu, two of the principal gods of his Brahmanist faith. From a viewpoint on the east side of the mountain, an overgrown avenue connects two outer gates with a pair of Buddhist temples and the colony's ancient reservoir.
Twelve kilometers nearer to Phnom Penh (a 20-minute drive) is Tonle Bati, a lake that is a relaxing getaway for local citizens, especially those who love to fish. Nearby is a structure built by King Jayavarman VII (reigned 1181-12C18) to house a set of stone images of the Buddha duplicated at Angkor Thom and in 21 other towns across Cambodia and Thailand. It is called Ta Prohm of Bati; Angkor's Ta Prohm ("Ancestor Brahma") shrine was dedicated to the ruler's mother.