Economic specialists have said the food delivery service market in Cambodia is booming remarkably which creates job opportunities for Cambodians who are undergoing financial issues due to Covid-19.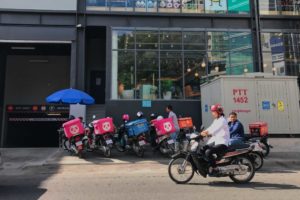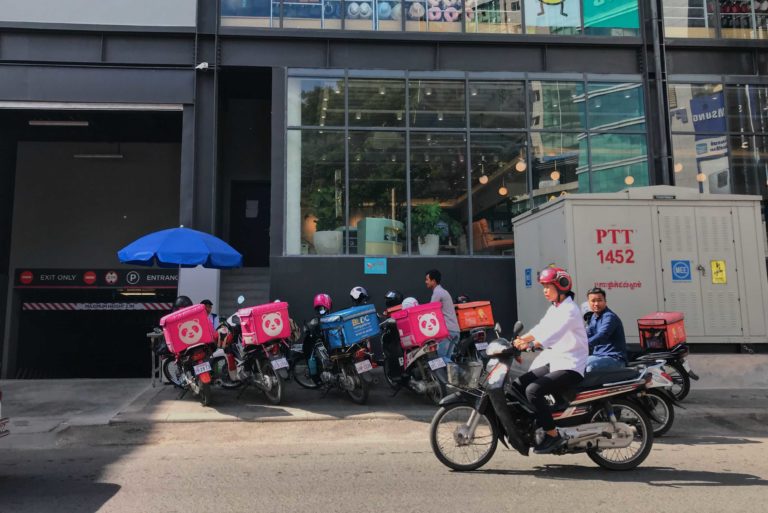 Mr. Win, a 28-year-old food delivery man for Nham24, told Focus he has been working in this area for over a month. He added that he decided to be a delivery man as it is difficult presently to look for a decent job, and the income is sufficient to support himself. 
"Currently, it is not easy to get a job because of the crisis; I applied to be a delivery man as freelance work is convenient and flexible," added Win
He also said Nham24 manages approximately 500 delivery workers, a hundred more than when he started the job. The company is recruiting more employees to meet the delivery market.  
He stated that, "I normally deliver at least 200 to 300 times per day. The bare minimum is 200 times."
While Focus attempted to verify these figures with Nham24 and FoodPanda, a competing service, with no response, quarantine and social distancing orders to combat the spread of Covid-19 could be seen as one of the key factors for the growth of the service.
Leng Akhena, a 25-year-old Cambodian in Phnom Penh, said he began to use online food delivery service in August; yet, he did not frequently use it until recently.
"I use the service more during the crisis as my parents do not allow me to go out. Some days I order food online more than one time a day," added Akhena. 
Another Cambodian living in the city, Rom Molyka mentioned that she has utilized the service since its emergence, and currently uses it even more regularly because she is working from home to avoid risk of contracting the virus.
She said, "I am allowed to work from home, and do not have time to get groceries. Hence, the delivery service is very convenient as one click can bring you food in any locations you desire. I order food online from time to time." 
Ngeth Chou, an economic researcher, stated the food delivery service market helps increase better job opportunities for Cambodians in the present and future. 
Compared to restaurants, the service provides more jobs to the people as for a small restaurant only few job vacancies are available, added Chou.
He stated all the delivery service businesses including food delivery service will drastically grow because of many factors, not just Covid-19.
"We see positive factors for the service expansion, which are obviously Covid-19, online payment and the increase of service providers in the country," says Chou.
He continued, "Cambodians who are not currently using this service will start to learn more about it if the government makes an extra contribution to the knowledge on online payment."
Many Cambodians are presently making orders from many restaurants through mobile applications. 
Chou also added that in order to manage the online businesses the government has enacted the new Law on Electronic Commerce (E-Commerce Law), which was implemented in late 2019. The first chapter of the law contains the e-commerce management in Cambodia along with international communities to strengthen e-commerce law operations and accumulate trust from the public for digital services. 
He said that food online delivery service and other services will continue mushrooming once the service companies deliver trust to people, which will occur as long as the law is clear and effective.
This post is also available in:

KH