If not used carefully and properly, contact lenses can pose risks to your eyes and their overall health.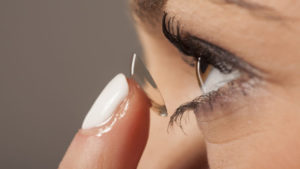 Eyes are an essential part of the human body and vital to our daily lives. They allow us to complete day-to-day tasks and fully experience the beauty that the world has to offer.
Contact lenses have gained popularity in Cambodia recently, especially among the Kingdom's young people, as they provide a more convenient and discrete alternative to  glasses. However, some people have used contact lenses for more fashionable exploits , colorizing and decorating their eyes to look unique and attractive. 
A study from Insight Vision Center, an eye-care center specializing in ophthalmology, showed that the misuse of contact lenses can pose serious optical threats, including blockage of oxygen, dry eyes, irritation, conjunctivitis, corneal abrasion and corneal ulcer, which can cause blindness without treatment. 
How to use contact lenses in a healthy way
Experts from London Vision Clinic, an advanced laser eye surgery clinic in the UK, recommended some methods to help protect your eyes  when wearing contact lenses. 
Cleaning
Washing your hands with soap or alcohol-based products is an essential step before touching your eyes. You should also not wash your eyes and lenses with unclean and unknown water sources. After washing, you should use cotton to gently dab and clean your eyes. It is important to clean your contact lenses with a cleaning kit  that is approved by experts. 

Avoid wearing lenses while sleeping 
Wearing contact lenses for a long period of time can pose risks to  your eyes, and it is recommended that you  wear lenses  for no more than 12 hours a day. Before going to bed,  make sure you take your lenses out carefully, as bacteria from your fingers and hands can contaminate your lenses, causing red-eye and rashes.   
Makeup 
Contact lenses are popular in Cambodia as they can complement makeup, but when you use eyeliner or apply makeup, it could enter the eyes or get on your lenses, posing problems. If you accidentally get makeup on your contact lenses, you must immediately wash and disinfect your eyes. 
Water
When you have contact lenses in, you should avoid rain, swimming or moisture, especially saunas and public pools. This is because water can contain bacteria and amoebae – a single-celled organism that can potentially harm your eyes and vision. 
Touching and rubbing your eyes
It is common to touch or rub your eyes, which can cause eye diseases. For example, Keratoconus is a progessive eye disease in which the normally round cornea thins and begins to bulge into a cone-like shape. Everyone who touches or rubs their eyes might have Keratoconus, but people with contact lenses have a higher risk of the illness and aggravation, as lenses can make eyes itchy and blurry. So lense-wearers should be particularly careful and weary.
Cleaning kits
Not only does bacteria stay on contact lenses, it can also remain on cleaning kits. It is therefore important to frequently and thoroughly wash cleaning kits and let them dry fully. You should also avoid leaving your cleaning kit in moist and dark places, which increases the chance of exposing them to bacteria. 
Take care of your eyes
Even if you do not experience pain or blurriness in your  eyes when wearing contact lenses, this does not mean that your eyes are healthy, as lenses can block oxygen flow and moisture to the eyes. You can take care of your eyes by wearing lenses advised by experts and by making sure that you have regular check-ups.
This post is also available in:

KH