"If more Cambodian people travel domestically, it will be a positive thing for the country's economy."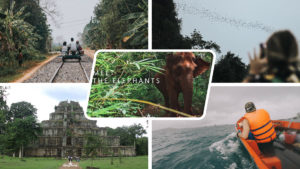 According to a report of mid-2019 published by the National Bank of Cambodia (NBC), Cambodia's economy has been improving, in part, thanks to the growth of sectors such as exports and imports, construction, real estate and tourism sectors.  The latter of which contributes 12% of the country's GDP last year.
A report from the Ministry of Tourism indicated that the number of international tourists in Cambodia increased to 6.6 million in 2019, up by around 400,000 from the year previous. Cambodia became the 7th most popular tourist destination in ASEAN in 2018 and saw one of the highest growth in tourist numbers in the region, adding $4.35 billion to the economy.
Tourism plays a key role in creating job opportunities for more than 630,000 Cambodians in the hospitality industry, food sector and across local communities. Cambodia was anticipating to welcome 7 million international tourists in 2020, accounting for $4.3 billion to the economy. However, Covid-19 had other ideas.
Covid-19 has put a relative halt on tourism to Cambodia in 2020, as it has across the world. Tith Chantha, permanent secretary of state of the Ministry of Tourism for the Kingdom of Cambodia, said in March that the number of international tourists dropped by around 15% for the first two months of 2020, compared to the same period in 2019. This significant decrease in tourism has negatively affected all types of business that depend on tourism. 
Plans to restore tourism are being drawn up by the government and relevant ministries, to help drive numbers to the country once the pandemic eases. The focus now has turned to local tourism and domestic travel, to keep the sector afloat. Domestic travel is at the centre of the plans, which can be aided by improved organization, transport services and infrastructure.  

In the past few years, domestic tourist spots have not been popular among Cambodians, especially those who can afford trips overseas. In 2019, approximately 2 million Cambodians  traveled abroad, according to a report from the Ministry of Tourism. In 2020, during Covid-19, millions may have to look for a holiday that's closer to home. 
Cambodians who have the resources to travel abroad, have chosen to prioritize  international trips over the past few years. However, the Ministry now has encouraged people to travel domestically during Covid-19, in order to help restore the country's economy.
Top Sopheak, a spokesperson for the Ministry of Tourism, explained that domestic tourism could be a boost to the local economy.
"Now Cambodians cannot travel abroad. If they travel within the country, it will help the economy. In spite of a small contribution from domestic travel, some Cambodians who depend on tourism at least can use some money to deal with food or water and power bills", said Sopheak.
Sopheak stressed both the beauty of the country and the important safety measures to follow when travelling for holidays within it., "However, Cambodia is a safe destination for its people. We have many tourist attractions such as heritage tourism, cultural and historical tourism, eco-tourism and community tourism," said Sopheak."But travelers must follow Covid-19 preventive measures from the government and the Ministry of Health, in particular, they must obey tourism safety measures imposed by the Ministry of tourism."
Focus will introduce two tourism facebook pages: "Runaway- រត់ចោលស្រុក" and "Freedom Travel Consultant – FTC" to people who are planing dometic trips, listing down ten great tourist places in Cambodia.
"Runaway- រត់ចោលស្រុក" facebook page was created by a group of Cambodian youth with the aim of introducing  undiscovered places to local and international tourists. Here are the top five list:
Mondulkiri project
Mondulkiri project is an elephant sanctuary, with five of the enormous animals, that offers a $50 one-day and a $80 2-day-and-1-night tour package. At Mondulkiri e, tourists will be able to walk with, feed and wash the elephants in the jungle surroundings. The tour guide will also take you to the waterfall area where you can swim, and experience the local tribe's food. A percentage of Mondulkiri's income generated from tourism will be used for wild elephant conversation.

Photo: Runaway
Lori-Bamboo train, Battambong
The tourist attraction was created in the 1980s, but the railway line is used most often by backpackers. You might have seen Lori in a hit series called Love 9. But now you can experience Lori for yourself in Battambong, while also learning about the daily life of the locals.

Photo: Runaway
Koh Ker Temple
Koh Ker Temple, located in Srayong Cheung village, Preah Vihear province, was once the ancient capital city of Cambodia. The temple, with its distinctive pyramid shape, was built by King Jayavaramn IV to worship the Hindu gods. This hidden gem is only 23km from Siem Reap, and you can enjoy the breathtaking route along the way to the temple.

Photo: Runaway
Bat cave in Sompeov mountain
If you travel near Battambang, then the nearby Sompeov mountain is well worth-visiting. At Sompeov, you can experience a spectacular bat show during sunset.

Photo: Runaway
Koh Sdach (King Island)
This beautiful island is located in Kiri Sakor district, Koh Kong province. Travellers can take a tourist boat from the harbour in Koh Kong province. As soon as you reach the island, you can enjoy activities, such as the community market and snorkeling. The fresh and delicious seafood from Nesat commune is not to be missed.

Photo: Runaway
"Freedom Travel Consultant – FTC" Facebook page was created to promote overlooked domestic tourist destinations in Cambodia. Top five tourist attractions are listed down below: 
Kbal Romeas, Kampot province
Phnom Kbal Romeas is a natural tourist attraction, located in Teuk Chou district, Kampot. The mountain with rocks in the shape of animals is an ancient site in Cambodia and tourists can enjoy the cave scenery and pray for happiness and fulfillment.
Wat Kor village, Battambong
This village, located in Voat Kor District,  is formed of many vintage-styled houses. Wat Kor has the potential to become future agritourism – a type of tourism where people can take part in village activities such as farming, cooking, craft-making or cropping.
Anlung Svay Waterfall, Kompong Chhnang
Anlung Svay Waterfall was only recently discovered by the Ministry of Tourism. This natural site also has temples while swimmers can enjoy the waterfalls  It is located in the rural Tuek Phos district, 57km from Kampong Chhnang.
Bayang temple, Takeo
Bayang temple, built by King Pavavarman II in the 7th century on the summit of Phnom Bayang mountain, sits 313-meters high above ground and is located 121km from Phnom Penh, in the Kiri Vong District, Takeo province.
Koh Sralau Village, Koh Kong
Similar to Koh Sdach, this island houses a small community. Traveling to the island, tourists must take a speed boat for about 2 hours from Koh Kong. Along the way, visitors can experience the calmness of the waters and spectacular mangrove trees. This village has the potential to become a popular spot with tourists thanks to its clean, calm environment and exotic scenery.
This post is also available in:

KH