Traditional Khmer music graces the ears of wedding guests and cues the footsteps of dancers in Cambodian ballet, or apsara. Sup Lina, who can play ten traditional Khmer instruments, works full time as a singer for Cambodian Living Arts' nightly apsara performances and moonlights as a wedding singer. Here, he describes a day full of song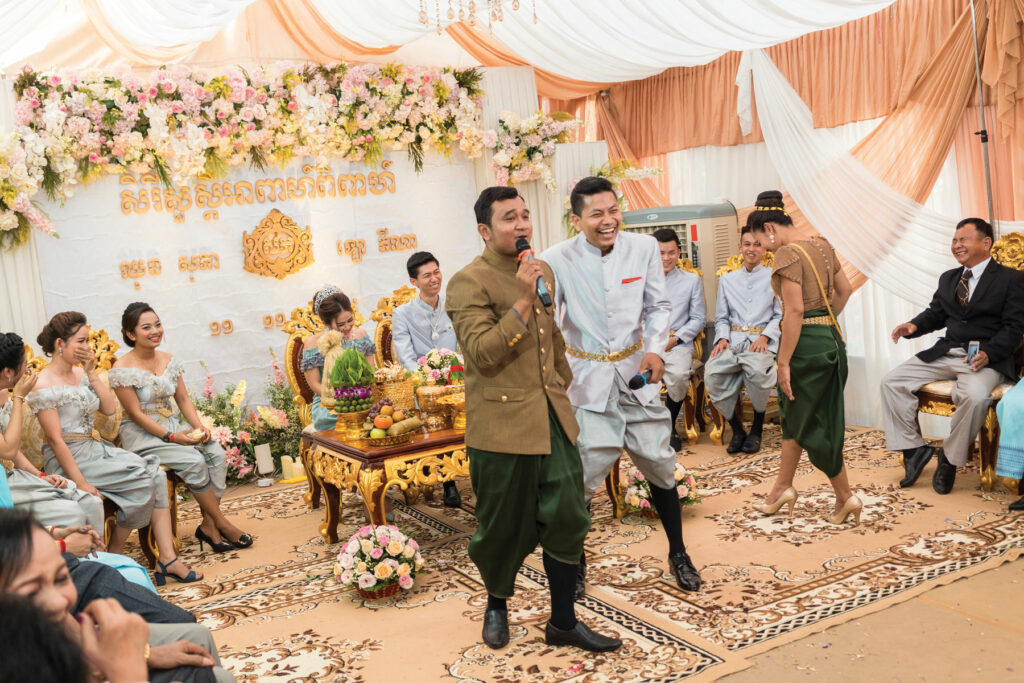 Words by Janelle Retka, Photography by Thomas Cristofoletti
5:00am
It's early when 27-year-old Sup Lina peels himself from his bed in the new flat his family recently purchased on the outskirts of Phnom Penh. His bed sits directly beside his brother's, eight years his junior, and Lina tiptoes around the room so he doesn't wake him. He washes his face and dresses in a collared tee-shirt, black slacks and long black dress socks that nearly reach his knees. Ordinarily, Lina would be the last in his house to wake up, around 7:00am, but it's wedding season in Cambodia, which means a flood of opportunities to perform traditional Khmer music for the ceremonies – and an early start to his day.
6:30am
Lina arrives at a gated community, or borei, on the south end of the capital, where a wedding tent draped in white and peach fabric welcomes him. Banana trees sit at the entrance and tables fill the walkway leading up to a stage adorned in flowers. Lina rolls up his dress pants, and he and his fellow musicians begin fashioning chong k'ben, or traditional billowing pants, out of long strips of rich emerald green silk. The men button up pale brown dress shirts, and soon they begin performing background music as guests arrive and the fruit carrying ceremony, the first of the day, begins. Throughout the day, Lina will alternate between playing a bell and the khim, a Cambodian stringed instrument, and singing. "My grandfather was a musician who played the khim, so it's in my bloodline," Lina says. While he never dreamed of being a performer, it came naturally to him – both of his parents were traditional dancers. He learned to play the khim and the traditions of his country's wedding ceremonies under a master. "It didn't take long to learn – around two or three months," Lina says. "We just learned the core songs and basics, and then you can expand on them based on your creativity."

9:40am
After a break for breakfast and a rest between ceremonies, Lina calls guests' attention back to the stage, where he stands to the left of the bride and groom. He and his boss, a female performer, begin performing ayai, a standup comedy segment that alternates between chatting and singing, a Cambodian wedding staple. The two act as angels, blessing the new couple with a love spell. At one point, Lina brings the spell to a halt and calls up a groomsman to perform a tongue twister. He impresses the crowd with his quick tongue, while the groomsman's failure lands the crowd in a fit of laughter. This performance usually earns Lina $15 in tips in addition to his rate for singing and playing instruments. "My normal character is very quiet. I don't really talk too much, but I have to talk more on stage because you need to make people laugh, entertain them up there," Lina says later, his arms crossed, showing his reserved offstage demeanour.
12:10pm
"It's really stuffy," Lina says of his uniform as he strips the silk from his legs and rolls down his slacks. "There's no air." The morning wedding ceremonies have come to a close, and it's time to pack up the instruments. Once the band is back in street clothes and their belongings are stowed away, they sit together at a table and enjoy the lunch feast: deep-fried fish, eggs with fermented fish dip and tom yum soup with seafood. After a quick bite and lively banter around the table, Lina gets his day's pay of around $20 and makes his way to his full-time job by motorbike.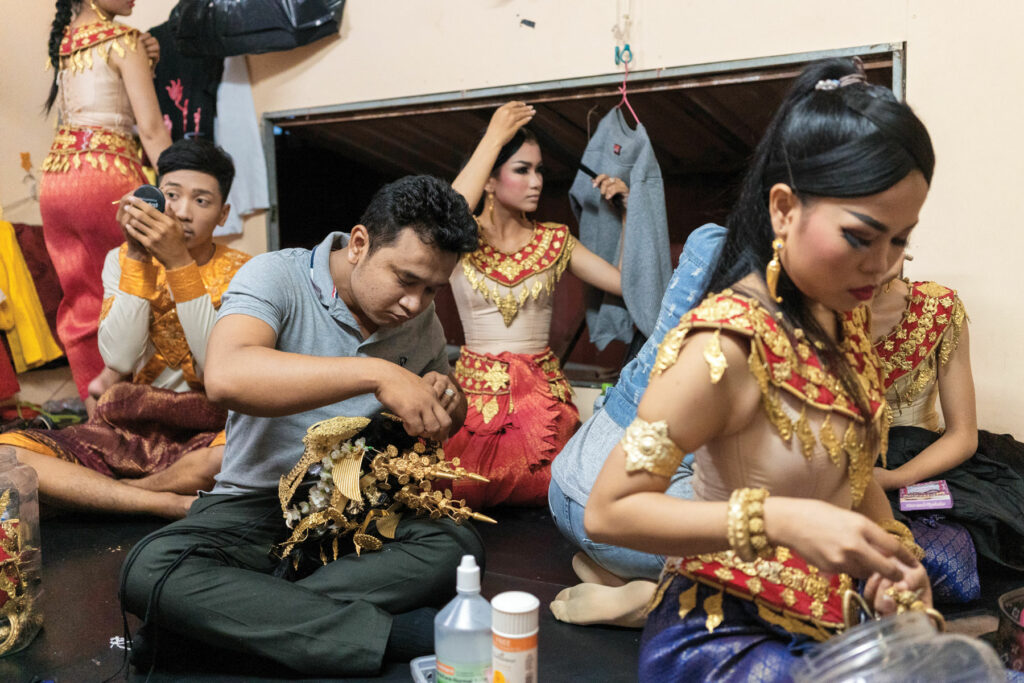 1:00pm
The morning ceremonies have come to a close. Lina has stripped off the stuffy silk uniform, collected his $20 wage and ridden to the National Museum, where he clocks in for his day job at the Cambodian Living Arts office beside the museum. Some days, Lina teaches workshops in apsara, but today the premises are quiet. He cleans the stage where he sings Khmer folk songs each night, sells tickets to the show and plays video games on his phone when he has run out of tasks.
5:15pm
Apsara dancers fill the stage dressed in street clothes. It's time for the nightly rehearsal. Lina climbs the stage, sits on the sidelines and warms up his voice. "Please, all the gods, turn her mind, return her love to me," his voice bellows. He's practicing the words to the opening song for the Churning of the Sea of Milk dance. After the rehearsal, Lina gets a snack, chats with colleagues and finds some quiet time to himself before the show.
6:40pm
The changing room backstage is packed elbow to elbow. Male and female dancers are decked out in silk costumes much like the one Lina wore for his wedding performance earlier. Lina sits between them, still in street clothes. He wipes his face clean, powders it with foundation and applies plush pink lipstick. He adjusts a performer's headdress, buttons up a white silk dress shirt and heads to the stairs behind the musicians' loft. Lina slips off his black dress shoes and steps behind a curtain, ready for the show to start.
7:10pm
As the lights come up on stage, Lina's hands are pressed together in a sampeah and his voice rises to signify the birth of the universe in the dance and the start of the show. "Oh gods and demons, please stop fighting – you should have a tug of war to churn up the ocean," he begins. Dancers follow the cue of his words, telling traditional folklore through the delicate movements of their hips and the studied movement of their fingertips. "As the singer, I'm the one who needs to deeply accompany the dance, so I need to create that deep mood or feeling along with the dancers – otherwise, the show is not successful," Lina says.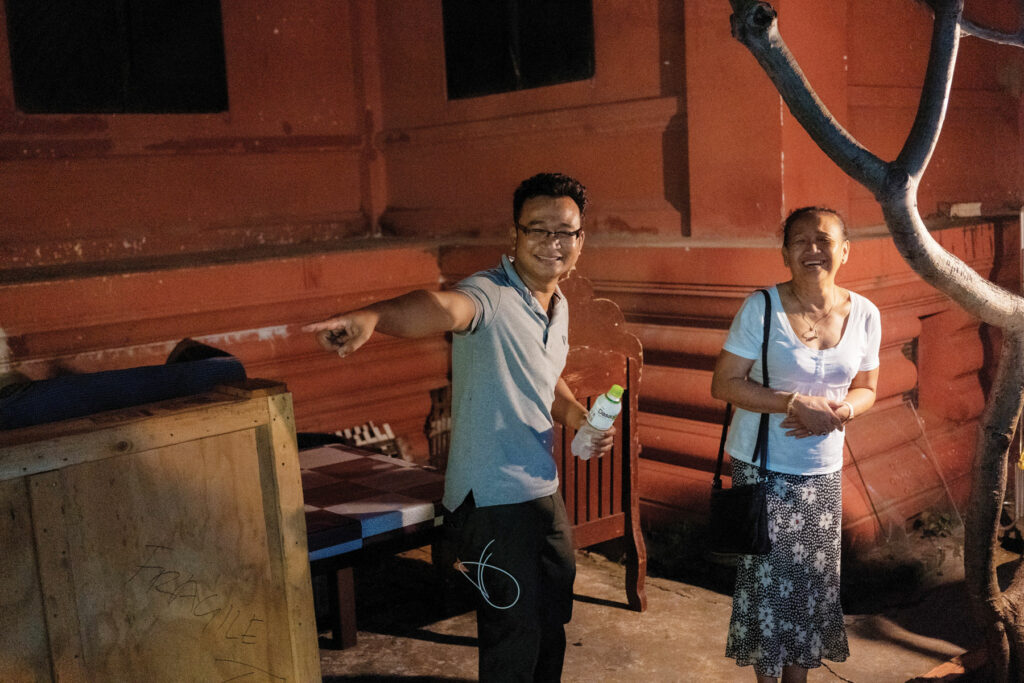 8:00pm
After the crowd disperses and the performers and musicians have changed into street clothes and removed their makeup, they gather to talk about the evening's performance. Then Lina goes home to his siblings, joining them for dinner and some television before hunkering down in bed once again beside his younger brother. He calls it a day by around 11:00pm.
This story was originally published on Discover magazine 2019 vol.