Challenges in real estate market still exist, as company makes clear in its quarterly webinar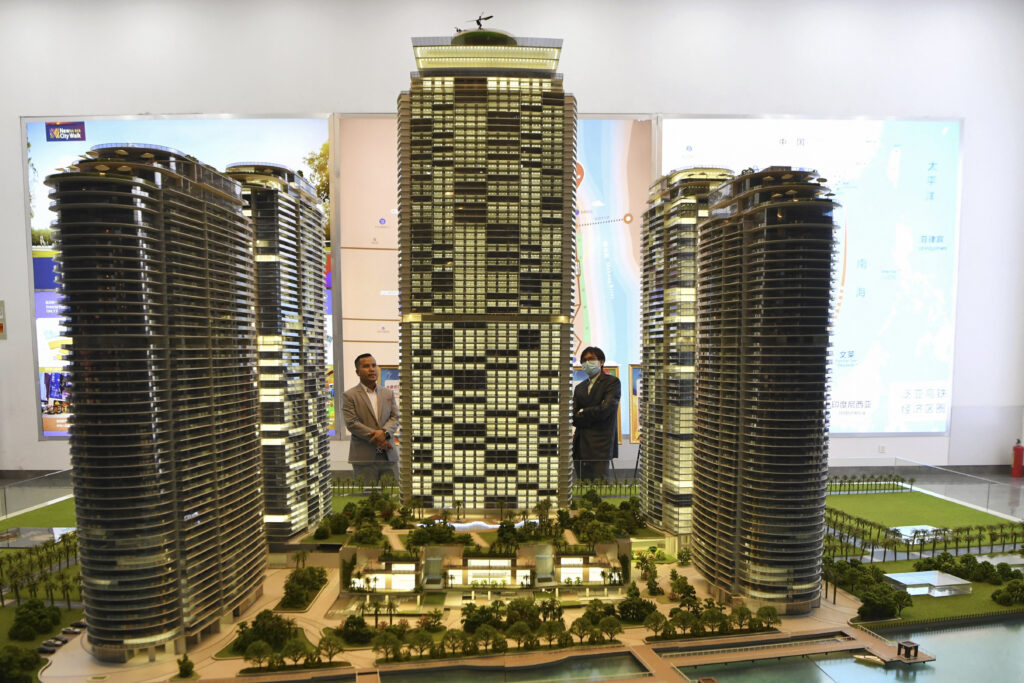 ---
Key opportunities in Cambodia's dynamic real estate market are front and centre in the Quarter 3 insights report released earlier this month by Coldwell Banker Richard Ellis (CBRE). So, too, are stress points.
The company's recent webinar offered developers an inside look at Cambodia's robust investor sentiments for expanding development, preparation for an uncertain capital gains tax, and the details of booming and evolving development markets in the third quarter of the year.
"As things unfold, we see a good amount of dynamism and desire to solve problems, create growth and continue growth for Cambodia," CBRE Cambodia Managing Director Lawrence Lennon expressed in the webinar.
He added: "Domestically, the biggest news of the quarter is of course the appointment of Hun Manet as the prime minister of the country."
Cambodia is forecasted to have the second highest GDP growth rate, after Vietnam, among all Southeast Asian countries from 2023-2025 with an increase of 5.97 percent, according to CBRE's Q3 2023 report.

Infrastructure development, including bridges and airports throughout the country, is booming, according to the firm. With $30 billion worth of infrastructure developments underway, it's expected that these projects will create a huge amount of value, whether it comes down to trade facilitation for industrial and manufacturing activity, logistics or developing hospitality and residential property.
The Koh Pich-Koh Norea bridge in Phnom Penh's Khan Chbar Ampov development area is the flagship project as it is scheduled for a soft launch in November.
Infrastructure aside, Cambodia's tourism sector is primarily driven by visitors from Thailand and Vietnam, with a steep decline in visitors from the lucrative Chinese market. As a result, the ongoing development of tourism facilities will remain a challenge.
Taxation changes are also affecting property owners, and uncertainty surrounds a new capital gains tax.
"We don't have a clear message (as to whether) the capital gains tax is happening or not," said Lennon.
As far as the real estate markets, CBRE suggests office occupancy rates are rising as rental rates stabilise. A business confidence survey from EuroCham Cambodia reported an increase in companies' investment plans and expansion activities in the next 12 months. Over 60 percent of respondents indicated plans for expansion, compared to just 56 percent in 2021.
The overall office occupancy rate in Phnom Penh increased from 58 percent to 64 percent in the third quarter of 2023, primarily due to strata office buildings offering more flexible rental terms as stated in the webinar.
As rent continues to contract, more tenants are taking the advantage to move to newer and better office buildings. CBRE labels this trend as a "flight to quality".
While new tenants flock to more formal office spaces, just below 1 million square metres of space have become available this quarter, with expectations for more to be completed and opened by the end of the year – meeting the 1 million square metre mark.
CBRE also noted that health, safety and environmental requirements are becoming more mainstream among both international and local occupiers – powered by a strong understanding of Environmental, Social and Governance (ESG) and Corporate Social Responsibility (CSR) initiatives. Nearly 50 percent of businesses and companies have already implemented such programs.
Unlike the office sector, no new retail property launches or completions happened last quarter in Phnom Penh. This slowdown allowed the existing supply to stabilise, but the overall occupancy rate dropped slightly, from 69 percent to 68 percent.
"This is a positive sign for the market to cool down and allow the demand to take up the existing available supply," said Daluch Chin, Senior Manager for Valuation & Advisory Services at CBRE, in her presentation.
There were 30 branch expansions and 16 new brand entries in the retail sector in the last quarter, primarily led by the Food and Beverage industry. On the other hand, branch closures increased over the past six months.
Outside of these trends, the firm noted retail property landlords are engaging in various marketing activities to attract foot traffic, with a focus on creativity, such as concerts, pet days and art events.
Time Square 6 in Boeng Keng Kang District is the only new condominium project launched in the capital within the third quarter of 2023, indicating a significant slowdown in new residential development launches compared to previous years.
The Prince Huan Yu Center in the Chamkarmon District is the only newly completed condominium project of the quarter.
While the beginning of 2023 resulted in around 8,000 completed condominium units, CBRE still expects an additional 2,000 units by year-end. This coincides with developers increasingly focusing on affordability in new project launches. Amidst the sluggish international demand, investors and developers are adjusting towards the more affordable pricing model to appeal to the domestic market. With this adjustment, opportunistic investors are also looking for bargains and are more stringent in their requirements as they seek to buy in bulk.
The stagnation of new condominium projects parallels the lack of new grade A and B service apartment launches or completions in Phnom Penh in the third quarter. But supply is poised for expansion with potential upcoming projects.
The maturation of the service apartment market presents a more encouraging sign for investors, as there has been a higher quoting for rental averages.
"We are looking at an average of $19.6 asking for grade A and $13.5 asking for Grade B," CBRE Deputy Managing Director Kinkesa Kim indicated when discussing the retail market in the webinar.
While this is just a 3 percent change, the rent increase reflects the recovery of the market demand. It is also a healthier metric when comparing across the market — especially to the condominium sector, she mentioned.
"The dimensions and dynamics of the Phnom Penh real estate market are not the same as they were in 2019," said Lennon, emphasising to attendees that the market in capital and Cambodia as a whole have evolved since the onset of the pandemic.
In this dynamic landscape, Cambodia's real estate market continues to show resilience and adaptability, positioning itself for growth and transformation, according to CBRE. In strategic locations near the central business district of Phnom Penh, affordable land prices and buying power converge.
Outside the capital, the potential of secondary cities like Poipet, Battambang, Sihanoukville and Kampot also join the conversation. These cities offer opportunities in logistics, manufacturing and the flourishing hospitality and tourism sectors.
Discussion of the now-completed new airport in Sihanoukville capped off the CBRE Q3 Market Insights webinar, underlining the further opportunities throughout the kingdom.