The purpose of sex education is to protect adolescent students from sexually transmitted diseases (STDs), sexual harassment and other negative effects that might exert on their personal lives or future learning.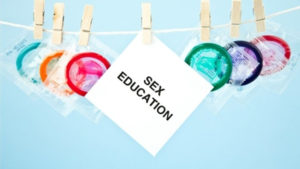 Clear communication in sex education classes can help students understand how to safeguard themselves from future incidents and negative perspectives of the topic.
What is sex education?
Sex education does what it says on the tin – it teaches young students about sex, and all its facets. It can focus on all things to do with sexuality – from anatomy and reproduction, to infections and sexual orientation, among others. At schools it can cover reproductive rights and responsibility, puberty and adolescent development, to help young people navigate their personal lives and grow into sexually healthy adults. 
Principles of sex education
According to "Streetwise to Sexwise", the first publication to articulate the Center for Sex Education's core principles, issued in 1993, basic philosophical and pedagogical approaches to comprehensive sex education include:
The fundamental right to learn about sex 

Full respect for the discussion

Acceptance towards people's expression

Learning from one another

A positive approach 

Honest, accurate information and communication about sex

Acknowledgement of sexual orientations and gender identities

The concept of sexual consent 

The consideration of sex education's sensitivity to participants with histories of trauma

 A variety of topics on sex including vaginal, anal and oral sexual intercourse
 

Characteristics of effective sex education

Sex education should be a crucial topic in any high school curriculum. However, without identifying the characteristics of effective sex education, it can adversely promote sex discrimination, misinterpretation and inappropriate concepts.

In 2019, UNESCO published  the characteristics of effective sex education programmes. The most important of which are to:
Implement programmes in schools and other youth-oriented organizations

Implement at least twelve or more sessions, of around 50 minutes in length 

Include sequential sessions over several years

Cover topics in a logical sequence

Employ methods that actively involve participants and assist them to personalise information

Employ activities, instructional methods and behavioural messages 

Include homework assignments to increase communication with parents or other adults

Address gender issues and sensitivities in both the content and teaching approach

Ensure that a supportive policy environment is in place 

Select capable and motivated educators to implement the curriculum

Provide quality training to educators

Provide on-going management, supervision and oversight

Create a safe environment for youth to participate and learn 

Involve multiple people with expertise in human sexuality, sexual health and young people's sexual behaviour

Involve young people in the development of the curriculum 

Assess relevant needs and assets of the target group such as age groups, knowledge, beliefs, attitudes and skills, regarding their sexuality desires

Obtain on-going feedback from the learners about how the programme is meeting their needs
Sex education in Cambodia's high school curriculum
Cambodia has a conservative culture when it comes to talking about sex and it is not common to talk about it with family members, between friends or in the classroom. It is considered to be a sensitive and culturally vulguric topic. In the Kingdom, the biology curriculum only includes female and male reproductive anatomy and HIV infection prevention; other characteristics of sex education are not included in the curriculum.
Views on sex education from the Ministry of Education
Ros Soveacha, a spokesperson of the Ministry of Education Youth and Sports, admitted that sex education is essential for students to understand about sexual transmitted diseases (STDs) and its preventive methods, mitigate risks from sexual intercourse and contraception, even after marriage. 
Sexual health reproduction has been included in Cambodia's school curriculum since 1996. The Ministry has an important role to promote healthy sex education through curriculum and any forms of cooperation with relevant ministries, development partners and other stakeholders, continued Soveacha.
He added that the Ministry of Education has advised all educational institutions to introduce effective sex education in order to strengthen students' understanding; they will be able to become a global citizen with great attitudes, knowledge, skills and value that respond to Cambodia and the world's contexts. 
"Normally, teachers are not shy to teach about sex education and they complete their tasks with appropriation and proper pedagogy," said Soveacha. "Biology courses in lower education curriculum include contents of sex education on sexual transmitted diseases and its preventions."   
He also explained that sexual health is a byproduct of nature and society factors. Nature factor refers to a human's birth, while society factor focuses on family, friends and schools. Thus, the quality of sex education to an individual involves all stakeholders and requires their participation.
This post is also available in:

KH