$1.1 billion international airport begins operation, but whether travellers will come remains an open question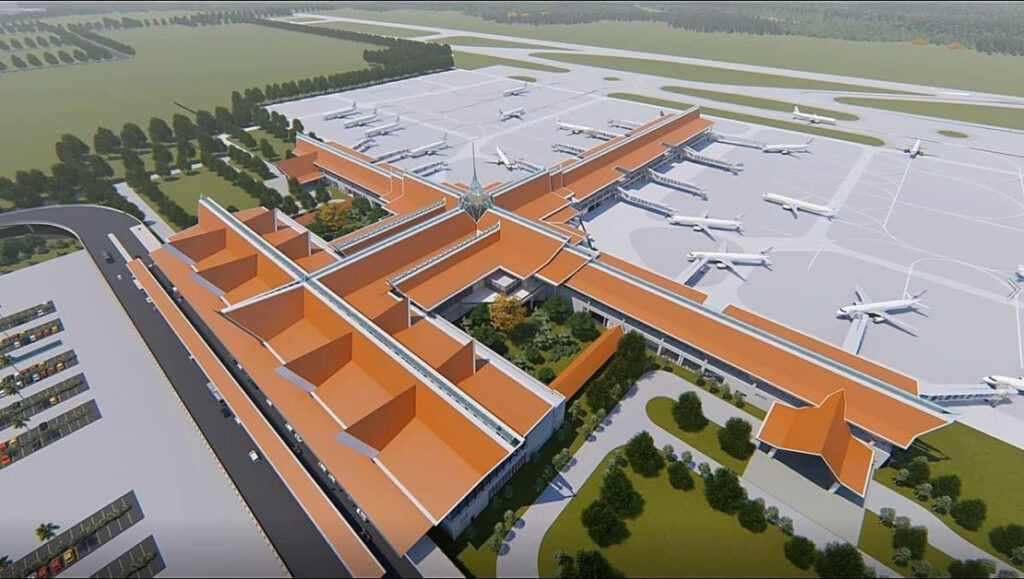 Bangkok Airways flight PF 903 touched down on the tarmac in Siem Reap at 7:45 AM yesterday, marking the beginning of commercial operations at the new Siem Reap Angkor International Airport (SAI). Sixteen more flights followed that day into the 1.1 billion dollar airport, which has the capacity to handle 180 flights a day.
This massive piece of infrastructure, currently able to manage more passengers than any other airport in the country, amounts to a substantial speculative investment by the Cambodian government in Siem Reap's future. Now that it is operational, the government will have to work hard to make sure the airport reaches its full potential.
Built under a Build-Operate-Transfer scheme by a consortium of Yunnanese state-owned enterprises, the new airport is able at launch to handle up to 7 million passengers annually. The airport will continue to be expanded, resulting in projected capacity for 12 million passengers by 2040.
Large international airliners such as Boeing 747s and 777s will be able to take off and land at SAI, a capability far beyond the reach of the old airport. The capacity opens up opportunities for direct flights to major markets such as Europe, Australia and the US.
The lack of such direct flight options, as well as the high cost of flights to the city overall, have long proved a challenge for the city's tourism industry. The reduction of flights during COVID has only compounded this issue, which often makes Siem Reap a more expensive destination than competing tourist locales in neighbouring countries.

"We are seeing that particularly for our core clients that are leaving from Western countries, the flight prices are I believe on average 30 to 40 percent more than before COVID," said Steven Lidgey, general manager at Travel Asia a la carte.
The new airport will give Siem Reap the physical capacity to begin to address these challenges. However, its location comes with physical challenges of its own. Whereas the old airport was just 8 km from Siem Reap city centre, the new airport has been built 50 kilometres away from the city centre in order to address concerns about vibrations from larger jets impacting the Angkor Archeological Park.
For tourists coming to Siem Reap for shorter trips to visit Angkor Wat, the increased time into town will have a noticeable effect on their experience. For businesses, it means increased cost. Lidgely noted that the transiting back and forth from the airport could force visitors on shorter stays to miss going to sights beyond Angkor Wat, and increase the burden on businesses.
"We have higher transport costs for collecting guests from the airport and we have higher guide fees because the guide is collecting guests from the airport, and coming back is taking almost half a day. "
Measures are being taken to minimise the impact of this lengthened commute into town, both in terms of expense and in terms of cost. The airport authorities have already set fees for taxis into Siem Reap city at $35 and minibuses at $40. A new 24.5-kilometre highway connecting the Airport with National Road 6 is expected to be finished shortly, and studies are underway for a light rail line linking the town and airport. Both will potentially help to cut down on the increased travel time.
Nonetheless, just creating the physical capacity to handle more flights alone will not be sufficient to drive demand, fill flights and encourage the development of new routes to the city.
"From a logical point of view and from the point of view of many tourism and hospitality experts, an increase in capacity has never established attractiveness in itself," said François Schnoebelen, Director of the NGO Ecole d'Hôtellerie et de Tourisme Paul Dubrule. "There is no causal relationship."
Tourism in Siem Reap has yet to fully recover from the COVID-19 pandemic. In the first eight months of 2023, the Angkor Historical Park attracted 498,513 international visitors, a substantial improvement from 2022 but well off the park's peak of 2.591 million visitors in 2018.
"In terms of flights, we are [at] between 20 to 24 percent compared to before COVID," said Schnoebelen. "And we don't have any sign of tourists coming back."
To return to pre-COVID levels and drive further growth in the tourism industry in Siem Reap, the government will have to develop additional sites for tourism beyond the temples, and effectively market both these sites and existing sites to an international audience.
What will ultimately matter in driving tourism to Siem Reap "is marketing, is working on the offer, on the variety of the offer, on the communication, and the country where the decision is made," said Schnoebelen.
These are the factors that will put people in seats, planes on the tarmac, and drive the demand for new routes at Siem Reap Angkor International Airport that will ultimately determine whether this investment was worth it.