Museum co-director discusses Cambodia's unique monetary heritage -- and what it means to the nation today
---
It seems nothing is simple when it comes to money.
Cambodia, for instance, is a country whose great Angkor empire operated for centuries on a trade and barter system without true currency.
It's a nation whose most ancient coin discovered is not even Cambodian.
It's a country where many people choose to use U.S. dollars over its own currency, the riel, for major and many minor purchases.
Interpreting the quirks of the Cambodian monetary system — understanding history and economics in a modern context — has led the National Bank of Cambodia to establish the SOSORO Museum in downtown Phnom Penh.

Opened in 2019, now again welcoming visitors after COVID-era shutdowns, it's a fascinating place for anyone with an interest in the culture and heritage of this Southeast Asian land.
SOSORO is formally known as the Preah Srey Içanvarman Museum of Economy and Money. The National Bank of Cambodia funded and continues to own and manage the building, an elegant French colonial-era building in the heart of the capital's original downtown.
Mr Blaise Kilian, the French-Cambodian co-director of the museum, recently sat down with Focus Cambodia to talk about SOSORO.
A seminal moment in the young museum's history came in 2012, Kilian said. SOSORO was in its early planning stage when a young archaeologist visiting a souvenir shop in Phnom Penh's Russian Market spotted a decidedly unusual coin.
"He was lucky enough to see it, smart enough to purchase it and to submit it to experts in the national bank," Kilian said. "They realized this coin was actually an authentic and very rare coin", minted in gold and issued by Içanavarman, king of Chenla at the start of the 7th Century.
"It's amazing, it's fascinating, and it also helps us to better understand history," the director said. "It changes somehow the perception of the understanding of the economic and monetary history of Cambodia. So it's quite extraordinary in itself. And this coin is now exhibited here, and it's the only one of its kind."
Equally remarkable in its own way is the probability that the great Angkor civilization, by far the largest in Southeast Asia between the 8th and 13th centuries, did not have any medium of exchange — unlike regional empires that preceded it. "All the evidence suggests that this massive, powerful and very well administered empire had no currency and relied on the barter economy both for its domestic and its international trade," Kilian marveled.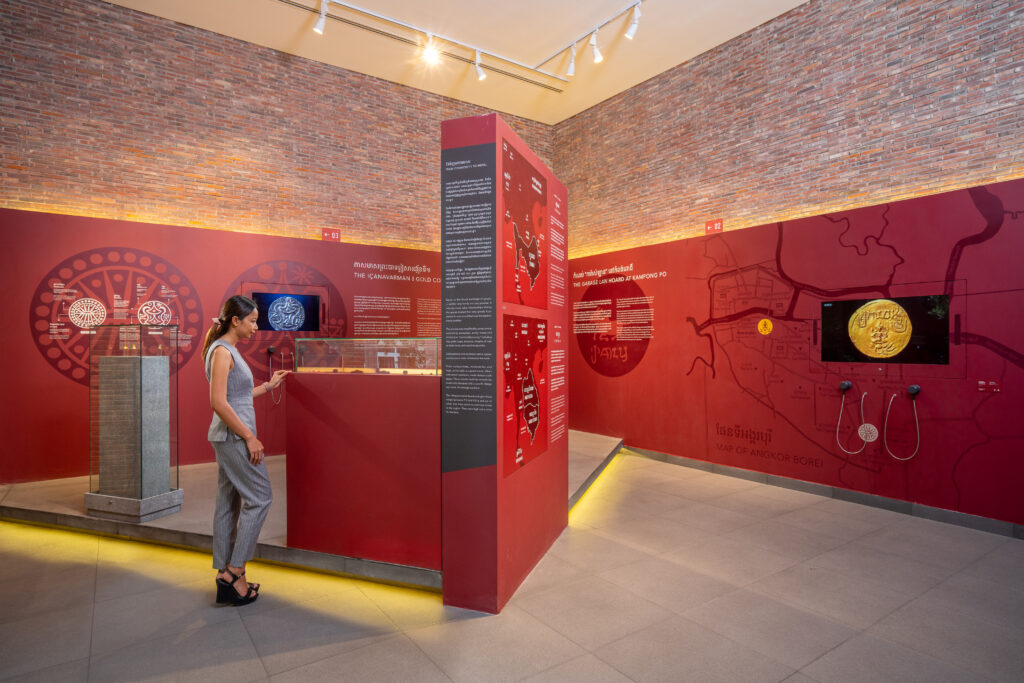 ---
Did the nature of the economy contribute to the ultimate fall of Angkor? "It's a very interesting question," Kilian said. Oft-cited causes are repeated attacks from neighbouring Siam, climate, irrigation drought or flood. "But indeed the absence of currency may have been a reason," the director said, "because when you don't have a currency, you have to constantly create and consume your wealth. You cannot really store. You have to be dependent on agriculture; you have to let your soldiers go to harvest before you send them back to work."
Siamese and Annamese (Vietnamese) money subsequently circulated in Cambodia. In the mid-19th century, visionary King Ang Duong briefly minted his own currency to declare his authority. "When you circulate your own money, it means that you are expressing your sovereignty," Kiliam pointed out. But it was only under the French protectorate that a full-fledged monetary system was introduced. The piaster was used for all of French Indochina: Cambodia, Laos and Vietnam.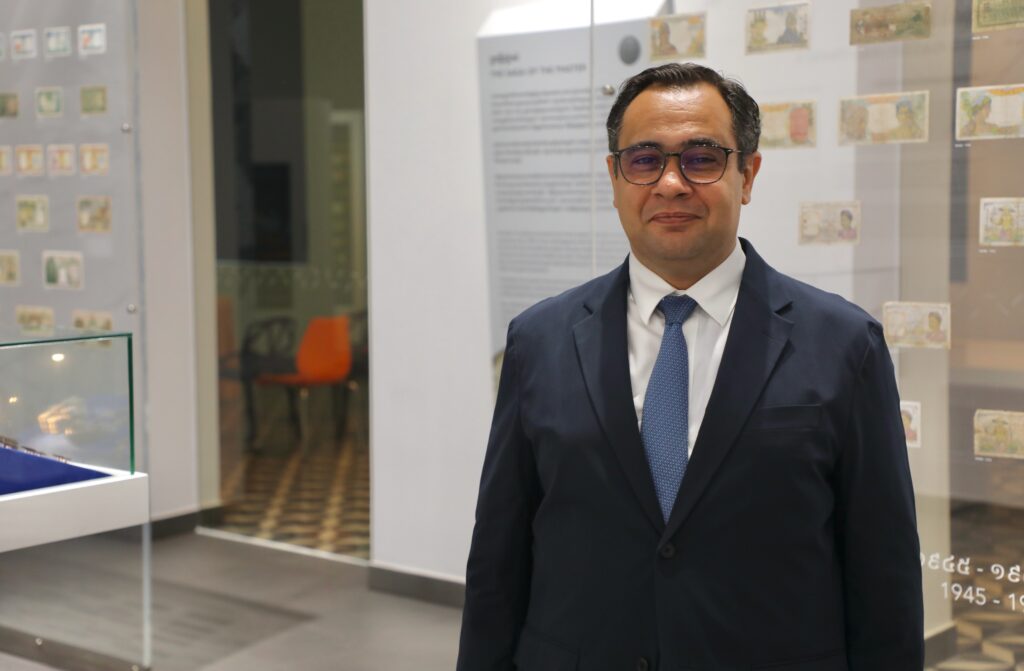 ---
The overall goal at SOSORO, the co-director said, is to demonstrate "the very close interconnection that exists between political changes, social changes, geopolitics, economy and monetary evolutions.
The riel was introduced as the national currency in 1955, and again in 1980 after its abolition by the Khmer Rouge. It has had a "very stable" value for 25 years, Kilian said, but even today is still used alongside the US dollar, especially in higher-value transactions. "Ultimately, we would like people to be aware and to trust more and more the riel," Kilian said.
The "dollarization" of the economy here is hardly new. In 1992, when the United Nations established its transitional authority in Cambodia, the UN paid civil servants in dollars — foreigners as well as citizens. One of its legacies, Kilian said, was to build trust in the Cambodian economy among foreign investors.
"Now we are in a phase where as the economy grows, as the country is maturing, it is important in terms of sovereignty and in terms of the efficiency of the monetary policy to build the awareness and the importance of the riel in the local exchanges."
"We are in a country where the monetary history has been very peculiar, and closely related to the political changes throughout time," the co-director said. "Therefore, we want the visitors to understand the importance of having your own currency, the role of the central bank, and what monetary policy means."