What is the difference between veganism and vegetarianism, and which would suit your lifestyle?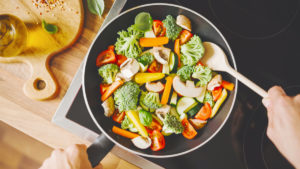 With awareness rising about the negative impact that meat consumption has on health and the environment, many people are now looking to 'go green'. When it comes to a meat-free diet, commonly people choose to become vegan or vegetarian. 
In Cambodia, neak nham mahorb bous (អ្នកញ៉ាំម្ហូបបួស) is used to refer to those who do not consume meat. When you think of mahorb bous, what comes to normally is mushroom and tofu-based food. However, in Cambodia, the difference between what it means to be a vegetarian and a vegan is often unclear.
Both are types of diets for people who are looking to get rid of meat, for whatever reason – whether it be for health or environmental motivations. 
Those who want to stop eating meat can adopt both diets, and although they are slightly different, both of them can provide health benefits if you practiced strictly enough. 
Vegetarianism 
To simply put, vegetarianism is where you cut all meat from your diet. So, no more steak, chicken and fish for lunch or dinner. Instead, you'll try and eat more vegetables, grain produce and nuts, among others. However, vegetarianism is a very broad term and has different sub-types of diets.

Semi-vegetarian:

A semi-vegetarian diet (SVD), also known as flexitarian, is when consumers occasionally eat animal products. This type of eater might still eat chicken, fish, dairy products or eggs, maybe for a special occasion or if there is no other option. But, they do not include red meat in their diet.

Pescatarian:

A little different from the previous diet, a pescatarian lifestyle includes animal meat, but they only fish and seafood. 

Lacto-ovo vegetarian:

This type of diet includes dairy products and eggs, but excludes all sorts of meat in their diet. 

Lacto-vegetarian:

Vegetarians who choose this type of diet avoid meat and eggs, but include dairy in their diet. They avoid meat, seafood and even eggs.

Ovo-vegetarian:

People who are ovo-vegetarians avoid all meats, fish and dairy, but still eat eggs.   
Veganism 
In recent years, veganism has been receiving a lot of attention from all over the world. There are a few reasons why many people choose this lifestyle, however, the common one is concern over animal rights and love for the environment. 
Veganism is the attempt to exclude all forms of animal exploitation and cruelty, whether it is from food, clothing, or any other purpose. Vegans are those who exclude any sort of meat from their diet and any daily use products. 
They only consume plant-based foods and products. Many public figures such as Ariana Grande, Miley Cyrus, Ellen DeGeneres, and many others are vegan. There a few prominent types of vegan, which are: 
Dietary Vegan:

These are plant-based eaters, which means they avoid all meat or animal products in their diet, such as eggs and diary. But, they can use it in other products, such as clothing and cosmetics that are made from animal products. 

Whole-food vegans:

These people enjoy eating fruits, vegetables, whole grains, nuts and seeds, over all other things.  

Junk-food vegans:

People who adopt this diet tend to consume more processed vegan food.

Raw-food vegans:

This type eater only consumes food that is either raw or cooked at temperatures below 48°C. 
Health benefits of being vegan or vegetarian
These two predominantly meat-free lifestyles do provide a lot of health benefits, which can include: 
Reduced risk of type two diabetes and obesity

Lower cholesterol levels 

Improved blood pressure and blood flow

Reduced oxidative stress and inflammation 

Lower risk of cardiovascular disease and various types of cancer
Tips for new vegans or vegetarians
To those who are looking to switch to a vegan or vegetarian lifestyle, what do you need to know?  
Start with familiar meat-free foods

Learn about the nutrient facts  

Make sure to look for tips and advice from reliable health resources 

Learn some easy recipes from free websites or cookbooks  
Best protein sources as a replacement for meat
Besides mushroom or tofu, the best sources of meat free protein are:
Green peas

Soy milk 

Oatmeal 

Wholegrain rice 

Nuts

Protein-rich fruits and vegetables
This post is also available in:

KH