"If I had not had research experience, I would mostly have used my emotion to respond or expressed my opinions on societal issues."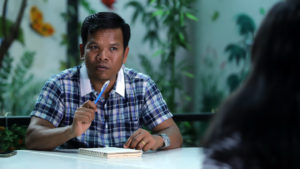 Cambodian students think that searching for locally reliable data on topics is challenging; educators advise them to look for data or information from countries that are in a similar situation. A career in the field is neither popular with  students, who often view it as dry and complicated.
Focus interviewed Dr. Seng Sary,  a sociologist and with 10-years' experience in the field, in order to understand  the importance of research and the reasons why Cambodia does not have adequate data.
Why did you choose your research field?
In 2000, during my third  year at Royal University of Phnom Penh, I had an opportunity to be involved in a project with Japanese master's students from Nagoya University, as a research assistant in Takeo province. I began to be interested in the field of research through this experience, because I helped them interview people in communities. This was an eye opening for me to deeply understand social issues and allowed me to see problems from different angles, resulting in objective thinking.
What are your day-to-day responsibilities as a researcher? Which part of research do you enjoy the most?
I had a three-year research experience in Kyoto University, specializing in food skills, which is a fasticating topic as the younger generation prefers western food over traditional food. The research aimed to raise awareness of the value of food in communities. As a research program manager for the project, my role was to ensure that we collected quality data and provided it before the deadline. I think other researchers also feel the excitement of the results from one step to another. However, many students prefer field work as they can visit communities for data collection. The majority of students do not enjoy writing reports and drawing up research projects, which also includes literature reviews.
What is the positive  contribution  research to a country's economic development?
Cambodia is currently at the Action Research (AR) stage, referring to solution seeking. For instance, if we conduct a research for an institution, collected data will be only used to resolve problems in that particular institution. However, we can also use Research and Development (R&D) methods, which are complicated as we do research on a certain topic for the country's development. In short, we conduct research to make change. Society is always evolving, and it is necessary to understand the problems prior to development. So, AR is ahead of R&D.

What are important fields of research to Cambodia?
Apart from solutions, research can help people develop their critical thinking skills, hopefully leading to less problems in society. People will likely seek solutions as they can view problems from a different angle. For instance, the waste problem in the country. People with less critical thinking skills will complain to the government and place blame on other people's behaviours. However, if we are equipped with critical thinking skills, we might think that it is because of the education program, limited capacity of the waste collection company or an unclear master plan. When we understand various factors to problems, we come up with systematic solutions.
What is the research situation in Cambodia?
There are two categories for research: science-based and the humanities. In Cambodia, human and societal research is more prevalent because the resources are readily available. The Ministry of Education is aware of the problem, and they are encouraging the young generation to get involved in STEM (Science, Technology, Engineering, Mathematics) topics at school. After the election in 1993, there was a large swell of support  for the humanities field, resulting in the increase of action research.
Does Cambodia have adequate data on many sectors?
Presently, it remains insufficient as we have not got a think tank in each sector. However, the government recently plans to create a data centre for storing national data.
Do you think Cambodia has sufficient human capital for the research field?
I reckon we have plenty of human resources. However, we must create a research culture, allowing people to  have broader perspectives. People should view problems in a scientific and rational way, instead of using their emotions to deal with the issues. They do not necessarily need to conduct concrete research, but at least know how to see problems in an unbiased angle, for their and society's betterment.
Do you think the next generation is interested in the research field?
I think it is too early to make an assumption. Firstly, we must ask them whether they understand what research is. Secondly, we can change their point of view if we create a research culture at the foundation year in university. Many universities currently include a research study course in the fourth year, causing difficulties for students when they start it so late. So, it is important to inject a research culture in students' veins. This will result in less impulsive reactions, but more thinking and researching once an issue arises.
What are educational institutions' strategies to encourage students to become more involved in the research field?
I will divide this into three factors: the social factor, school factor and family and individual factor. Firstly, we should build a debate culture with facts and evidence based  in society. We should eliminate unreliable sources and discourage statements that haven't been fact-checked. Secondly, schools should create a pleasant debate environment among students as it will develop their research skills to look for facts. Thirdly, parents should talk to their children and try to provide reasoning, where possible. If parents say something without trying to provide reason and an explanation, it automatically breaks down their confidence and rejects their ideas.
This post is also available in:

KH