What is inclusive education? What are Cambodian inclusive educators' points of view on the topic?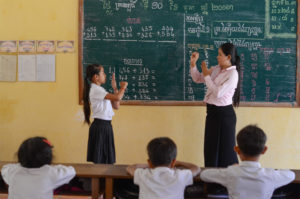 UNESCO defines inclusive education as "a process of addressing and responding to learners' diverse needs through increased participation in learning, culture, and community, and reducing exclusion from and within education."
This type of education aims to gradually diminish and eliminate outcasts with the education system. Implementing inclusive education requires that curriculum, strategies, and policies be revised to provide educational equity for everyone in the school system.
Having an inclusive education classroom means that all children will be given equal learning opportunities without division or discrimination based on their physicality, intelligence, gender, behaviour, skin complexion, religion, social status, or any other difference.
Bot Vimean, a project supervisor at Komarpikar Foundation, said Cambodia began to use "inclusive education" in 2018, with a different term used to refer to this type of education before then.
"Cambodia has had this type of education since 2005, but the term inclusion education was not used. It was instead called "education for handicapped children", which later was changed to "integrated education". After that, the term "inclusive education" has been used," added Vimean. 
The local organization Krousar Thmey Foundation (KTF), which advocates and provides training in special needs education for blind, mute, and deaf children, has founded, in total, five special needs schools nationwide, with two in Phnom Penh and others in various provinces. However, the organization has shifted the management of the schools to the Ministry of Education.  
Chor Darong, executive chief of KTF, told Focus that the management authority was transferred in 2019 due to world trend to use the term inclusive education. 
"The term "inclusive education" holds a broad scope, resulting in difficulties in implementation for the organization; we transferred the management authority to the Ministry of Education," continued Darong. 
In 2018, the Ministry reformed their policies for handicapped children, which were implemented in 2008, to "inclusive education policies". They aim to educate special needs people to have knowledge, skills, and values in order to become active members of society.  
Vimean mentioned that Cambodia has adequate policies, yet the human resource is a major issue. Highly trained human capital is a key factor in an effective implementation of the policies
He added that, "the Ministry of Education only formed a small section, not the Department of Special Needs Education, resulting in a narrow scope of implementation. We have the policies, but the implementation in communities and schools is very limited, as we do not have sufficient human resources in the area, especially children with mental health issues."
Darong also shared the same view that Cambodia lacks human capital in this field. 
"Based on my five-year expererience in this field, I can say that we have not yet had adequate human resources. I know we need more time to train people and the Ministry has created institutes for special needs training to resolve the issues," added Darong. 
What should Cambodia do in order to increase the number of inclusive education teachers?
To promote and ensure the qualification of inclusive education teachers, the Ministry of Education, in collaboration with UNICEF and KTF, has established training programmes on inclusive education for teachers, focusing on blind and hearing impaired children.
Darong also stated that, "We have previously trained 190 teachers through the KTF's training programmes. However, the Ministry of Education has up-to-date data on the number of trained teachers as the inclusive education programme is currently under the Ministry's management." 
Vimean said training programmes have been of assistance; however, raising further awareness to change people's perspectives on their career path is a key factor to recruit more teachers in the field. 
He added, "The majority of Cambodians view handicaps as a burden. So, parents sometimes do not encourage their children to choose a teaching career. I believe a broader advertising campaign might be able to change their mindsets."  
"Incentives or higher pay is also a factor, as teachers in this field must have higher tolerance and responsibility than general teachers," continues Vimean. 
Darong said, "increasing their salary might be a good solution; however, teachers must be passionate in their particular teaching field to carry out this career for a long period of time."
Darong has suggested that all relevant organizations should join forces with the Ministry of Education in order to strengthen human resources in the field, rather than competing with and comparing the inclusive education training programmes. 
The Ministry of Education could not be reached for comments on the issue.
This post is also available in:

KH