Get set for round-the-clock online discounts of up to 90% off recommended retail prices on 20 million brand-new English books at the World's Biggest Book Sale's e-commerce website, 24 February – 3 March 2021.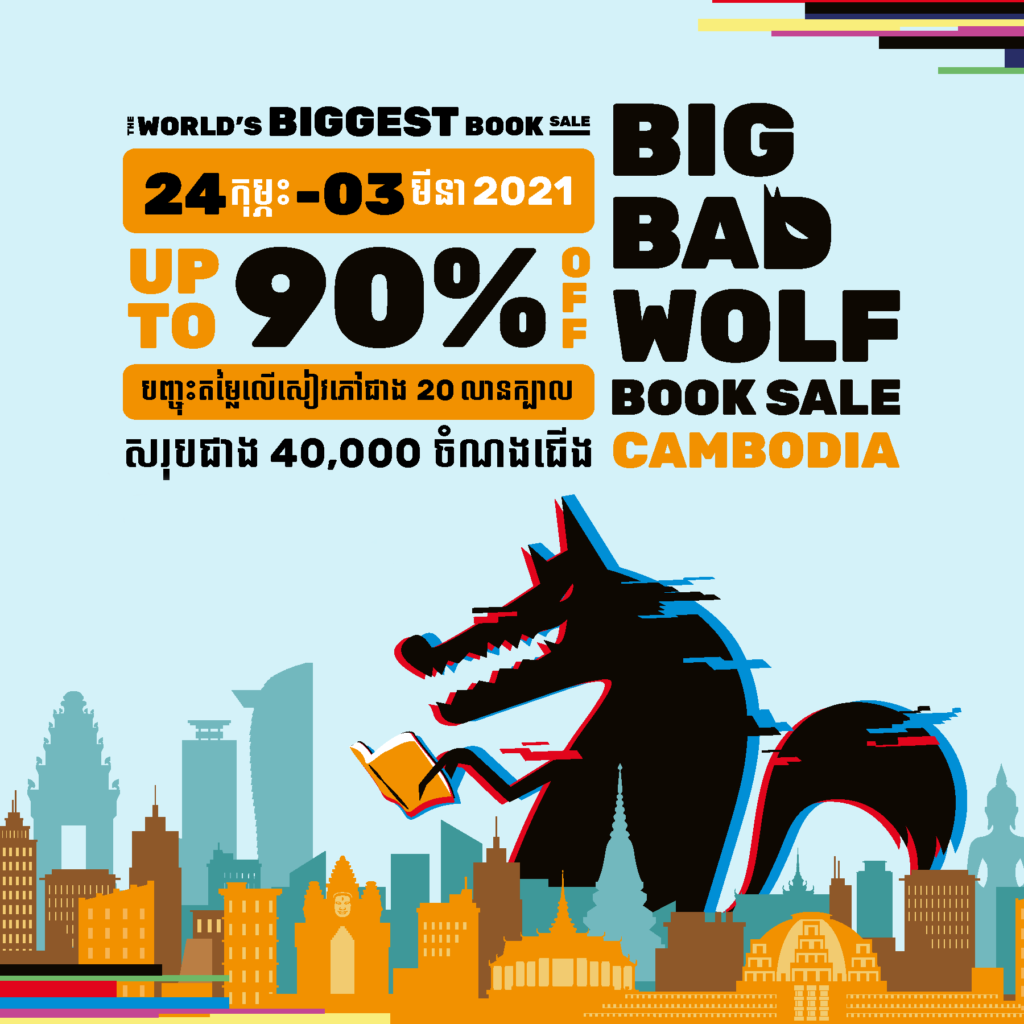 PHNOM PENH, 19 February 2021 – Malaysian home-grown Big Bad Wolf Books announced yesterday that it will continue to spread the love for readers across Cambodia with its exciting new e-commerce website – bigbadwolfbooks.com/kh. This marks the second time Big Bad Wolf Books will come to the Kingdom, following the success of 2020's debut Book Sale held in Phnom Penh, and continues with the aim of jump-starting a culture of reading in Cambodia and making English-language books affordable for everyone.
Book fans will now be able to enjoy an affordable book hunting experience from the comfort of their own homes – or wherever they are – with discounts from 50% – 90% off recommended retail price at the Big Bad Wolf Online Book Sale. The Sale will open its virtual doors to Cambodians for an 8-day book-buying bonanza from 24 February to 3 March 2021. Bookworms will be delighted to find a selection of 20 million books and over 40,000 titles to browse and purchase – just a few convenient clicks away!
The debut Big Bad Wolf Online Book Sale Cambodia 2021 is the latest chapter in Big Bad Wolf's own phenomenal success story, which began 12 years ago. The upcoming Book Sale will follow in the footsteps of recent Big Bad Wolf Online Book Sales held in Indonesia, UAE, Singapore and Malaysia. Over 3 million book bargain hunters have so far flocked to the virtual events.
"We believe in giving back to society, especially the underprivileged, by empowering them with knowledge and more importantly, we strongly advocate that EVERYONE deserves the right to read and learn, regardless of their status. Through our Red Readerhood initiative, the Big Bad Wolf Book Sale Phnom Penh 2020 had collected 1,443 books that were purchased and donated by the visitors who had shopped at the Book Sale. Big Bad Wolf Books also pledged 500 books towards this initiative which resulted in a total of 1,943 books being donated to the Ministry of Education, Youth and Sports Central Library and Scholar Library accordingly," said Jacqueline Ng, Co-Founder of the Big Bad Wolf Books.
The Sale, also known as the World's Biggest Book Sale, will feature 20 million brand-new English language books reduced up to 90% off recommended retail prices. The whole experience is super-simple: online shoppers will be spoilt for choice and get to spy hot titles, "best sellers," and genre 'deep dives' on the home page. Following a quick registration to become a member (to benefit from exclusive Member Deals), shoppers are then transported to book-lover heaven where they can browse books by genre; search by keyword(s), title, author, or ISBN; add their choices to their cart; and checkout. The best part: free shipping is available for those who spend a minimum net purchase of USD60 worth of books and it will be shipped directly to their address.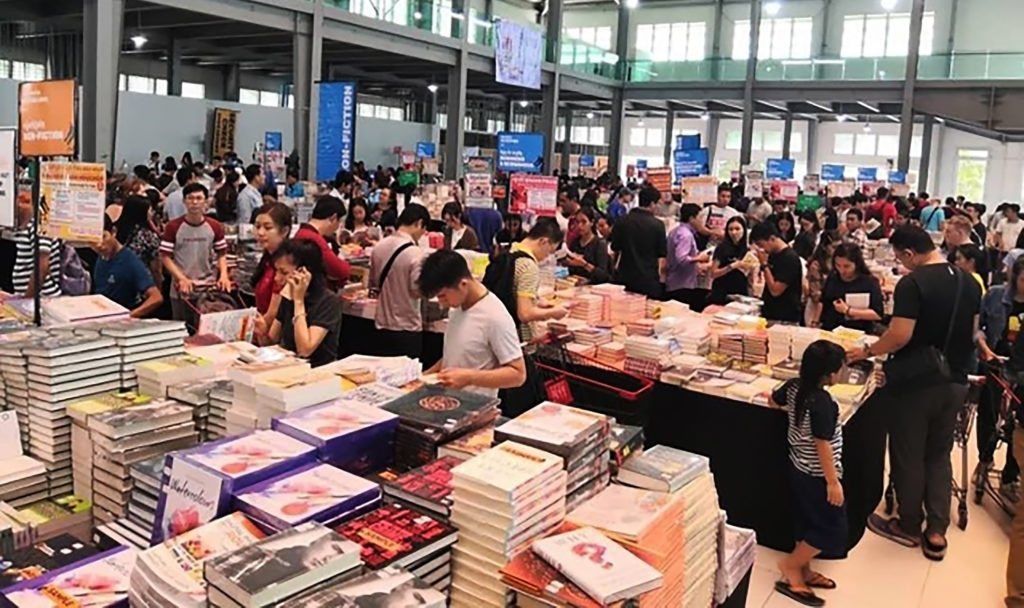 Whatever a reader's passion, they will find it here – from bestseller titles, novels, science fiction, romance, literature and graphic novels to business books, self-help, architecture books, cookbooks, and many more. The Sale's digital shelves will also delight younger readers with its spectrum of children's books, featuring storybooks, activity books, board books, coloring books, picture books and featured interactive books. Steeply discounted prices will keep mum and dad happy, too.

A recommendation section on the website will even match readers and non-readers with the books that are right for them, based on their interests.
Visionary Co-Founder Jacqueline Ng says, "While we hope to one day soon resume our offline Sales, the current global situation has driven us to commit ourselves to creating the best online book buying experience for booklovers. Across the various countries we serve, we will continue to ensure affordable books are accessible to everyone.
"With this newly introduced online platform, it is an opportunity for us to reach even more people in Cambodia, following the success of the debut sale in Phnom Penh last year. We want Cambodians from all walks of life — be it young or old, to discover the joy of reading and have access to knowledge, whatever their income level. To read. To learn. To grow."
Co-Founder Andrew Yap adds, "The Online Sales have performed beyond our expectations, with our success growing from one market to the next. Driven by the challenges the world currently faces, we find these Online Sales to be a fitting solution. In the future, we envision that our online and offline Sales will complement one another so that bookworms are able to shop at our Sales in multiple ways – whichever experience suits them best."
Visitors to the Big Bad Wolf Online Book Sale Cambodia 2021 – bigbadwolfbooks.com/kh – can keep their eye on the website's banner for promotions and register as a Member.
Some of the promotions that will be able for shoppers:
Exclusive Member Deals – Coupon Code. Get an extra 15% discount on selected books
Magical Deals. Buy any 3 books for the price of 2
White Star Kids – Classic Fairy Tales. Buy any 2 books for the price of 1 @ USD3.40 each
Scholastic Interesting Facts. Buy any 3 for the price of 2 @ USD3.40 each
Harry Potter @ USD 8.40 per book.
Free Shipping. Minimum net purchase of USD60 at the Big Bad Wolf Online Book Sale Cambodia 2021
Big Bad Wolf Social Media:
ABOUT BIG BAD WOLF:
Driven by passion, Andrew Yap and Jaqueline Ng first launched the Big Bad Wolf Book Sale in 2009 as a warehouse sale in Kuala Lumpur, Malaysia, providing an exciting array of excess books from international distributors. The affordable prices and easy availability of the books proved to be a huge attraction and in no time, the Big Bad Wolf Book Sale turned into a landmark event nationwide.
Offering brand new English books at a discount as high as 75% to 95% off recommended retail price and with the primary aim of encouraging people of all ages to discover the joys of affordable, accessible reading, Big Bad Wolf Book Sale features a wide range of books across all genres, including fiction and non-fiction bestsellers, young adult fiction, as well as an extensive collection of children's books.
The Book Sale has now successfully extended its footprint to Cambodia, Indonesia, Korea, Myanmar, Pakistan, Sri Lanka, Singapore, the Philippines, Taiwan, Thailand and the United Arab Emirates, with no plans to stop in making reading affordable for readers around the world.