A chemical substance found in milk might make you feel unwell, but there are steps you can take.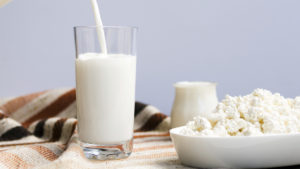 Milk is beneficial to health and human growth, as it contains proteins as well as vitamins, such as calcium and potassium. 
Lactose is a type of sugar found in milk and dairy products such as butter, cheese, yogurt, margarine, ice-cream and cake. 
Lactose plays a major role in human supplements. However, lactose can cause problems for a minority of people, who can experience symptoms such as diarrhea, stomach cramps, bloating and gas. This is due to an inability to fully digest lactose, a condition called lactose intolerance.
Why do some people have lactose intolerance?
Mayo Clinic, an American academic medical center, indicates that lactose indigestion is caused by the inability of the small intestine to produce an enzyme that can digest the disaccharide sugars in milk.
The lactose enzyme helps break down disaccharide lactose in milk; with the absence of it, lactose consumed from milk and other dairy products will move to the colon, instead of being processed and absorbed in the small intestine. This will cause the signs and symptoms of lactose intolerance. Symptoms can start within 30 minutes to two hours, after the consumption of dairy, as normal bacteria in the colon reacts with undigested lactose. 

Why are some people lactose intolerant?
A study conducted by the National Institute of Health (NIH), a leading research medical center in the US, showed that some factors can help explain why people are lactose intolerant: 
Age
Lactose intolerance mainly occurs in adults, less so in infants because their LCT gene (which produces lactase) is active at a young age.
Race
Ethnicity is a major factor in determining lactose intolerance, which primarily occurs among Africans, Asians, Hispanics and American Indians, due to genetic factors.
Premature birth
Children who were born prematurely might be more likely to develop lactose intolerance, due to the decrease of lactase enzymes in the underdevelopment of the small intestine.
Intestine disease and treatment
Lactose intolerance mainly occurs in people who have small intestine problems, such as bacteria problems in the intestine and other related issues. If you have a history of chemical treatments or radiation therapy, your small intestine''s ability to digest food, and lactose, will be weaker.
Although there is no treatment for lactose intolerance, there are ways to minimize the risk of pain and uncomfortableness. For example, reducing the amount of consumption of dairy products, utilizing medications for food digestion or medications to increase lactase enzymes, having more fruits and vegetables and taking vitamin supplements can all help manage lactose intolerance.
However, lactose intolerance is  different to being allergic to milk itself. The symptoms of lactose intolerance are caused by low lactase enzyme levels, while an allergic reaction occurs when chemicals in the body react with the proteins in milk. Which in turn can develop symptoms such as hives, vomiting, chest tightness, swelling of the lips or tongue and watery eyes. Normally, a milk allergy has the potential to be more severe than lactose intolerance.
This post is also available in:

KH