Leading a zero-waste lifestyle could help save the environment and possibly the planet.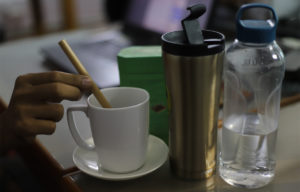 "It's only one plastic bag," over 7 billion humans have said, unaware of the harmful legacy they leave behind on Earth.
According to a study from the Center for Biological Diversity, a nonprofit membership organization protecting endangered species in the United States, plastic bags are only used for an average of 12 minutes, while they can remain in a  landfill for500 or more years to degrade. 
In 2013, Phnom Penh produced about 1,286 tons of solid waste per day. It is estimated that the number will more than double to 3,112 tons per day by 2030, according to a 2015 study conducted by the Institute of Technology of Cambodia and the Cambodian Education and Waste Management Organization (COMPED).
What is a zero-waste lifestyle?
A zero-waste lifestyle is a living style that offers a positive contribution to the environment by preventing resource extraction, diminishing the amount of materials sent to the landfill or incinerator, and reducing pollution from producing, transporting, or disposing of materials, according to the Center for EcoTechnology, a non-profit organization working to promote energy saving and waste reduction. 
The aim of this lifestyle is to completely eliminate trash output like plastic, wrappers, garbage and other materials that might ruin the environment.

The movement of a zero-waste lifestyle became popularized by Bea Johnson from California, when she decided to practise this lifestyle in her household of four. In 2009, she started sharing her journey through the popular blog, Zero Waste Home.
Why should you live a zero-waste lifestyle?
According to the Toronto Environmental Alliance, a Canadian non-profit environmental organization, the benefits of this environmental-friendly lifestyle are: 
Reducing climate impact: Greenhouse gas emissions are caused by the production and use of goods, including food, products and packaging. The zero-waste lifestyle practises reducing, reusing and recycling methods that will conserve energy and dramatically help to reduce carbon emissions to the atmosphere.
Conserving resources and minimizing pollution: The zero-waste approach conserves natural resources and reduces pollution from extraction, as well as manufacturing and disposal. Plus, reusing and recycling keeps waste out of landfills and provides manufacturers with recycled materials instead of raw materials to make new goods.
Promoting a healthy community: Not only for saving the environment, zero-waste  you can also help your community by sharing and reusing the useful goods to those in need, such as leftover food, furniture, clothing and other daily-use items. A zero-waste lifestyle also protects the health of communities by reducing pollution in the environment by keeping toxics and waste out of landfills.
Supporting local products and creating more jobs: Reducing and reusing materials can create more jobs in rental and sharing businesses like secondhand shops, tool rental shops, scrap yards, repair shops and tailoring. Money will be spent locally and stays within the community instead of leaving the community to buy imported products.
How to live in a zero-waste lifestyle?
The 5 R's are the most common recommendations shared by experts:
Refuse – be an ethical consumer by refusing to buy goods with lots of packaging, especially with plastic. It might be convenient for yourself in the short-term but it will impact the environment in the long-term.
Reduce – buy only the things that you need, not what you want. It will not only help you to reduce the impact to the environment, but for your own financial savings. The less you buy, the less waste you produce.
Reuse – try to purchase used goods, and reusable products like steel water bottles  as much as you can in order to cut down on your household and environment waste. Plus, you should bring your own bag or container from home whenever you are shopping.
Rot – it might take energy and time to compost your waste, but treating it as your hobby can remove the waste from your household in an environmentally-friendly way and you have your own garden.
Recycle –  it can take some energy and resources to recycle, especially in developing countries, but it's better than sending waste to the landfill and leaving it there for 500 years. You can help by just taking care of your waste management and supporting recycled products.
This post is also available in:

KH