The symptoms of smiling depression can be difficult to spot. People afflicted with it might not even know they need help.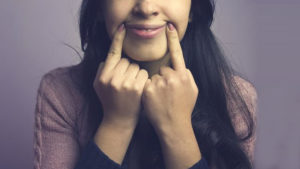 In recent years, there have been initiatives that have shed light and prompted public discussion on the topic of depression. As you might have seen from the news or awareness campaigns, both online and offline, the symptoms of depression include feeling sad most of the time, losing interest in things that you once enjoyed, thinking slowly, lacking concentration, feeling exhausted or low throughout the day and having suicidal thoughts.
However, there is a specific form of depression that the patient either doesn't show or are much less likely to show these symptoms outwardly. In fact, they probably are not even aware that they are depressed. That type of depression is called "smiling depression". 
According to Healthline Media, an American health information website, in total, there are nine types of depression which are: major depression, persistent depression, manic depression or bipolar, depressive psychosis, perinatal depression, premenstrual dysphoric disorder, seasonal depression, situational depression, and atypical depression. 
According to Mayo Clinic, an American nonprofit academic medical center, people may experience depression with specific features such as anxious distress, mixed features, melancholic features, atypical features, psychotic features, catatonia, peripartum onset and seasonal pattern. While the different forms of depression share much in common, these differences make them unique.
In the Diagnostic and Statistical Manual of Mental Disorders, "smiling depression" is not officially recognized as a condition, but experts would likely diagnose it as atypical depression due to their similarities.

While every type of depression is concerning and requires quick response, smiling depression is especially dangerous because some patients might not realize that they are in need of help. It can be difficult for an outsider to notice that the person is suffering from this type of depression. 
Olivia Remes, a Ph.D. researcher at Cambridge University, points out that those who suffer from smiling depression normally do not receive any help "because they might not think they have problems in the first place." 
Smiling Depression
Smiling depression is commonly used to describe someone who is suffering from depressive symptoms internally, yet manage to appear fine, normal or happy on the outside. People with this type of depression may be those who seem to have no reason to be sad over. Usually, they have a permanent job, a proper household and even a romantic partner.
Rita Labeaune, a licensed clinical psychologist based in Los Angeles specializing in treating depression, smiling depression, anxiety, and bipolar and mood disorders, said in an interview with Psychology Today magazine that "smiling depression often goes undetected. Those suffering from it often discount their own feelings and brush them aside. They might not even be aware of their depression or want to acknowledge their symptoms due to a fear of being considered weak."
Symptoms
In general, people who suffer from smiling depression would experience common depression symptoms such as a change in appetite, lost interest and pleasure in things they once like to do, lack of self-esteem, change in sleeping patterns, feeling exhausted and feeling low on the inside, while in public, people would see them being an active, cheerful and optimistic individual. In addition, they probably also have a good social life and a healthy family.
According to Remes, symptoms of smiling depression that people can watch out for include overeating, feeling heavy in the arms and legs, and getting hurt easily by criticism or rejection. In contrast, their mood can be lifted by simple acts like receiving a text from someone they have been waiting to hear from or getting praise for what they did at work or in daily life.
People with this type of depression generally feel depressed in the evening and feel the need of getting more sleep than usual, unlike other forms of depression where people often feel depressed in the morning and need less sleep. Another factor that sets smiling depression apart from other forms of depression is the fact that they usually have suicidal thoughts and have enough energy to carry out the act, where people who suffer from other forms of depression may also have suicidal thoughts, but lack the energy to end their own life.
Someone with smiling depression may decide to "wear a mask" to the world because they may feel like: 
Showing signs of depression is a sign of weakness

Expressing their true feeling is a burden to other people

Thinking that other people are in a far worse condition than them. This belief leads them to think they should not complain about their life. 
Higher Risk People
Smiling depression commonly occurs to people who:  
Usually anticipate failure rather than success 

Excessively think of negative situations that happened before

Find it difficult to get over embarrassing or humiliating situations in life 
While what has been mentioned above comes from individuals' internal thoughts, outside factors such as big life changes, judgmental families, community or society, social media and other people's expectations from you can also put people at higher risk for smiling depression. 
Treatment
Since it is hard to detect people with smiling depression, the treatment can only start by realizing this condition really exists and it is serious. 
No different from other types of depression, available treatment options for smiling depression include:
Seeking medical advice from an expert 

Psychotherapy

Meditation

Physical activities 

Finding purpose in life
This post is also available in:

KH