Cambodians who have been financially affected due to job loss or suspension are undergoing severe mental health concerns.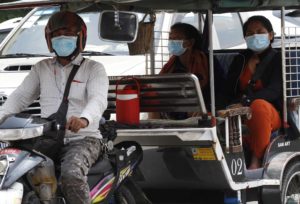 The outbreak of Covid-19 has had a negative impact on the economy and other main sectors of Cambodia, as well as the world. For Cambodians who have low or average income, or who are in debt, indirect mental health stress has become a major issue. 
According to data from the Microfinance Association (MA) and 2019-year-end reports from the International Monetary Fund (IMF), approximately 2 million Cambodians are utilizing the finance service of private microfinance sectors for savings and loans in order to deal with day-to-day expenses and business. 
Mr. Vorn Pov, President of the Independent Democracy of Informal Economy Association (IDEA), told Focus on 2nd of May that the pandemic has affected Cambodians' monthly income causing the concern over daily basic expenses and bank debts. 
"As soon as Covid-19 hit Cambodia, people lost most of their income, resulting in their struggle with debt payments to the banks as most banks still require them to pay both the principal and interest; only a few banks deferred the debt payment," said Mr. Vorn Pov.
He added that he has contacted people who have been economically affected by Covid-19, and many of them have become the victim of mental health problems as they are constantly worried about their loss of monthly and daily income sources. 

"90% of tuk tuk drivers, or those who have small businesses, are suffering from mental health problems."
"Currently, some Cambodians who have bank loans are thinking of commiting suicide and some are avoiding their own houses as the bank comes daily to ask them to pay. Apart from this, water and electricity bills are then added on because if you exceed the payment date for only a few days, the service will be automatically cut," added Mr. Vorn Pov. 
Mr. Pan Sok, a vendor in front of a factory in Steung Meanchey area, told us that he has been greatly affected by the pandemic as he lost his daily wage. He said "I  barely make a living anymore and will probably go bankrupt sooner or later. It is hard to believe I cannot even have $2.5 for daily food, and on top of that, I do not know how to pay for house rent." 
A 42-year-old-man with six family members said he does not have enough to provide for his family and to pay his bank loans, having an effect on the mental health of the family. "Mental health problems have now become common due to the debts I cannot pay. Plus, the bank has constantly been demanding me to pay."
Mrs. Chuun Sophea, currently facilitating curriculum of a private school in Phnom Penh, has shown concern over her financial issues and mental well-being.  
"Once the financial problem arises, we become stressed and suffer from insomnia since I constantly think about how to pay for the mortgage and my children's expenses. Despite the cutdown of many expenses, the wage is not sufficient," said Mrs. Chuun Sophea.
On April 20th, the National Bank issued a new request to private banks and microfinance institutions to ease customers' burdens on relevant credit services and to lift fines on late payments from now until the end of December 2020.
In a response to the new appeal by the National Bank of Cambodia (NBC), the Cambodian Microfinance Association (CMA) said most members have agreed on the new credit policy to help the most affected customers by the virus; however, some members still follow their own policy as their customers have been hardly affected and did not seek for the adjustment. Nonetheless, Mr. Vorn Pov stated that up until now only a small number of private banks and microfinance institutions implemented the policy requested by the NBC.
Some non-government organizations and institutions dealing with mental health issues have offered consulting services and information about mental health to anyone free of charge. 
Dr. Chhim Sotheara, Executive Director of the Transcultural Psychosocial Organization (TPO), whose mission is to improve the well-being of Cambodian people with psychosocial and mental health problems, has introduced key strategies to tackle mental health issues. He encourages Cambodians to create a clear daily routine for themselves including everyday work, healthy meals, adequate sleep, and regular exercise. Also, they should spend some time with their family and stay in touch with other family and friends through social media.  
"Please do not frequently follow every news on Covid-19, as it triggers a further panic, but only follow the news from reliable sources including the World Health Organization or the Ministry of Health in Cambodia," added Dr. Chhim Sotheara.
Dr. Sotheara insisted that if Cambodian people feel stressed or depressed, they can contact TPO by telephone at 017 222 372/ 089 666 325/ 097 9111 918  to receive professional consulting services on mental health, free of charge.
This post is also available in:

KH