Learn more about dengue fever so that you can be able to protect yourself better.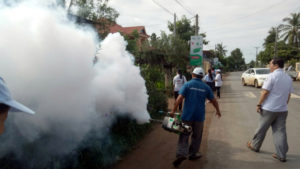 The arrival of the rainy season means the start of the government and health authorities warning the public to be extra careful about their health, as many people usually fall sick due to the surge of temperature. One of the many health dangers brought on by this season is dengue fever. 
Through a notice released on May 28, The Ministry of Health (MOH) encouraged the public to follow preventive measures in an attempt to keep mosquitoes that carry dengue fever away by promoting strong action in getting rid of the breeding ground for larvas.  
According to the ministry, 2,172 dengue cases have been recorded in the first 19 weeks of 2020. The figure is relatively lower than last year's record, in which 13,843 cases were recorded in the first 21 weeks of 2019. However, the ministry mentioned that the number of dengue cases this year could rise anytime if the public does not take extra precaution.   
Dengue Fever 
The World Health Organization (WHO) defines dengue fever, also known as breakbone fever in some countries, as a mosquito-borne viral infection. The infection is transmitted to humans mostly by infected female Aedes Aegypti mosquito. The Aedes Albopictus mosquito can also transmit the illness to humans. Aedes Aegypti and Aedes Albopictus are also spreaders of Zika, Chikungunya, Yellow fever and other diseases.
Dengue is caused by a virus that belongs to the Flaviviridae family called DENV. This specific type of virus has serotypes (DENV-1, DENV-2, DENV-3 and DENV-4). The number indicates that a person can be infected with a dengue virus as many as four times in his or her lifetime, with recovery of one serotype believed to provide lifelong immunity to it, but not the others.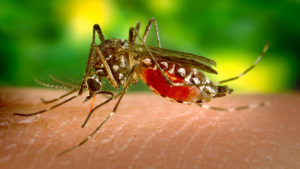 According to the Centers for Disease Control and Prevention (CDC), dengue is common in more than 100 countries around the world, especially in tropical and subtropical areas such as Southeast Asia, Southern China, Taiwan, the Indian Subcontinent, the Pacific Islands, Mexico and Africa. 
Each year, up to 400 million people get infected with dengue. Approximately 100 million people get sick from infection, and 22,000 die from severe dengue. Dengue occurs in both cities and suburban areas. In Cambodia, the transmission of dengue fever peaks from May to October.  
Symptoms 
People infected with dengue fever show flu-like symptoms, along  with other symptoms such as: 
Eye pain

Headache

Muscle pain

Rash with red spot

Bone pain

Joint pain

Vomit
Generally, these symptoms are visible three or seven days after infection. There is a chance that the disease can develop from common dengue to severe dengue, which is also known as dengue hemorrhagic fever (DHF) and dengue shock syndrome (DSS). However, studies have shown that 80% of people with dengue fever show only  mild symptoms. A very small portion of people develop complicated cases such as DHF and DSS. Only 1 in 20 people infected with dengue fever will likely develop DHF.  
According to the CDC, people who have been sick with dengue fever before are at high risk of severe dengue. If a person is infected with the same dengue virus serotype for a second time, it is likely that he or she is immune. But, if that person is infected with one of the other serotypes, it can increase the risk of developing DHF. 
Warning signs of severe dengue or DHF symptoms include: 
Persistent vomiting (at least 3 times a day)

Nose or gums bleeding 

Vomiting blood 

Blood in stool

Urinating blood   

Stomach and belly pain  

Tiredness

Bleeding under the skin, which might look like bruising

Breathing difficulties   
DSS is a very dangerous infection associated with a high mortality rate. DSS symptoms include: 
Weak rapid pulse

Narrow pulse pressure 

Excessive sweat and restlessness  
Prevention
Dengue fever can be avoided by avoiding getting bitten by mosquitos that carry dengue virus, especially if you are living or traveling to tropical areas. It is worth noting that mosquitos with dengue disease bite both during the day and at night. 
An individual can practice the following to prevent mosquitoes bites: 
Use insect repellent or mosquitos spray both indoors and outdoors

Wear long-sleeved shirt and long pants  

Wear gloves or trainers, or use other clothing that can cover your arms, legs, neck, or head

Try to wear light-colored clothing (beige, white or light grey)

Use mosquito nets whenever you sleep 

Destroy mosquitoes habitat 
Treatment & Dengue Vaccine
Up until now, there has been no specific treatment for people with dengue fever. Health experts, doctors or nurses provide supporting care based on patients' symptoms. Fever reducers and pain killers are commonly used to treat people infected with dengue fever.  Health personnel would also recommend the patient to drink plenty of fluid and get a lot of rest. Those who suspect themselves to be infected with dengue fever are strongly advised not to take medicines with aspirin because it could lead to bleeding. If the fever does not go down in the first 24 hours, one should visit the hospital immediately.  
The Food and Drug Administration (FDA) licensed a vaccine called Dengvaxia, developed by Sanofi Pasteur in 2015. According to Mayo Clinic, this vaccine is used only for those ages 9 to 45 who live in high-risk areas of dengue fever have been infected with dengue fever before. It is available only for older children because younger vaccinated children, who have not been infected with dengue fever have a higher risk of more severe dengue. WHO emphasized that the vaccine is still not an effective tool. The vaccine is not available at the Pasteur Institute in Cambodia yet.    
Currently, there is no vaccine available to prevent the general population from contracting the illness. Effective vaccine development is a high priority in the field of public health. However, due to the dengue virus's uniqueness and complexities, an effective vaccine against dengue has proved to be remarkably hard to develop. The main reason why a vaccine against dengue is difficult to develop is the fact that it has four serotypes. According to WHO, people who have been infected with a certain serotype are likely to become immune to that one serotype. However, this does not mean they will be fully protected against the other serotypes. At the same, those who are infected with the same dengue viruses twice are likely to have an increased risk of severe disease. Another primary challenge lies in the fact that there is not enough animal disease model to dengue fever.
This post is also available in:

KH