Why do I have trouble falling asleep? And why do I wake up so early?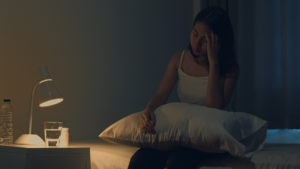 What is insomnia?
Insomnia is a common sleep disorder in which you have trouble falling asleep, or you wake up too early and are not able to get back to sleep. Insomnia can be a short-term issue or can last much longer. 
Symptoms of insomnia 
Mayo Clinic, an American academic medical center, describes the symptoms of insomnia as: 
Difficulty falling asleep at night

Waking up during the night

Waking up too early

Not feeling well-rested after a night's sleep

Daytime tiredness or sleepiness

Irritability, depression or anxiety

Difficulty paying attention, focusing on tasks or remembering

Increased errors or accidents

Ongoing worries about sleep
Different types of Insomnia
According to the National Sleep Foundation, a leading voice on sleep science and health in the United States, there are varying types of insomnia.
Acute insomnia:  A brief episode of difficulty sleeping, often caused by a life event, such as receiving bad news, changing jobs or disruptive travel.

Chronic insomnia: A long-term pattern of sleeping difficulties which occur at least three nights a week for three months or longer.

Comorbid insomnia: A conditional insomnia due to psychiatric issues,  such as anxiety and depression.

Onset insomnia: An inability to sleep at the beginning of the night or at a normal time. It may be caused by changes in lifestyle, short-term stressors, poor sleep hygiene, noisy environment, caffeine before bedtime, lack of adequate exercise or using electronic devices in the bedroom.

Maintenance insomnia: The inability to fall asleep, waking up too early and struggling going back to sleep.  
Causes of Insomnia 
Insomnia may be the primary problem, or it may be associated with – and brought upon by – other conditions. However, chronic insomnia is usually a result of stress, life events or habits that disrupt sleep. According to Mayo Clinic, common factors that contribute to chronic insomnia include:
Stress due to work, school, health, finances or family. In particular, stressful life events or trauma such as death or illness of a loved one, divorce or a job loss. These can keep your brain active at night, making it difficult to sleep.

The change of a work schedule and travel can have an effect – such as jet lag or frequently changing shifts. These can have an impact on the body's internal clock, which normally guides sleep-wake cycle, metabolism and body temperature. 

Poor sleep patterns, such as irregular bedtime schedules, naps, an uncomfortable sleep environment, electronic device usage or stimulating activities before bed. 

Large amounts of food consumption late in the evening can cause you to feel uncomfortable, including heartburn or acidic burping feeling. This can help keep you awake. 
However, chronic insomnia can also be associated with underlying medical conditions or the use of certain drugs. Additional common causes of insomnia include:

Mental health disorders:

post-traumatic stress disorder (PTSD)

Medications

: antidepressants, over-the-counter medications, allergy and cold medication, weight-loss products, among others.

Medical conditions:

chronic pain, cancer, diabetes, heart disease, asthma, gastroesophageal reflux disease (GERD), overactive thyroid, Parkinson's disease and Alzheimer's disease.

Caffeine, nicotine and alcohol:

coffee, tea, caffeinated drinks, tobacco products. Alcohol may help you fall asleep, but it prevents deeper stages of sleep and often causes awakening in the middle of the night.
Is insomnia a mental illness? 
Sleep disorders are closely associated with mental health issues, as sleep deprivation affects psychological state, and vice versa. According to an article "Sleep and Mental Health", published by the Harvard Medical School, there is an overlap between sleep disorders and many psychiatric problems which might have common biological roots. Psychological effects of sleep deprivation include depression, bipolar disorder, anxiety disorder and attention deficit hyperactivity disorder (ADHD).
Can insomnia be cured? 
Most cases of insomnia, such as acute and onset, can be improved with simple changes in lifestyle and home remedies without prescription or over-the-counter sleeping pills such as Eszopiclone (Lunesta), Ramelteon (Rozerem), Zaleplon (Sonata) and Zoplidem (Ambien, Edluar, Intermezzo, Zolpimist), according to Mayo Clinic. It is important, however, to go and see your doctor if insomnia persists or has an adverse affect on your daily life.
Simple changes in lifestyle to improve insomnia
Establish a quiet, calm and relaxing bedtime routine: a cup of caffeine-free tea, warm shower, soft music.

Relax your body: gentle yoga or muscle relaxation from light stretching. 

Create a sleeping environment that works for you: avoiding engaging in activities other than sleeping or sex in the bedroom. Ensure the lighting and temperature of the room is to your liking.

Avoid caffeine after noon or at night, and limit the amount of alcohol consumption to one drink several hours before bedtime.

Avoid smoking, as nicotine can interfere with sleep.

 Regular exercise can improve the quality of sleep and duration, but avoid exercising too close to bedtime.

Go to bed only when you are feeling tired and limit naps as these can throw off a consistent sleep cycle

If you're waking up in the middle of the night and not falling back to sleep within 20 minutes, you should get out of bed and do other activities, such as reading, until you feel tired. 

Try not to use electronic devices or stare at a screen for long periods of time, especially before bedtime.
However, for more severe cases of chronic and comorbid insomnia, patients need to seek medical attention from their doctors.
This post is also available in:

KH