Studies have shown that sitting for extended periods of time increases health risks, such heart disease or stroke. What should office employees do to lower the risks?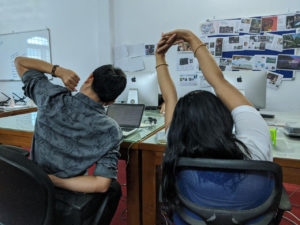 A study published in 2015 by the British Heart Foundation indicated that Brits sit for 67 hours per week, including full time office workers who take a seat for 75% of their total daily hours. They spend on average 35 hours per week sitting in the office.
Sitting is a method to relax your body; however, sitting still in one spot for long hours can correlate to many health issues such as type 2 diabetes, heart disease, and strokes. Those who sit for over eight hours a day will have double the risk of stroke than people who exercise at least an hour a day.
Recent research in 2019, issued by the British Journal of Sports Medicine, showed that movement or exercise for 20 to 40 minutes per day will mitigate risks of long sitting hours. However, previous studies reported that people should execute movement or exercise for 60 to 75 minutes per day. Researchers said that reducing the hours sat is not the main resolution to lessen the health risk; movement or exercise will compensate for long sitting hours.
Here are some key points experts advise to full-time office workers in order to create a great working environment and diminish stress caused by long work hours:
Physical health:
Stretch frequently: You should stretch every one or two hours as it can help ease stress and create some movement.
Walk regularly: While avoiding having snacks or foods in the office, you should still walk to a break room for lunch, which will allow you to communicate with co-workers and perform some activity.
Use stairs: You should use stairs, if possible, rather than lifts as it will help you have some additional movement.
Emotional health:
Communication with co-workers: Talk to your co-workers about fun activities, which can create a cheerful environment in the workplace.
Small breaks and meditation: Every two to three hours, you should take a break from your screen for five to ten minutes of meditation.
Nutrition:
Drink plenty of water: You should drink 8-10 glasses of water during work to keep your body hydrated. Orange, pomelo, grapes, watermelon, and apples are also good sources of water.
Consume a healthy diet: You should avoid fattening or greasy foods and eat a variety of vegetables and high-protein foods. Experts recommend that you prepare your own food as you can limit the amount of fat, compared to food from restaurants.
Reduce your sweet intake: You should stay away from drinks with high amounts of sugar during work and, if possible, put less sugar in your coffee.
This post is also available in:

KH